With Leclerc out of the Race in Monaco Gp 2021, We look into the fabulous drive of Max Verstappen to win the race and the events that unfolded over the 78 laps of Monaco Gp 2021.
Its Lights Out
Max had a slow start but covered off Bottas so quickly that he is made to stomp on the breaks early at Sainte Devote. Max and Bottas then opened up a gap to Sainz quickly. Ferrari not threatening anyone at this moment. Bottas and Mercedes have a good chance if they play the strategy game correctly. But will Hamilton help Bottas by blocking Max? Let's see as after the first round of pits?
Sebastian Vettel on the Hard tire has made places and will have a decent result if Aston plays its card right. Since 66% of all races, and the 9 out 10 races have seen a safety car we settle in for the strategy game in the Monaco Gp 2021.
Constants of 2021
Black and white flags for Nikita Mazepin for cutting the chicane. Daniel, Alonso, and Kimi are in 12,13, and 14 with nearly identical pace in all these drivers at the moment. Russell complaining about the car being undrivable. He has Latifi as his company behind him.
Daniel Ricciardo is feebly slow while Lando is in P3 after a fantastic drive. Alpine is slow and their hopes are relying on Estaben Ocon for a championship point at 9th. Antonio Giovanazzi is flush at 10th still after the pits followed by Kimi in 11th. Sebastian Vettel and Stroll are in the points at last.
Perez in P8 is setting the fastest laps but he has been staring into the Vettel's gearbox for quite some time. As the pit window is open the undercut overcut all planning is happening. Bono to Lewis says it gonna happen anytime soon as we head into the unknowns in Monaco Gp 2021.
Pit Calls
As Hamilton is first to pit and boy was he furious when he was undercut by Gasly and Overcut by Vettel. Vettel gained two places in that pit strategy. But boy did Redbull play it right for Perez gained 4 places in that undercut. From 8th to 4th and controlling the pace.
But it was disastrous for Bottas and Mercedes in general as the wheel gun wouldn't come off and his race is over. Ad the pit stop ended it is Max, Sainz, and Lando on the podium. No Safety Car Yet !!!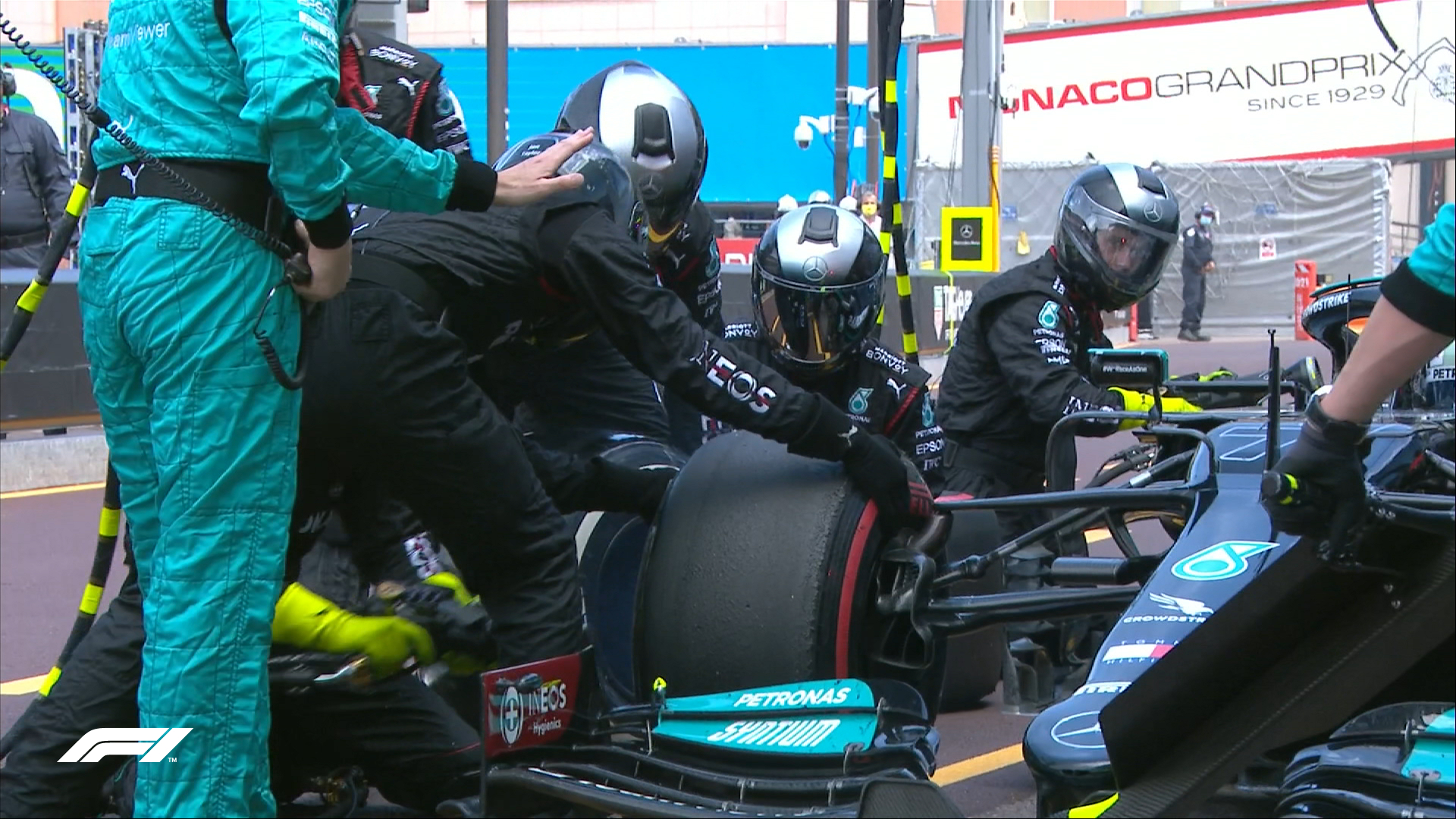 Closing Stages
As we head into the last 10 laps of the Perez is hot on Lando. Lando says and I quote "The car is undrivable on this tire. Sainz on the Radio "Let's try and put some pressure – who knows?". The only thing that can happen if is a safety car messing the place. That's why Max has been asked to cruise and keep the tires alive and happy.
As we buckle down for the Perez and Lando battle in the closing stages of Monaco Gp 2021. Perez is perilously close to Lando but if Lando keeps it clean and steady it will be difficult to overtake here in Monaco. Lando was able to keep the podium place from Sergio Perez as we cross the line in Monaco.
It's Max Verstappen who comfortably Wins in Monaco Gp 2021 and leads the Drivers Championship. Sainz a wonderful drive to 2nd Place, followed by Lando Norris who fought off till the End for the well-deserved P3.
Classification