French Gp the first of the Triple headers has officially started with the Press conference and Media Day on Thursday. Paul Ricard was a flurry of activity. This section is a one-stop for all your news of the day.
Pre Fight Weigh-In
The important paring and a cheeky one to be frank Max Verstappen and Lewis Hamilton. The Media pen was expecting thrash talk but got none of it. Both of them are well behaved. When asked about the magic button Lewis replied.
" We haven't moved it, we've just put a shroud around it just to make sure that you can't accidentally touch it in the future, but that's for the short-term. Obviously, the wheel's not so easy to change or to move buttons on, because it's all designed, so we'll look for a longer-term solution probably in the future."

The last two have definitely been really difficult for us on the whole as a team. You have to take the rough with the smooth and it's definitely been challenging, but we've learned a lot. But I'm definitely looking forward to getting back onto a track we probably won't be as affected with tire temps for example.

"It has been good for us in the past here but I anticipate a tough weekend, naturally. Obviously, the Red Bulls have shown some serious pace over the previous races, as well as on the more conventional tracks like Barcelona."

Lewis Hamilton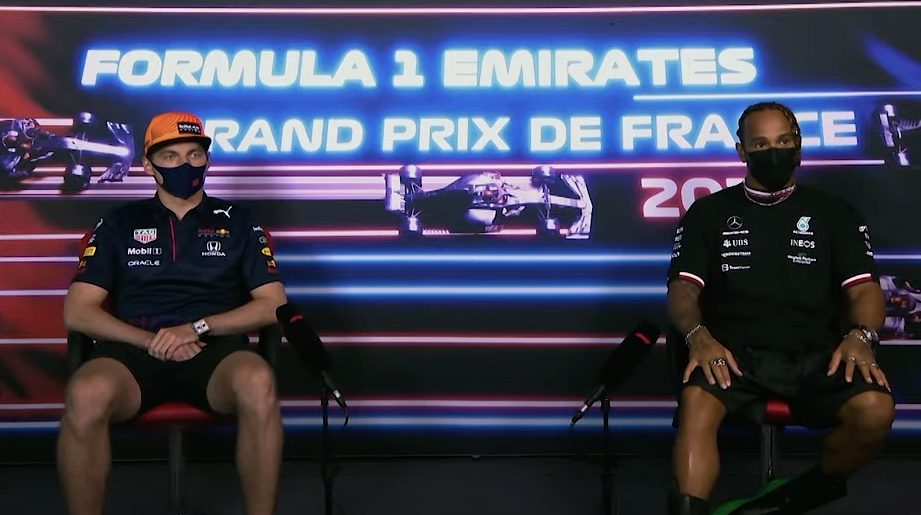 When asked about it to Max he said that French Gp wasn't a strong suit for Redbull but we are happy that the car is competitive.
"I am lucky and a bit relieved that I hit the wall on the left-hand side and not on the right. The impact would have been huge. Streets circuits can be a little tricky for the warm-up and tire windows and the red flags in Q3. More traditional circuits Mercedes are expected to be stronger"

Max Verstappen
Valtteri and George
Things have been brewing before the French Gp and now it's a full-on hype train for George to replace Bottas in Mercedes 2022. But Bottas as a Finn was calm and confident and dismissed all the rumors.
So yeah, that's not true, that's speculation but those kinds of speculations aren't made up of any facts, they are made up for the clicks, and that's how it goes… For now, the gut is not saying anything. I just want to win races and get the results that I'm aiming for personally."

"But that is how it is, everything in life and sport goes up and down, I know the ups are on the way, the good moments, and the team knows that as well. I feel there's good support from the team which makes it easier to handle"

Valtteri Bottas
Obviously, I'm aware of all the speculation, but right now I'm just enjoying driving, race-by-race. I want to get my future nailed down at some point. But right now I'm just focused on this weekend and into Austria.

"The summer break is usually when these things sort of happen. For most people, the summer break is where you get things set in stone. So for me, I'm just focused on race-by-race and just enjoy the curiosity of what is to come. It's sometimes exciting not knowing what the future holds."

George Russell
Mclaren and Ferrari in French Gp
McLaren and Ferrari are providing a brilliant midfield battle in 2021 with both squads enjoying a welcome fight this season. Norris has landed podiums at 3 races, but the Scuderia are just ahead in the standings, and Charles Leclerc has taken pole position at the last two races.
They've been very quick on Saturdays. Charles [Leclerc] has been on pole twice, but they've always then made more mistakes and struggled more on Sundays, and that's where we have gained some of it back and we've looked a bit stronger.

Lando Norris
"I think it'll be a bit back to reality. That's been two weekends: in Monaco, we did not expect to be that competitive, in Baku we definitely did not expect it, and we expected to be back to reality in Baku – but actually, I think this weekend is, unfortunately, going to be the weekend where we will be back to reality and where we'll be struggling a bit more, compared to the last two weekends."

Charles Leclerc
Ex Redbull and Present Redbull Drivers in French Gp
Once it was announced Sebastian Vettel would be leaving Ferrari at the end of last year, there was speculation that he might return to his former team, Red Bull. In the end, Vettel signed for Aston Martin and the Red Bull seat was filled by Sergio Perez, and in France, Vettel revealed a return to the team where he won his four world championship titles was never on the cards.
"No I don't regret it, and I don't think it was an option, Obviously I decided to go in a new direction and join a new team with Aston Martin on a new journey and I'm very happy about that."

Sebastian Vettel
Mazepin and Schumacher
Haas F1 teammates Mazepin and Schumacher were involved in a last-lap drag race to the finish line at the Azerbaijan Grand Prix two weeks ago, with Schumacher snatching 13th place. Schumacher was not pleased when Mazepin dangerously weaved into the racing line.
"I thought he would choose the inside line and he chose the outside line, and when I saw that he committed to it, I ducked out of it, because in the end we're not fighting for any points and the team's result is the priority,"

Nikita Mazepin
"If you come in such a tow, you have all that's left basically in terms of battery, and then you use everything and there's no stopping. The only way you stop somebody is by scaring him or pushing him into the wall, and obviously, he tried to do that.

"I think that if it happens again, surely it will be addressed towards the stewards and the race director."

Mick Schumacher
Track Limits in French Gp