Abu Dhabi Gp Qualifying, The final hurrah for what is an exciting season and it was Redbull genius that put max Verstappen on pole for the all-important finale he is absolutely over the moon there. An inquest will be held down at Mercedes as to why they didn't use the slipstream, especially considering Bottas only wound up sixth anyway. 
It's Game on. Don't ever miss it!
Before Abu Dhabi Gp Qualifying
The sun is dipping lower in the sky ahead of the final qualifying of the season, with it due to dip below the horizon just after the halfway point of the session. But who can make the most of the rapidly cooling conditions and grab one last pole position?
It looks like Red Bull's rear wing issues continue – Sergio Perez's car is lacking one entirely with twenty minutes to go, and Verstappen's is in bits. The DRS actuator has been causing problems across the last few races and was worked in FP3 as well. Those rear wings are back on the Bulls incidentally, so they look ready and raring to go.
Q1 in Abu Dhabi Gp
The queue forms at the end of the pit lane – a fair few drivers want to get a banker lap in here. Vettel leads the way out on the softs, but Leclerc and Sainz are on the mediums which are interesting. Hamilton goes top on his opening effort by a monster four-tenths. Botta's slots into the second, one-tenth back on his teammate. An advantage to the Silver Arrows here so far. 
Norris is impressing in fourth, and Alonso has slotted in ahead of the AlphaTauri pair. Perez is down in P9 and needs another lap here to feel safe. he does put in a good lap and goes 4th as Max Verstappen is about 0.056 seconds adrift Lewis Hamilton.
Gasly loses a lap time to track limits – but it was only half a tenth quicker than he'd gone earlier. The track is evolving here and the times are continuing to improve, as Ricciardo goes P7, Norris returns to fourth despite carrying a bollard along with him for the ride.
And it is for that bollard, which needs collecting. Replays show that Schumacher actually hit it, sending it flying across the track before Norris picked it up and ran over it. As you were then. The bollard has been collected, and the session will resume imminently. Everyone was on an out or an in lap so no one lost a meaningful time, although the Ferrari pair had just bolted on the soft in Abu Dhabi Gp.
Eliminated in Abu Dhabi Gp Q1: Latifi, Russell, Raikkonen, Schumacher, Mazepin. 
Q2 in Abu Dhabi Gp
All eyes are on the tyres here and it is mediums for Hamilton, who leads the way out. The same compound is bolted onto the car of Bottas and both Red Bulls. So much for all that chat about strategy, as it stands all four are going for a medium-tyre race start here. 
Nine minutes to go and an excitable Tsunoda has been wide at Turn 1, as has Vettel, and now Verstappen. Not quite nailing the braking zone, and Verstappen has radioed in to say he's got a flat spot! These are his potential race tyres that's terrible news.
So Red Bull now have a choice they have to either send Verstappen out on softs to try and improve his time so he starts on that compound, or they send him out on used mediums or they risk starting with a flat spot.
Sainz has gone top for Ferrari with a mightily impressive lap, albeit on the softs. Leclerc slots into fourth, leaving Ricciardo, Stroll, Giovinazzi, Vettel and Gasly as the drivers in trouble. Gasly suffered braking issues on his first run hence his slow time, and Ricciardo can't get on the pace of his teammate despite running softs to Norris' mediums.
Perez goes quickest which means he is starting on the soft compound tomorrow. A personal best for Verstappen in the middle sector and it looks like he will start on the softs as well, as yes he will as he now goes top. Soft tyres for the start for both Bulls.
Eliminated in Abu Dhabi Q2: Alonso, Gasly, Stroll, Giovinazzi, Vettel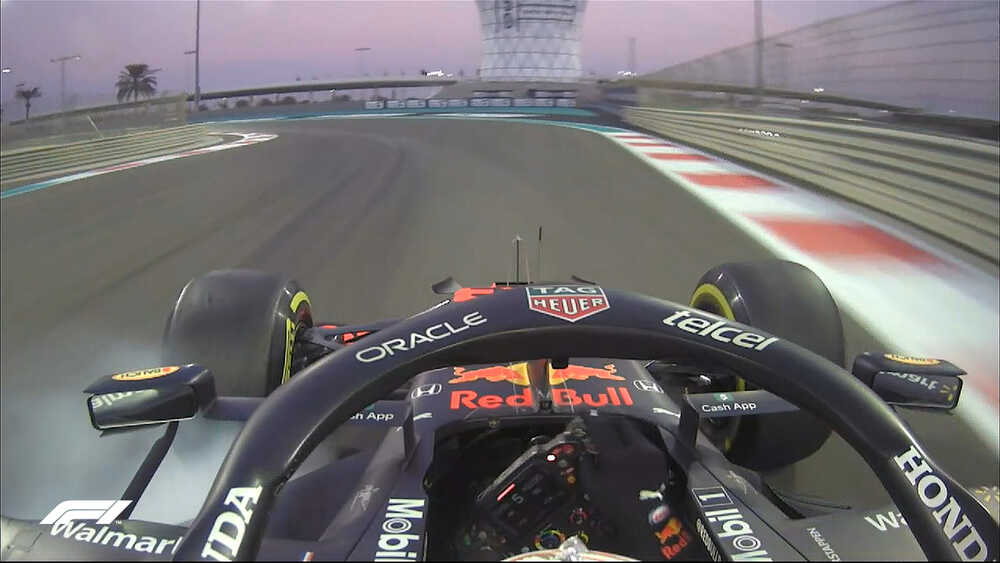 Q3 @ Abu Dhabi Gp
No more tyre decisions, this is all about the soft compound, foot to the floor and no mistakes. Red Bull are out first, with Perez leading Verstappen as the Mexican is told not to hold up his teammate. It is a 1m 22.109s for the Max, that's the marker for everyone else to chase. Hamilton crosses the line – second. Half a second back. Half a second.
Everyone is in the pits, as replays show that Norris was hampered by Perez on his lap, telling the team he was "screwed over." Mercedes send their drivers out first, and once again Hamilton leads Bottas. Can he do this without a slipstream tonight?
Verstappen grabs a sensational pole in Abu Dhabi Gp
what a lap that was from Verstappen. Even taking into account the tow, he nailed every single corner to comfortably beat the field. The margin, in the end, was 0.371s, absolutely colossal all things considered. They are set to start on the softs tomorrow, with Hamilton on the mediums. Horner said it was a 50-50 call as to which compound to start on. 
One more effort. One more Sunday. One driver to lift the championship crown. Verstappen has pole, he has the pace, and he has more wins than his rival. But Hamilton has pedigree, experience and an arguably better starting tyre. It is just too close to call.