Azerbaijan Gp, Round 8 of the Formula One World Championship 2022 saw Max Verstappen clinch his first win in Baku, Azerbaijan followed by his teammate, Sergio Perez and a double DNF for Ferrari.
Azerbaijan Gp tends to serve up delicious races overtakes, crashes, Safety Cars, and the lot. That's why it is so hotly anticipated and if Azerbaijan Gp qualifying was anything to go by, we should be in for a treat like last year. In this section, we go through how it all went down.
Conditions-wise, it is hot and sunny again, with an air temperature of 25 Degrees Celsius while the track is up to 48 Degrees. The wind has died down for now, but the drivers will be wary of any gusts that could disrupt things, such as those experienced by Sainz and Verstappen in Spain that sent both through the gravel. 
The starting tyres are in and it is a mixture of the medium and hard compounds. Everyone in the top 10 is on the mediums, but then Ricciardo, Ocon, Bottas, Stroll and Schumacher look to be going long on the hard C3 tyre.
Azerbaijan Gp Start
The lights go out and off goes Leclerc. He gets a decent start but so does Perez and they are side by side into turn 1. Leclerc locks up, runs a fraction wide and Perez is through! Perez is leading from Leclerc and Verstappen. Max is trying to have a look at the Ferrari ahead but he has more issues keeping Sainz behind. 
Perez has already managed to pull out a 1.409s lead here. He has really picked up where he left off in Monaco, but there's still plenty of racing to come. The gaps are all over a second until Hamilton, who is within DRS of Gasly when DRS is enabled. 
DRS wide open that time around for Verstappen, as Leclerc squirrels his way out of Turn 1, seemingly still struggling for grip. He is still ahead but as these two fight, Perez is escaping up the road as we settle in for an awesome Azerbaijan Gp.
Sainz is off the track!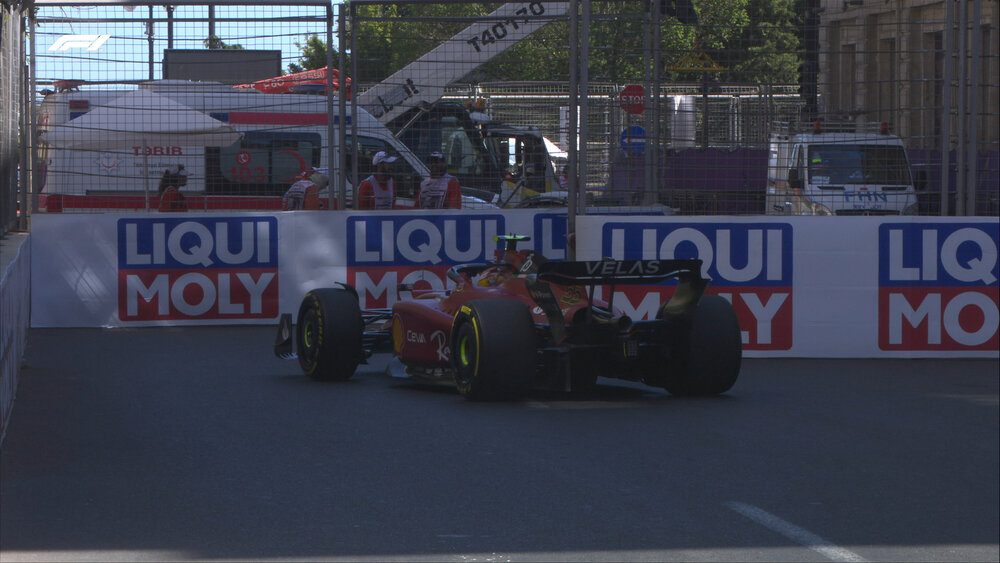 The yellow flags are out – Sainz is down the run-off area at Turn 4. He doesn't look to be trying to engage reverse and no, it's a mechanical problem. "Brake-by-wire," failure is the dispirited radio call. Leclerc pits under VSC. Leclerc will have to potentially do 40 laps on these hard tyres if it's one-stop. But anything can happen in Baku, so it might be a gamble worth taking.
Pit Calls!
LAP 15, Verstappen has closed right up to the back of Perez here. He has DRS too, and makes a move stick into Turn 1! Verstappen has just taken the lead in Baku. Perez is in the pits! Was he sudden lack of pace due to the tyres going off the cliff? Fresh tyres go onto the RB18, but it was a very slow stop – 5.7s. He's going to be out behind Leclerc for sure, and only just squeezes out in front of Russell here. 
Double DNF for Ferrari
Race Leader Max is in on Lap 19, his stop is good and he returns on hard tyres behind Leclerc. Now it is a game of can the Ferrari man's tyres last the distance here. Leclerc is on the lead. Oh no – a disaster for Ferrari! Leclerc's car is billowing smoke, and he is pulling to one side. "Problem, problem, engine," he cries on the radio, and he has made it back to the pits but that is his race done and dusted. What an awful afternoon for the Scuderia Ferrari in Azerbaijan Gp.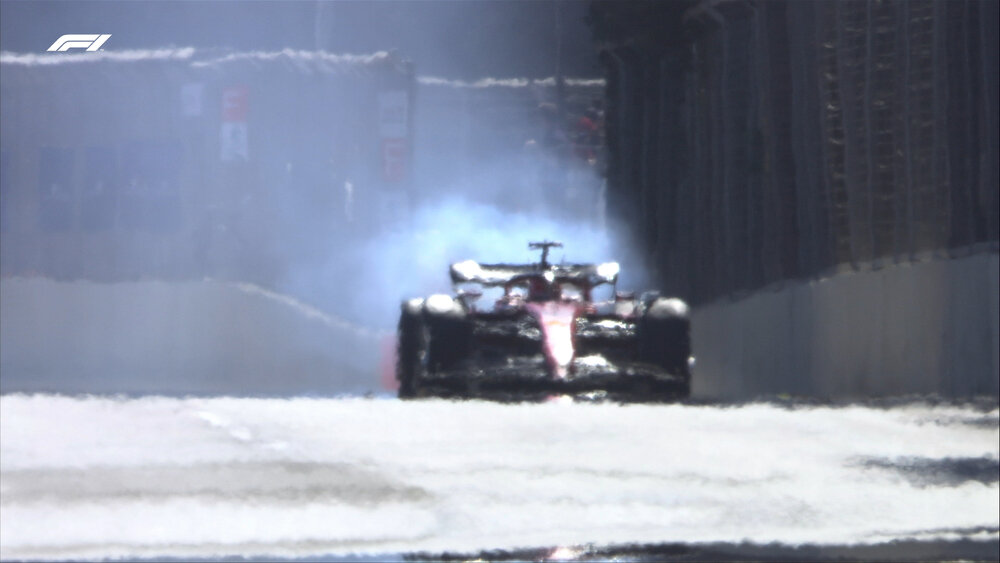 Verstappen lost the lead here last year through no fault of his own. Is today the day he finally tastes victory at what has been a bit of a bogey race for him? He has nearly six seconds to Perez now, who hasn't been nearly as quick today as he was through practice and qualifying. The yellow flags are out and Magnussen's car is smoking as he has parked it down at Turn 15 on Lap 34.
Classification
Verstappen is cruising to victory here – but behind, there are positions that are still to play for. Ricciardo has been told to harry Alonso into a mistake here, and Norris will also be ready to pounce and pick up the pieces as we end the Azerbaijan Gp
PODIUM – MAX – PEREZ – RUSSELL