Dutch Gp Qualifying – Verstappen on the pole!
Dutch Gp Qualifying time and Oh, what a qualifying this could be. It's a tight, twisty track, overtaking is tricky and grid slots could be more important than usual. As such, everyone will be laying it all on the line. And the gaps between the cars look smaller than usual. In this section, we look into how F1 Qualifying today went down.
Q1 in Dutch Gp Qualifying
As for the conditions – warmer than yesterday. The track is up to 39 Degrees Celsius, and there is a stiff breeze to contend with as well. Haas bites the bullet and heads out first. They are followed by the Williams cars, all shod with fresh soft rubber.
Yuki has a lap time deleted for track limits. Verstappen is the next to cross the line, and he is into the 1m 11's already. Perez can't match that, he goes second and it is a full 1.003s slower than his teammate. Here comes the Mercedes pair, and that's a bit closer. Russell is now second, 0.244s back on Verstappen while Hamilton is just 0.021s slower than his teammate in Dutch Grand Prix qualifying 2022.
 Perez is right on the bubble though, as the track continues to ramp up after another lap goes to P5 as Leclerc goes tenth of Max Verstappen. Alonso, Sainz, and the Mercedes pair are all on used soft tires here but Perez has had to burn through the second set of precious tires on this run from P5. No risks are being taken by Red Bull in Dutch Gp Qualifying.
Eliminated in Q1: Bottas, Magnussen, Ricciardo, Vettel and Latifi.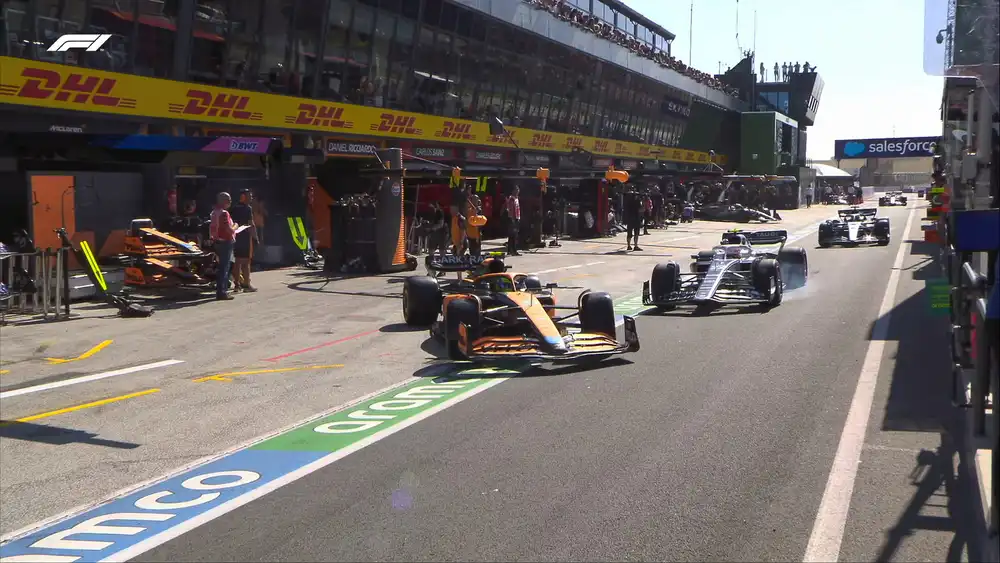 Q2 in Dutch Gp Qualifying
During the F1 Qualifying time for the Q2, Albon does radio to say that there are a "ton of pigeons on the track" though. Clearly, he had time to do some sightseeing on that lap. F1 Qualifying Dutch GP has been a red flag as someone has thrown the flare in the track.
Red Bull's also both out and they are also on used tires. Mercedes are out on fresh tires, and Hamilton goes second 0.148s back. Russell is fourth behind Perez, as Norris – also on fresh tires – goes fifth. Ferrari is also on used rubber, but they only go sixth and seventh. 
Stroll is once again showing that Aston Martin is in the decent form here, as he slots into fourth. Fresh tires for the Canadian, as he goes ahead of Russell on merit. But here they all come, queuing up and nearly tripping each other as per normal. Two and a half minutes on the clock, with fresh tires for most except Hamilton.
Eliminated in Q2: Gasly, Ocon, Alonso, Zhou, Albon.
Top 10 Shoot Out
Max is the first to come out in a fresh set of tires. It is going to be tight. Leclerc goes fastest! Now we have a fight on our hands. It is a 1m 10.456s for the Ferrari man, 0.059s quicker than Verstappen. Now that mistake from the Dutchman starts to look costly – he's going to have to nail his last run.
Disaster for Stroll – looks like he isn't coming out here after doing so well to make Q3. But the Ferrari man doesn't nail the middle sector. It's all on the last corner for the Ferrari man, and he improves overall. Provisional pole for him – but can Verstappen beat it?
Yes – by 0.021s.The yellows are out though and that ruins everyone else's laps!  Perez has crashed at Turn 14. Leclerc and Sainz are second and third, all within a tenth of the Dutchman. Hamilton had to settle for fourth, Perez fifth and Russell will be disappointed with sixth having lost the chance to complete his only fresh tire run.