It was Max's opportunity in Azerbaijan Gp until a tire failure at Lap 45 for Max handing the win over to Perez. This happened to Stroll in the initial part. Seb is 2nd finally. Hamilton fucked the restart. Pierre Gasly had a fantastic drive to P3. Ferrari and Mercedes were the biggest losers here in Azerbaijan Gp.
Race Start
A decent start for Leclerc with Hamilton breathing down and passing him in Lap 2 of the Azerbaijan Gp. Verstappen has some catching up to do. Perez made 2 places and is in 4th and by Lap 8 into 3rd position. Leclerc overcooked it by following too close and Pitted on Lap 10 and went the pits. Giovanazzi made up 5 places in the start on his soft tire at the start of Azerbaijan Gp.
Ocon's Alpine is the first retirement of the day. Williams pitted on Lap 6 for Hards followed by Leclerc in Lap 10. This stop has reactions left right and center. Hamilton was first to pit and his stop was impacted by Gasly coming into the pits it was a slow stop. This gave Redbull the opportunity they are looking for. Redbull pitted Max and got him in front of Hamilton. Then came the second blow to Hamilton when Sergio Perez piped him for the second place.
Mercedes and their pitstop strategy has been shabby for the past two races and now its costing them the championship. Perez stop was a bit slow and this had Hamilton breathing down his neck Lap after Lap. Everything was back to square one when Lance Stroll's right rear went off.
The Inevitable Safety Car
Lance Stroll brought the first safety car when his left rear went off on its own. No data No Warning just boom. This raised eyebrows at the time. Since the accident happened near the pit entry it was closed. The cars are bunched up Max and Perez did a good restart to keep Hamilton behind. Perez and Hamilton's battle went on for quite a while. Hamilton is getting a super toe from Perez in the straights but the Redbull is too quick in sector 2 keeping Hamilton out of DRS Zone.
All Hell Broke Loose
Right when this battle is happening, at Lap 45 the Right Rear of the Max Verstappen just blew out on its own. This brought out the Red Flag and all cars returned to pit lane. This shook the grid up with Perez leading from the front with Hamilton on 2nd and Vettel on 3rd. Vettel had a fresh set of Softs and he is one determined man and so is Gasly. Everyone lined up the grid and Hamilton has a massive chance of winning this.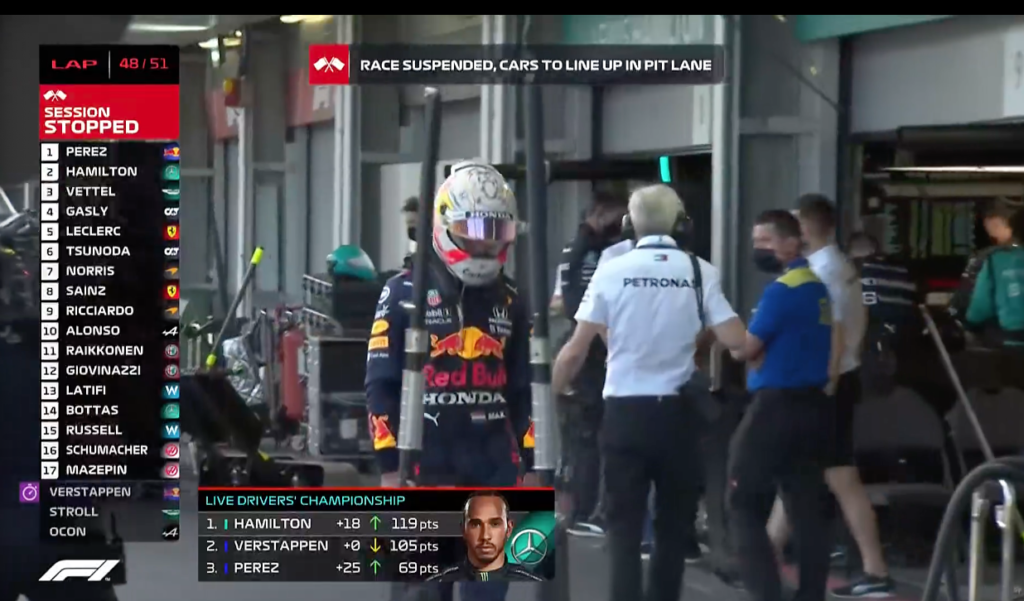 Everyone had warmed up the tires and when the race restarted everyone's heart sank as Hamilton took the lead but a mistake of his life cost him everything. Locked the brakes and went into the runoff in turn 1 dropping to the last. This means Gasly is on the podium spot. Leclerc passed him on the straight and Gasly passed him again in Turn 1 handing him the podium. Sergio Perez wins the Azerbaijan Gp at the neck of the moment his car stopped at the pit exit after winning.
It was a mad mad race, where hearts pounded and emotions on a roller coaster. As it stands the championship stays the same as both Hamilton and Verstappen did not score any points. Mercedes has a double blow because two cars were out of the points as Valterri Bottas was overtaken by Antonio Giovanzzi. Red bull extended its advantage in the constructor's championship.
Unacceptable tire choice from Pirelli- Bottas absolutely ridiculous- Baku is an insanely underrated track- Perez will never be an Albon 2.0- Missed opportunity for Ferrari-Alonso's still got it- I need a heart transplant.