In this week's F1 news, We see Prez pricing Albon, Michael Schumacher's car for Sale, Baku Pit Entry Controversy and Lewis Hamilton's pay cut and contract for 2022.
Michael Schumacher's iconic Jordan 191 is up for sale
Michael Schumacher's first Formula One racing car – a stunning Jordan 191, which he drove in the 1991 Belgian Grand Prix is being sold for £1.25 million.The F1 car that had once been voted one of the most attractive racing cars ever was the car that Michael Schumacher had driven during his debut run on the tracks.
According to a report by The Sun, the buyer will get to take home the steering wheel in a special frame, a Schumacher-signed model, along with a certificate of authenticity. The Jordan 191 is up for sale on Speedmaster.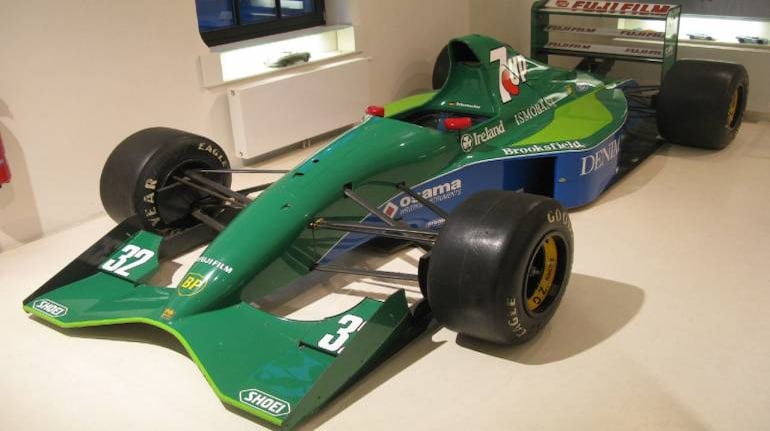 Perez Praises Albon
"I remember when I came here, you wouldn't expect from him to be so open, in a way, with me," Perez added of Albon. "But he explained to me all the issues that he'd had, how the car works and that was very nice, since day one, to have from him, so I really appreciated that, and I appreciate the work that he's putting weekend after weekend with the team, with the simulator.
"This is teamwork, and ultimately we are there thanks to every single individual in the team."
Masi disagrees with Rosberg over "dangerous" Baku pit entry
Nico Rosberg and Many others have raised concerns over pit entry in Baku. He posted a video during the analysis of the circuit this week.
But F1 race director and safety delegate Masi said he did not agree with what Rosberg had said because the circuit had met the FIA's Grade 1 requirements. "No, I disagree with that comment," Masi said. "The pit entry and the entire circuit has been designed, and is homologated by the FIA as a Grade 1 circuit, and fulfills all of the various safety requirements that the FIA has within its regulatory requirements.
Lewis Pay Cut
Lewis Hamilton is reportedly willing to accept a lower basic salary in negotiations over a new Mercedes contract but is eager to include a clause that entitles him to a significantly bigger bonus for winning the Drivers' Championship. But the Briton is expected to battle the Dutchman all season long in a duel that could go to the wire across the 23-race calendar. In the background, talk about Hamilton's future in the sport continues with Hamilton turning 37 next January and currently out of contract at the end of the season.
Team feared he would crash
Tost says that the rookie put on a "fantastic show" on his way to his best result to date in F1.
"Yuki did a fantastic job, I must say," said Tost. "Okay he had yesterday the small incident, but it was in Q3 and can happen, it happened also to more experienced drivers. And today his race pace sometimes was unbelievable. I was really worried that something happens because he was really fast. He is in a very good place, and I think that he will come up with some good results also in the second half of the season when he gets a little bit more experienced, especially on race tracks which he knows."