Round 15, Russian Gp in Sochi. The good news for those of you who can't wait to see cars out on track is that it has dawned brighter and a lot drier here than it was yesterday. That rain is an ever-present threat this weekend, especially tomorrow when it could wreak havoc with qualifying. But for now, the sun is out and the cars are getting ready.
Ferrari Upgrade
Another piece of news this weekend is that Charles Leclerc is set to start from the back of the grid on Sunday after taking on a raft of new PU components. Ferrari is using this both to gather data with regards to their development direction for their 2022 car and also adding elements to Leclerc's ledger of parts after his crash in Hungary.
Russian Gp FP1
So onto the runners and riders then, and there are fascinating storylines up and down the grid. At the front, Max Verstappen was in a bullish mood yesterday, insisting he feels no pressure or nerves as the title battle hots up. He is carrying a three-place grid drop into this race, handed down by the stewards in Monza for his part in the crash that ended both his and title rival Lewis Hamilton's race. 
Verstappen emerges from the pits, and he too is sporting a set of soft compound tyres. That is interesting normally the teams wait for the track to rubber in and grip to improve before trying out the softest compound. Straight away he complains about the ERS and goes to the top with soft bolted on.
Followed by Bottas and Hamitlon is hards. Leclerc is next from Norris after 20 mins into Russian Gp FP1. Mercedes stomping ground. Bottas in softs goes on the quail sim run and goes purple (fastest of all)  in all three sectors to go top by a comfortable margin. It's a 1m 34.427s for the Bottas.
Lewis goes two tenths slower than Bottas and of course, it's free practice so it's hard to say what anyone's running but Bottas is more than a second faster than Verstappen on softs.
Verstappen in a fresh set of soft tyres goes to P3. I suspect there is more wing in that car because Sector 2 was purple which needs a lot of downforces to conquer. Verstappen ends up 2 tenths of Hamilton and 4 tenths of Bottas.
As for Gasly, he slotted into sixth on his soft tyre run, fractions off Vettel in P5. A decent opening effort for him, who winds up pretty much where he has been all season. Perez is nowhere close to Verstappen slots in 9th at the moment. With this performance from Perez Redbull can kiss their constructors championship goodbye !!
This is a Mercedes stronghold and nothing in FP1 shook that belief, with Bottas leading his team mate at the End of FP1 in Russian Gp.
Verstappen set to start at the back
Confirmation has come through that the Dutchman has taken on a raft of new PU components, meaning he will start from the back of the grid on Sunday. Given he has a grid drop anyway, that seems a sensible decision. 
Right then, that is Verstappen and Leclerc down the back of the field then, which explains why they are running through their allocations of soft tyres in practice, given they don't need to save sets for qualifying.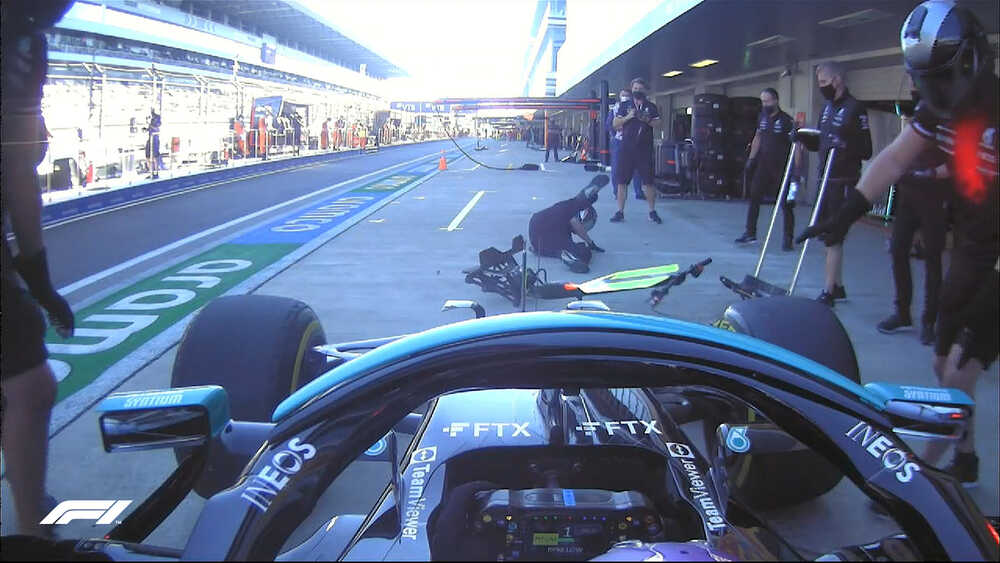 Who will get into top 10, Giovanzzi comes to mind, George can be there since its suspected to Rain and we all saw what he did in Belgium Gp . speaking Antonio Giovinazzi, he has hit the barriers at the exit of turn eight, leaving the Tecpro spewing polystyrene and foam and his car heavily damaged. He's told to stop on track, as his cars spilling debris, although he was able to continue.
Hope it is not a race gear box, it is not and he saves the trip to the back of the Grid. Session Stopped in Russian GP
15 Mins to go !
Kimi | "There was something in my eye in FP1… and it's still there" as we resume action in Russian Gp FP2. Perez comes into play as always my guess is he will not deliver. He needs to be atleast in contention if Mercedes has an unfortunate moment.
But his pace is nowhere close to the guys out in front. The chequered flag is out, but first back to Gasly. Replays show that he ran wide and over the sausage kerbs at Turn 2, with the front wing catching and sliding under the car. He has limped back to the pits.
Its Mercedes One and Two, if everything goes according to plan they can lead the World Championship again come Monday after the Russian Gp.