Russian Gp, as predicted rain arrived earlier and it arrived in spades. Thunder and lightning accompanied the heavy showers this morning, leading to a swift cancellation of FP3 around fifteen minutes before the session was due to start. While it is dry at the moment, there is the potential of more rain incoming during qualifying according to the radars. Timing your lap here if the clouds open could be crucial and it Greenlight in Russian Gp Qualifying.
Russian Gp Q1
There is a queue at the end of the pit lane as the lights go green, understandable given that more rain could be imminent. So far it is mostly intermediate tyres for everyone except Alonso who is on full wets.
Giovanazzi loses the rear as he tiptoes through Turn 16, nearly collecting Leclerc in the process. Not ideal for Giovinazzi, who lost time yesterday when he collided with the barriers down at Turn 8. This time he keeps the car in one piece and can get going again.
Verstappen has had enough – he hasn't set a time but has tested out the conditions and is now back in the Red Bull garage, out of the car and headed for an early bath by the looks of things. Perez has had a moment down at Turn 2, which briefly saw the yellow flags fly – interrupting a fair few laps out there. The Mexican is second as it stands, having been displaced by an improving Bottas. Hamilton jumps to 1st with a flyer.
The stewards will investigate a Turn 2 incident between Ricciardo and Stroll after the session
Eliminated in Q1: Raikkonen, Schumacher, Giovinazzi, Mazepin, Verstappen. 
Q2 in Russian Gp
Latifi is set to join Leclerc and Verstappen at the back of the grid for tomorrow's race as Williams have announced he has taken on a raft of new PU components. He has yet to come out in this session, and nor has Leclerc. 
Hamilton has jumped to the top of the timing sheets, with a 1m 46.096s, only a tenth and a half up on Norris in P2. As for Bottas, he locks a wheel and takes avoiding action down at Turn 2. The second lap goes to the top by 0.5 secs to be clipped by Hamilton by 0.1 sec in the next run.
This is where @redbullracing need @SChecoPerez to come to the party and stick his car on the pole and then win tomorrow. Any points he can take away from Lewis are gold for Max. The chances of that happening is very slim as he slots into 4th.
Alonso nails his next lap to jump up to fourth behind the Mercedes boys and Norris. Mr Saturday is still finding it difficult to get into Q3 with 1 min to go it's not looking good but goes to 9th. Sainz in the bottom 12th lifts himself to 10th will it be enough. Scoots by the skin of his teeth.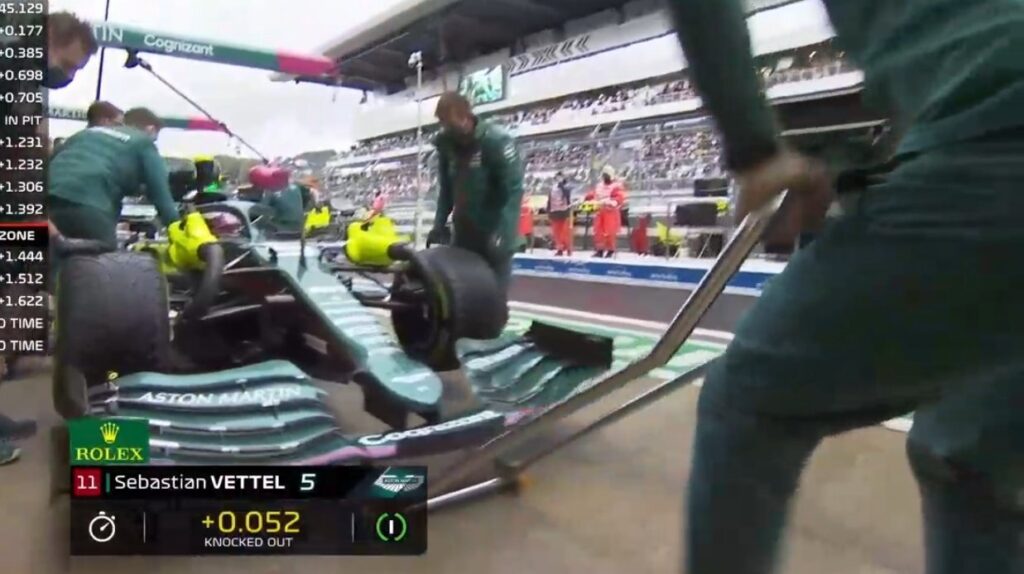 Eliminated in Q2: Vettel, Gasly, Tsunoda, Latifi, Leclerc.
Q3 in Russian Gp
Right then, this one should be fascinating. The track will continue to ramp up, so timing those final runs could be crucial. It is still intermediate tyres all around as it stands now. With Dry line appearing here and there this could be interesting to watch.
Is everyone is going for slicks after a banker lap? Norris splits the two Silver Arrows! That is a very decent lap by the youngster, who goes 0.004s ahead of Bottas.Nothing in it between those two for the front row. Williams, Mclaren and Ferrari are into slicks but slicks seem to be working. After so much drama in Mercedes garage in Q3 after Hamilton hits the pit wall he is in P4 and Bottas in P7.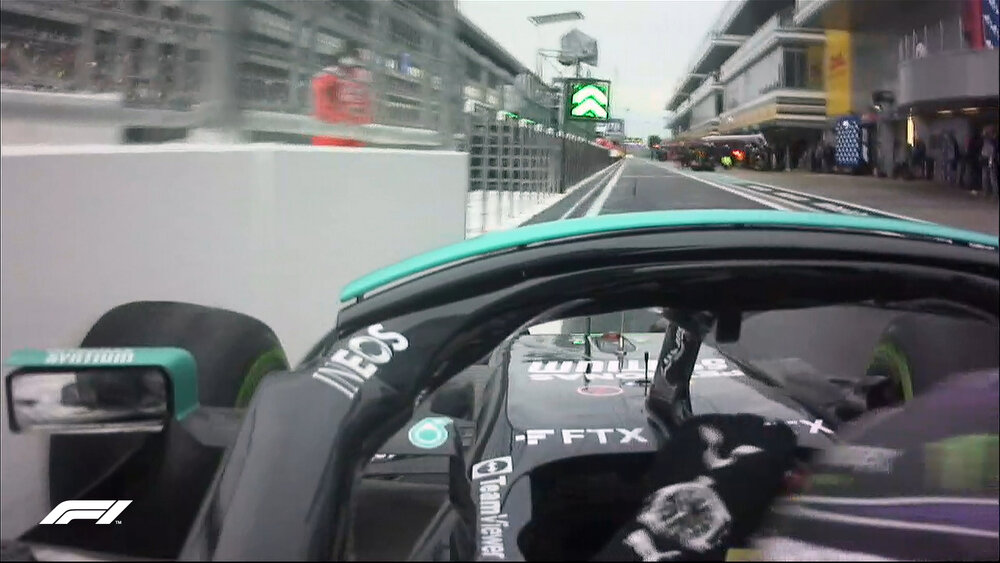 Sainz is the only driver improving, he loves the slippery conditions. And yes, he does indeed grab provisional pole out there!
Norris grabs a sensational pole position in Russian Gp
It's just as well he is sitting down, as there is an outpouring of emotion when his race engineer gives Norris the news. in truth, he deserved that, he could have had the pole at Spa, but only had to wait for a few more races in the end. but third for the Williams man in tricky drying conditions is almost as impressive as his qualifying in the wet in Spa.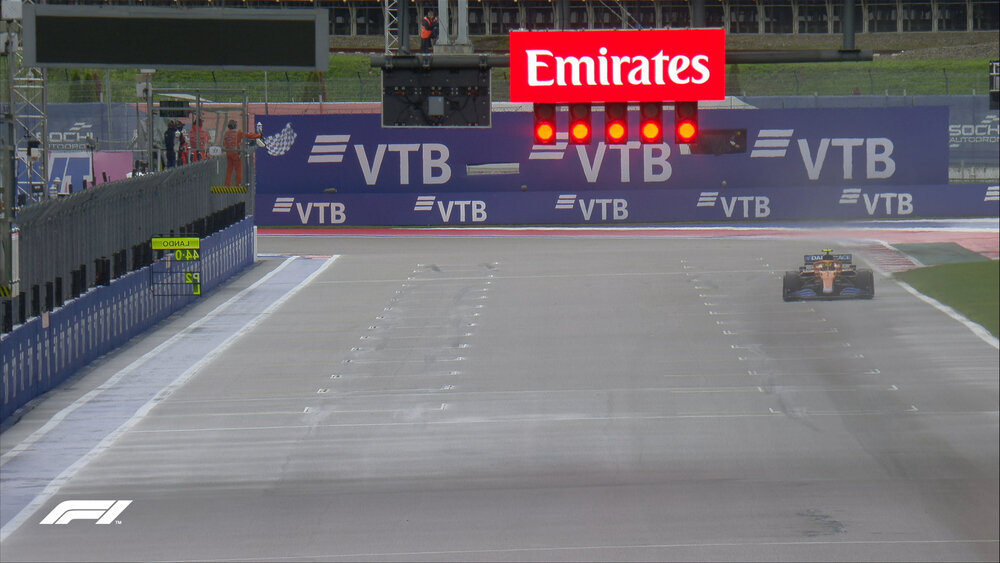 While an all-wet qualifying session is always thrilling as the drivers push their own personal limits along with those of the track, in many ways a wet-dry session adds even more intrigue as strategy comes into play.