Russian Gp, in Sochi Autodrom, will the Round 15 of the Formula One World Championship. We go into this Russian Gp with an expectation so heavy that disappointment is almost imminent. But I could be wrong and we have a cracker of a race as we had in Monza Gp. In this section, we look into the track and the heavy expectation that it carries this weekend.
Russian Gp Track
It's a track that is a part street circuit and partly built circuit from the remains of the 2014 Winter Olympics. The first race was held in 2014 and the track has been kind of a Mercedes stomping ground. All wins are from Mercedes drivers on this track since its inception.
At 3.64 miles and comprising of 18 turns, it's turns-3 a 750m long left-hander is spectacular to see the cars drive through flat out. The rest of the track is a series of bends and straights with a short blast in between. Overtaking here is difficult and since there is only one Russian driver in the Grid and in a very slow car fans will be bored.
Two drivers have grandstands named after them. One is Daniel Kvyat and Vitaly Petrov. Due to the lack of overtaking opportunities in the track, there have been talks to move Russian Gp away from Sochi to a different track in 2023.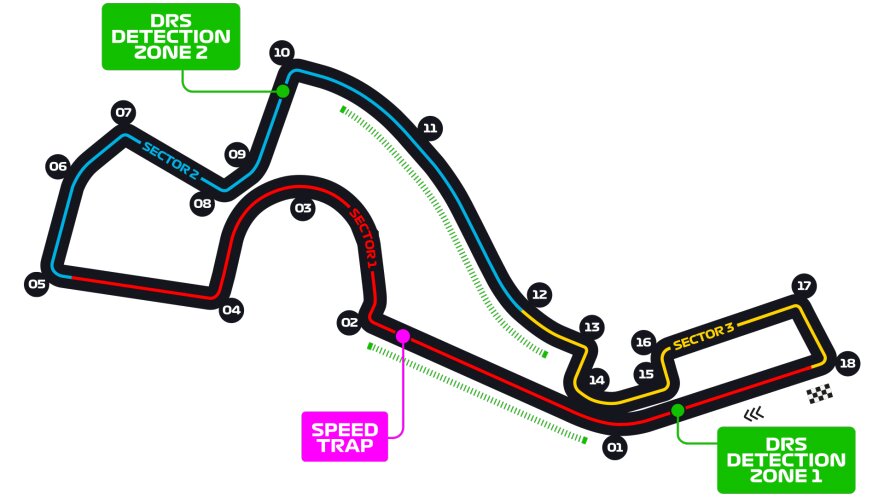 Schedule and Weather
We have had the probability of rain at a number of venues this season. However, the F1 community wasn't prepared for the showers at Spa. And after seeing the action in Belgium, fans would like to know if they can expect something similar for the upcoming race weekend in Russia.
The weather is said to be around 21 degrees Celsius, with a 25% chance of precipitation with winds said to reach a speed of 15 mph & humidity at 36 %. Towards the end of the race, the temperature will fall down to 17 degrees Celsius, while precipitation will increase to 58%, humidity at 45% & winds reaching a speed of 20 mph.
Expectations of the Weekend.
Max Verstappen is going into the weekend with a three-place grid penalty, but he is likely to take an engine penalty because of the Power Unit Penalty due to the crash in Silverstone. So Max Verstappen is likely to start behind. There might be points haul but not as much as Mercedes and by the end of the race, Hamilton will lead the Drivers Championship.
If Perez isn't in the podium places this weekend, Redbull can kiss the constructor's championship goodbye as though mathematically possible it's never going to be any contention. Apart from this, they need a solid place finish and the fastest lap as every point counts if Verstappen is stuck behind or below 10th place.
Mercedes expects favours from Bottas again to get the slipstream and cover of the threat from other teams in a better strategy. Lewis Hamiton and Mercedes will be ahead of the championship by the end of the Russian Gp at Sochi.
McLaren after a fantastic win in Italian Gp will be buzzing straight through. Sitting pretty at 3rd place they hope for a podium to run away from the 4th place Ferrari. Ferrari would love a decent finish but it's highly unlikely. Though it is a street circuit mix their straight-line speed is far less to challenge Mclaren in the Russian Gp.
Alpha Tauri needs a decent finish after a chaotic Sprint in Italian Gp. Gasly needs a recovery drive and Yuki with his new contract needs a consistent result here on. Failing to do so, Yuki Tsunoda will be seen as a person who doesn't deserve a seat in F1 2022.
The Home hero Nikita Mazepin, needs a weekend without the Spin !