Hungarian Gp, Round 11 of the Formula One World Championship, Bottas has received a drop of 5 grid positions for the next race (Belgium) and two penalty points for "causing an avoidable collision in Turn 1". Lewis made an awesome recovery drive from P 14 to P3. Leading Max Verstappen by 7 Points in the Drivers Championship. But it's Ocon who wins from Vettel in a crazy Hungarian Gp. What a race, what drama and what composure from the young Frenchman who wins for Alpine. He managed that race superbly and is understandable, going absolutely crazy on the radio.
Pre-Race-Hungarian Gp
Thunderstorms did finally arrive earlier, but only in time for the F3 race. As for the F1 drivers, here in Hungarian Gp, it is now once again bright and sunny, and much like Friday, it is already scorching hot with an hour to go until lights out. There could be more storms in the offing a little later on though. It looks like it will rain for about an hour once it starts, so this is going to be a full wet start and about half the race wet. Lo and Behold it's Raining, with 25 mins to the start it's going to be a thriller.
When those lights do go out, fasten those seat belts as the first lap could be an absolute corker. With tensions still riding high after their Silverstone crash, how Lewis Hamilton and Max Verstappen treat each other if they end up wheel to wheel through the first few corners is on everyone's mind.
The Start of Hungarian Gp
Behind Bottas gets bogged down and Verstappen is into second. Norris makes a great start but gets tagged and goes into Verstappen, with Perez also off at the first corner with Leclerc involved. Disaster for Red Bull!. The Safety Car is out and replays show that Bottas brakes late and tags Norris, who goes into Verstappen, who then goes into Perez. Leclerc was in a separate incident with Stroll, and Ricciardo got caught up in that.
The radios filtering through from that incident certainly paint an expletive-ridden picture, with drivers not sure who they were hit by or why, but all equally frustrated to see their hopes dashed. Today is the sort of day where you can score big points if you can keep out of trouble.McLaren have radioed Race Control to confirm that their man is out – they can't repair the car in time, so he'll drop out of the order in the pit lane.
It looks like Stroll tried to go for a gap to take advantage of that melee, but also out-braked himself and collided with Leclerc and tipped Ricciardo into a spin. Gasly started fifth and had to take avoiding action for both incidents which dropped him down the field, while for the drivers who stayed on track, the gaps just opened up beautifully.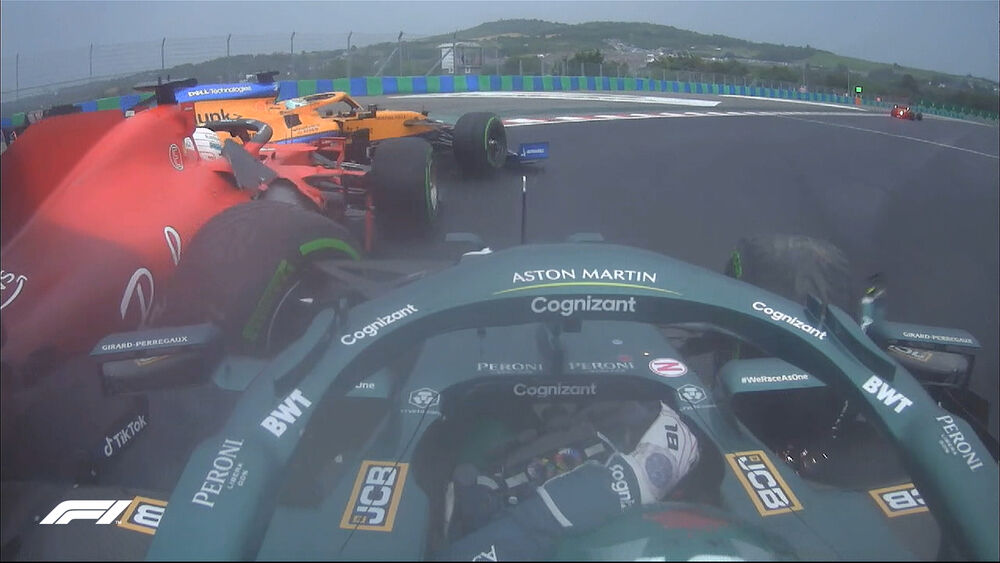 The Restart
Right, everyone else pitted so Hamilton now has a lap to make this count as Mercedes look to have made a strategic mistake. As for the pit lane battle, Williams won with Russell ahead of Ocon and Vettel! Hamilton pits for medium tyres and drops down the field to the last place. Hamilton is in the last place with Verstappen in 13th.
The Frenchman Ocon leads this race on merit, from Vettel and Latifi. As for Russell, he was told to give the places back apparently that he somehow earned in the pit lane, hence him dropping back through the field.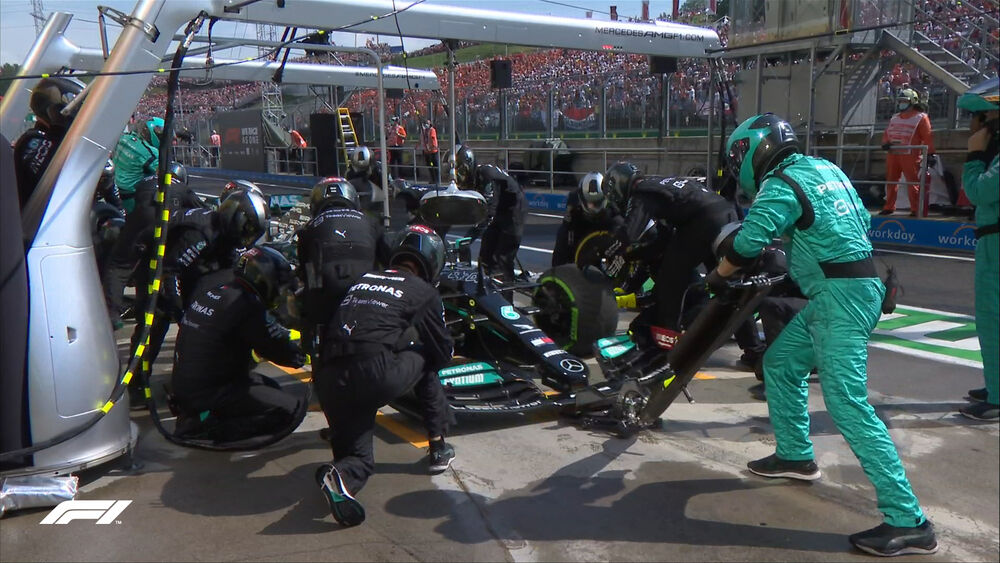 There's just no grip out here," says Hamilton, as he begins to struggle on those used medium tyres. Running in dirty air won't be helping him either as he tries to atone for that restart misjudgement. He has a look at Gasly down into Turn 2, but Gasly is far too experienced to fall for the switcheroo. He couldn't catch and pass Gasly, and Mercedes have gambled with a different strategy here. He is on the hard tyre and Red Bull are going to have to respond and lose the place to Hamilton. After lap 25 of the Hungarian Gp, Lewis is in P8 and Verstappen in P12.
So Ocon leads from Vettel neither have stopped in this pit stop window. Sainz is third and has been released from traffic, and is absolutely flying out there. Alonso is up to fourth, Gasly fifth and then comes Tsunoda and Latifi. Hamilton goes for it! Around the outside of Turn 4, it is a bold move by the Mercedes man but he keeps his foot in and makes it stick. He's up to fifth and can win this race potentially.
Wheel to wheel action further back between Russell and Schumacher, as the Williams man makes a move around the outside of Turn 2. Again the Haas man defends superbly and holds his line but Russell just made it past for P9. Today might be the day Willams scores finally.
Ocon pits from the lead. here we go this could be for the win. Perfect, absolutely perfect from his crew. It is a 2.3s stop and he comes out just, just ahead of Vettel who had an unbelievably good out-lap there. Gasly has made it up to seventh and is a few seconds back on his teammate. Alonso sets the fastest lap of the race from fifth, temporarily taking possession of that bonus point.
It's Hammer Time.
Hamilton pits! Right, here we go. This is a bold call by Mercedes, and it is already too late for Sainz to respond. So this is now Hamilton against the clock, fastest lap after fastest lap as he chases a podium. Hamilton's last lap was a full three seconds quicker than Ocon out front. Toto Wolff comes on the radio and tells Hamilton he can win this. He is 16 seconds off the lead now and there are 19 laps to go.
Another lap, another great example of defence from Alonso. Hamilton must be so frustrated in that cockpit – not only is the win slipping away but so is the chance of taking maximum points out of his championship rival. Verstappen finally, finally gets a move done on Ricciardo and is back in the points. For a man with half a car, that isn't too shabby. He got a run down into Turn 1 and made the move stick into Turn 2.
What a race, what drama and what composure from the young Frenchman who wins for Alpine. He managed that race superbly and is understandable, going absolutely crazy on the radio. The stories keep coming – Williams scores double points, with Latifi in eighth and Russell in ninth. Those are Russell's first points for Williams, and Latifi's first in Formula 1.