F1 has headed to Saudi Arabian Gp for the very first time, to the seaside city of Jeddah for the penultimate round of the season. With qualifying and the race itself set to take place under the lights, this street circuit could be aWith just two races to go and both championships up for grabs, the teammates will be crucial both here and in Abu Dhabi – and as such, Perez needs to up his game and get back in the mix at the front this weekend. spectacular location for the latest instalment of the championship fight. Round 21 of 22.
One thing is certain about the track – it should be quick. Simulations have shown that it is expected to be second only to Monza in terms of average speeds, and faster than Silverstone. With quick corners, a long straight and banking to boot, this could be an incredible spectacle. 
Saudi Arabian Gp FP1
There is a queue at the end of the pit lane, with Carlos Sainz the keenest to get going and find out if this track is as fast as predicted. He is straight out on a set of the soft compound tyre, with his teammate just behind. No one is wasting time everyone in out except Hamilton and Alonso
Speaking of Hamilton and Mercedes they are in a middle of a PR crisis. Tribute to Frank Williams all around rightly so. Nearly ten minutes into the session and Verstappen has been taking that racing line about as fine as it gets out there. He remains top with a 1m 31.736s. 
The prediction is for this circuit to slightly favour Mercedes over Red Bull. But the margins between those two teams have been so fine all season, 'favour' could be as small a tenth.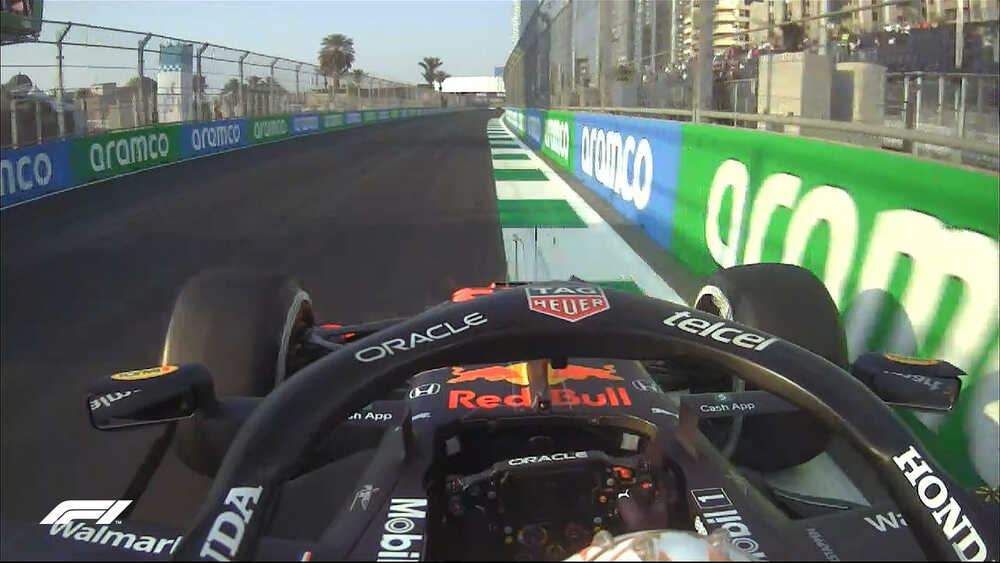 Mclaren in Saudi Arabian Gp
Lando goes to Second, Speaking of McLaren, they have dropped back in their fight with Ferrari for P3 in the constructors' thanks to a combination of poor luck, plus a couple of tracks that didn't suit their car. It will be a tough ask now to make up 39.5 points unless they get a Monza style win in Saudi Arabain Gp
Given the different compounds in play, it doesn't look like we'll get a like for like comparison of the top two teams in this session, we might have to wait for the sun to set and FP2 to get going to see who has what.
Norris is on a flying lap, as he swaps to the soft tyres. But he aborts after coming across a slow-moving Ferrari, which just happens to belong to his former teammate. No real damage done, and Norris is content enough to not even gesture at his good friend. Traffic, needless to say, will be an issue despite the length of this Saudi Arabian Gp
Daniel and Lando are in P9 and P10 while the Ferrari counterparts are in P6 and P7 at this stage.
Hamilton, sporting the same rainbow helmet he wore in Qatar, is finally on a flying lap. He has to clear traffic in the form of Tsunoda, who to be fair jumps out of the way. Next, he has to clear Ocon – but despite that, he goes purple in the middle sector. And it is fastest overall for Hamilton, two tenths up on his teammate. 
Perez is Struggling in Saudi Arabian Gp
Everyone has run the soft tyre now, although Alpine, as they often do, ran it first and are now focussed on the harder compound in more representative conditions. As it stands it is Mercedes leading the way from Verstappen, with Gasly once again impressing in P4.
Perez is one driver who looks to be struggling, which is something of a surprise given he tends to go well at Baku, which does have some similarities to this track. The Mexican is 15th as it stands, nearly two seconds off the pace. With just two races to go and both championships up for grabs, the teammates will be crucial both here and in Abu Dhabi and as such, Perez needs to up his game and get back in the mix at the front of this Saudi Arabian Gp.
Hamilton fastest but Verstappen right there
The Dutchman improved on his very last effort there, on soft tyres that were eight laps old. he gets to within 0.056s of pace-setter Hamilton, with Bottas third in FP1.