Saudi Arabian Gp, saw the first-ever running in Jeddah, the daylight FP1 session giving the drivers a flavour of this exceptionally quick track before FP2 provided quite the spectacle under the lights. It was as fast as predicted, but also a lot tighter in places than the simulations had shown which should make things interesting a little later on for qualifying.
Settle in for the FP3 in Saudi Arabian Gp. It's going to be a thriller.
FP3 in Saudi Arabian Gp
As for the track, well it has thrown up a few headaches for the teams. Because it is so narrow, getting out of the way of other cars has proved tricky at best, with traffic a constant source of worry. Add in the fact it is a long track – the second-longest on the calendar after Spa and if you lose a lap to traffic, it's a long way to limp back to the pits for fresh tyres.
The walls are too close the cars are too fast and the accidents are fantastic. Charles Leclerc saw it up close and personal. But that incident just showed how fine the margins are here between hero and zero. This is something that is going to play on the minds of both Hamilton and Verstappen with two races to go, a DNF could effectively end the championship.
In terms of tyres, the soft might give that little bit extra grip for traction, but the hards will be more stable in the fast corners with the mediums somewhere in between. It will be mediums for Q2. Pirelli has given the teams the middle three compounds, the C2, C3 and C4 rubber. That is one stage softer than in Qatar last time out, and so far, the mediums have looked by far the best race tyre and quite handy over one lap.

The lights have gone green
And that means the final practice session of the Saudi Arabian Gp is underway. Expect plenty of action late on, with the last twenty minutes or so being more representative conditions-wise for qualifying later on. 
Bottas is the first of the front runners to emerge from the pit lane, and he is sporting the hard tyre for the first time this weekend. Hamilton doesn't dawdle too long in the Mercedes garage before joining his teammate out on track. 
The Ferrari boys are also out, as is Alpine's Alonso. Those three will all be gunning for the top 10 berths later on in qualifying. Softs for Alonso, mediums for Sainz and the hard compound for Leclerc. Plenty of mixed strategies out there early doors. 
But Hamilton is on a hot lap – and he goes top, with a 1m 29.605s, to go six tenths clear of Raikkonen. Add in the tyre delta from Hamilton's hard compound, and that is a meaty lap first up. The times are coming in thick and fast. No sooner has Perez gone top than Hamilton manages to better him before Bottas likewise beats the Mexican's time to slot into second as we settle in for the Saudi Arabian Gp FP3
Verstappen improves his lap time, the track rubbering in nicely here. He gets within four-tenths of Hamilton, as Perez slots into P4 just behind Gasly.
Soft Tyre Run in Saudi Arabian Gp
Over the halfway mark, and Verstappen is on a flyer. He goes fastest of all in the first sector, loses a couple of tenths to Hamilton through the middle sector but still manages to go top with a 1m 28.212s, a tenth faster than his Mercedes rival. 
But now it is time to see what Mercedes have up their sleeve. They have sent both drivers out on the soft compound tyre for the first time this session. Hold onto your hats. It is only sixth for Bottas on his opening flying lap, despite having a relatively clear track at hand. Hamilton is still slowly but surely winding his way through the final sector, but this isn't looking quick either. Hamilton doesn't improve. 
Bottas sets another flying lap and remains sixth. Mercedes really isn't lighting up these soft tyres at the moment, much as they didn't in Saudi Arabian Gp FP2
"Verstappen a 28.2" Pete Bonnington tells Hamilton, saying that Verstappen set it on his fourth push lap on a soft tyre "I don't even know what that means," says Hamilton, who apparently doesn't know his own lap time. Which is 0.102 off Verstappen's.
Massive error from Mercedes there, that could have been big with Mazepin and Hamilton. Mercedes didn't tell their man that Mazepin was also on a hot lap, and as the Russian comes round the corner, he has to run straight on over the chicane to avoid the Mercedes.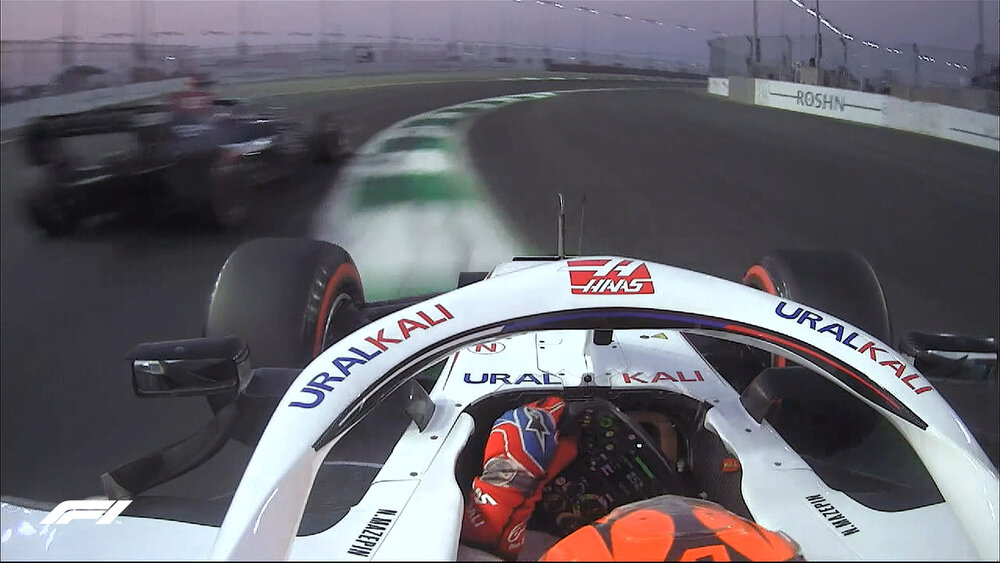 Tsunoda is up to third with a 1m28.641s, around one-tenth faster than team-mate Gasly in fourth. AlphaTauri looks very strong on a single-lap pace once again.
How the tables have turned – from Mercedes with two cars up front yesterday, now it is Red Bull who are heaping the pressure on. Hamilton will have some head-scratching to do between sessions to work out how to turn this soft tyre on, and Bottas needs to find the best part of a second to climb back up the timing sheet in Saudi Arabian Gp.