Italian Gp has already served up a brilliant race earlier this season, at Imola back in April. But here at Monza, the schedule has been shaken up by the arrival of the Sprint, an 18 lap dash to the line which will decide the grid slots for tomorrow's Italian Gp.
Qualifying was held yesterday evening and saw Valtteri Bottas put in a stormer of a lap to grab P1, ahead of his much-fancied teammate who up until then, had looked assured of the top spot. The Finn though, firmly reminded the paddock just how good he can be as he nailed his final flying lap in Q3 when it mattered.
The Sprint itself is set to be around the half-hour mark, with 18 laps of this fabled circuit to complete. No mandatory pit stops unless for damage, just twenty cars slugging it out to gain as many grid positions as they can for tomorrow's race in Italian Gp.
The starting tyres are in and it is a mix of softs and mediums as predicted. Both McLarens are on used softs, as are the Aston Martin boys. The Alpine cars have fresh softs fitted, and Tsunoda has also gambled from towards the back of the field.
Start of the Sprint
Bottas gets a good start but Hamilton has a shocker. Verstappen is through into second and Ricciardo is into third. Norris is side by side with Hamilton and gets past him. The Safety car is called immediately as there has been a crash involved Gasly – it looks like the Frenchman clipped the back of a McLaren after an electric start, which sent his front wing under his floor, and saw him skating off into the gravel.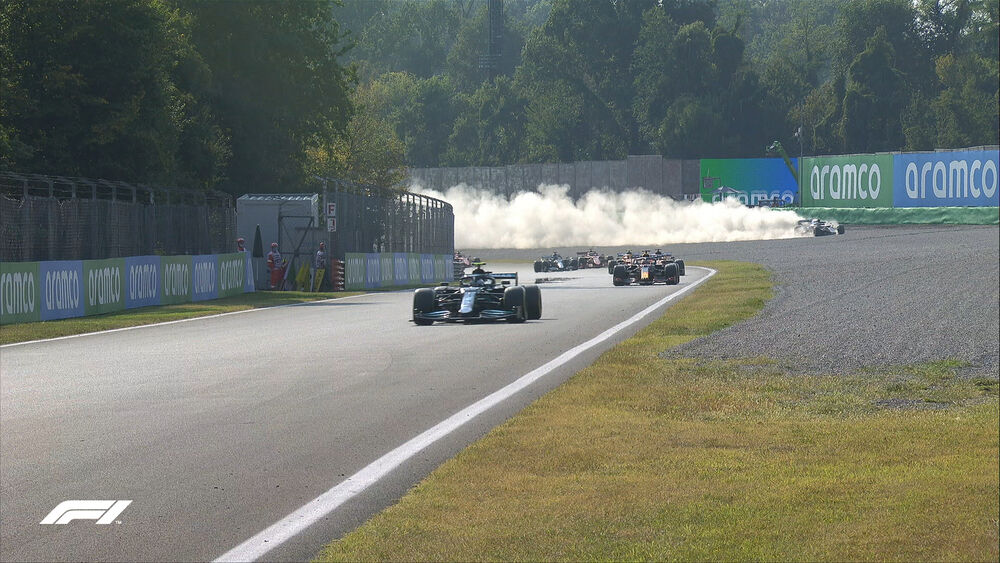 The Safety Car is still out, and there have been plenty of position swaps already in this Sprint. Giovinazzi is doing okay out there, having jumped from P10 up to eighth, and Stroll has managed to make his way into the top 10 too. So the biggest loser is Hamilton, who has gone from second to fifth. Not just has he lost out on a good starting slot for tomorrow, but on points as well as it stands.
Hamilton and Pierre Gasly are the losers as of now as we are into 12 laps of 18 as Bottas leads from Verstappen. Alonso and Vettel have been squabbling, with the Spaniard managing to get past at the first Lesmo. Both are on the soft tyre, which helped by those Safety Car laps, should last the distance here in Italian Gp.
Hamilton is still all over the back of Norris, who is on full defence mode in the fight for fourth out there. How wide can he make his car here? Still, Hamilton can't get close enough to make a move. Behind, Leclerc is up to sixth, taking full advantage of Gasly's DNF and managing to pip his teammate at the start.
Ricciardo is another driver who can start to think about tomorrow – he is well behind Verstappen, and behind his teammate is fully occupied with keeping Hamilton at bay. The Aussie could well be heading towards a front-row start here.
Bottas wins the Sprint in Monza!
It is the chequered flag and the Bottas see it first, coming across the line having been untroubled from the start. Verstappen comes home second, ahead of Ricciardo in the first McLaren. Three points for Bottas in the championship, two for Verstappen which extends his championship lead to five and one for Ricciardo from Italian Gp sprint.
"Nice one," says a surprisingly subdued Ricciardo. He was frustrated yesterday, believing third was possible in qualifying. But fifth proved a good place to start, and now he has a front-row start to show for his troubles. Fair to say, Hamilton probably isn't a fan of the Sprint, having lost out on pole in Silverstone despite starting P1 for the Sprint, and losing out again today. Ouch. No points either for the reigning world champion in the Italian Gp Sprint.
It's good to be back! We're on the front row and that has been a long time so I'm happy about that. Full attack tomorrow. I thought maybe I'd get Max into Turn 1 but he had the inside. I look forward to trying again tomorrow.

Daniel Ricciardo at Italian Gp