Italian Gp in Monza is playing host to the second adjusted weekend format of the season, as F1 mixes it up with the introduction of the Sprint. That is an 18 lap jostle to decide the grid for Sunday's race, with today's qualifying session set to see how the drivers will line up tomorrow for the Sprint itself. We settle in a Hamiton seem to have the upper hand after FP1 in Italian Gp.
Sprint and Story So Far.
Last seen at Silverstone, it was a success with a few positions changing hands, some different strategies on the show and the result having a big impact on the race on Sunday. Sergio Perez was the biggest loser from Silverstone. He managed to spin midway through the Sprint, dropping to P19 and then retiring. Having qualified fifth on Friday, starting the race last really showed how influential the Sprint can be. Risk and reward need to be finally judged, as always.
But before that, there is the not so small matter of qualifying. Lewis Hamilton goes into this session as the favourite, having topped FP1 at the Italian Gp earlier on by nearly half a second from his championship rival Max. But interestingly, Mercedes opted not to use the soft compound in that session, meaning they are going into this qualifying short on data compared to most of the field. The soft tyres are mandatory here for all three segments, with the top 10 getting free tyre choice for Sunday's race.
In Italy, it wouldn't be fair not to give Ferrari a mention. The Scuderia doesn't expect this track to suit them on paper, given its high-power requirements. Nonetheless, with the midfield so tight, driver skill could make all the difference out there. Charles Leclerc knows how to win here, while Carlos Sainz finished on the podium last season with McLaren. 
The traffic as we saw in Italian Gp 2020 would not be repeated as the time delta of 1.43 minutes per lap has to be maintained at all times. Speaking of last year's Italian Gp after an impressive podium last year Pierre Gasly is looking like a man on the mission as he is topping the midfield in the FP1 session here in Monza.
Q1 in Italian Gp
Q1 is underway at Monza, after just one hour of practice to work on car set up here. There is no initial movement though just yet, with the pit lane ominously quiet as it stands and outcomes the two Ferrari's.
Schumacher has lost his out-lap time for track limits and that means the German won't get this lap time either, with both to be deleted now to make sure no one tries to gain an advantage through the final corner that they can carry onto their flying lap. Norris soon goes top on his first flying lap though, and by a healthy margin. He sets a 1m 21.681s, nearly half a second up on Verstappen. 
The shenanigans aren't only occurring in the pit lane Verstappen let's fly on the radio after he feels he is impeded in traffic. Once again, the majority of the field are squabbling over the same piece of tarmac. Ricciardo stays sixth he has given up in the melee and pitted. Perez slots into seventh which he'll hope are enough here. Vettel then slots in behind to eighth, followed by Stroll in ninth. Tsunoda has had his lap time deleted here, which promotes Russell to P15!
Eliminated in Q1: Latifi, Tsunoda, Schumacher, Kubica, Mazepin. 
Q2 in Italian Gp
Red Bull come out early, and it looks like they are set to try and execute the tow. Needless to say, Perez is leading his teammate round on this run. The flying laps are underway, and Red Bull are set to cross the line first. Perez laps in a 1m 21.146s, which is rapidly beaten by his teammate who used that tow to go four tenths faster.
But Mercedes rather stomp all over their times, Hamilton going top with a 1m 19.936s, a tenth ahead of his teammate. That is eight tenths quicker than Verstappen incidentally a mighty margin over a relatively short lap. Leclerc is still complaining of the radio he is struggling with technical woes and is ninth as it stands. The drivers in trouble at the moment are Ocon, Vettel, Sainz, Russell and Alonso. 
Everyone is back in the pits, getting fitted with some fresh boots for a second go here. The margins are tight out there, with McLaren currently best of the rest behind Mercedes. 
Bottas to start from the back on Sunday
Bottas has taken on a raft of new PU components and as such, will be starting from the back of the grid for the Grand Prix. Don't expect him to save tyres now, as he still has a job to do for his teammate. Replays show that Hamilton gets out ahead of Verstappen, but as he comes down the pit lane he has to take avoiding action as Stroll is released into his path. No contact in the end, but that wasn't pretty.
Aston Martin and Alpine are the teams who didn't have anything extra on engine mode and might need to gamble on strategy tomorrow in the Sprint if they want to make up places. Russell was the expected faller there, having only just scraped through to Q2.
Eliminated in Q2: Vettel, Stroll, Alonso, Ocon, Russell.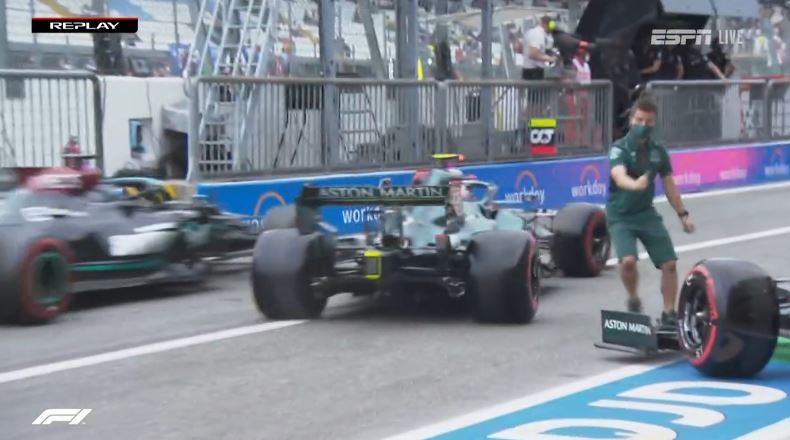 Q3 in Italian Gp
Mercedes send their drivers out first, Bottas understandably being used to tow his teammate. Gasly has cleverly slotted in behind Hamilton and will be surfing the field on his runs with no teammate to provide a tow.  Looks like Gasly towing Perez who in turn towed Verstappen all helped there, but either way Mercedes will be nail-biting slightly more than they were, with Bottas down in fifth as it stands. 
So it is Hamilton from Verstappen, with Norris and Ricciardo in third and fourth but will they swap order on their second runs? Bottas is fifth, Gasly sixth and Leclerc, Sainz, Perez and Giovinazzi make up the rest of the top 10. 
Mercedes would have been hoping for a favour from McLaren there, and the papaya cars to beat Verstappen down the order. But instead, the Dutchman has pulled a scorcher of a lap out of the bag which could well transform the weekend here. Who will blink first? Red Bull is the answer, as Perez heads off with his teammate in hot pursuit. Gasly tries to tag onto the back of that pair. 
With a 1m 19.55s, the Finn will start the Sprint from the foremost grid slot, a tenth quicker than his teammate. Hats off, he didn't have a tow from his teammate either for that one. Max Verstappen 3rd after Q3 in Italian Gp.
Let's Sprint it Tomorrow !!!!
So Bottas and Hamilton lock out the front row, Verstappen does well to improve up to third having looked well off the pace earlier on. He has Norris for company, with Ricciardo sharing the third row with Gasly. Sainz beats his teammate by half a tenth, and Perez was rather sacrificed there as he grabs ninth, with Giovinazzi in p10 in Italian Gp.