French Gp 2022 Qualifying, the sun is still beating down on the track and the tension is building nicely. Who is gonna stick it in the pole? it is Charles Leclerc with a massive tow from his teammate. In this section, we look into how the action went down in the hot and simmering French Gp 2022 at Circuit Paul Ricard.
Before the Qualifying
Practice sessions saw both Ferrari and Rebull trading blows session after session and lap after lap. The two Frenchmen in the field will also be looking to make an impression, although so far Pierre Gasly has looked in better form than Esteban Ocon. That Alpine did not look quick in practice.
Those soft tires might not hold on for a second flying run though, which could cause headaches for the front runners who like to try and progress through Q1 using just one set of tires. The track temperature is 55 Degrees Celsius, meaning tire management is going to be key here. Carlos and Kevin will start from the back.
By the looks of things, Hamilton has reverted to his previous rear wing configuration having run an extremely chunky rear wing in FP3 earlier on. He needs to find something to the tune of a full second to be competitive in the fight for pole here. 
Q1 in French Gp 2022
The lights go green, the clock starts to tick down, and Stroll and Vettel head straight out. Schumacher is also a driver who fancies an early lap here, and Leclerc then joins the fray. Soft tires are the order of the day for everyone so far. 
In come the early times and Leclerc sets a 1m 31.727s. Verstappen's first flying lap is only good enough for the second place 0.164s back. And he had a bit of a tow on that lap too. Interesting times. 8 mins to go Alonso slots into 6th impressive.
Albon has spun at Turn 1! The yellows came out briefly and that meant a few drivers had to lift off – including Hamilton. He abandoned the lap. Albon stays because of Lap deletions for Mick Schumacher.
Eliminated in Q1: Gasly, Stroll, Zhou, Schumacher, and Latifi.
Q2 in French Gp 2022
Q2 begins, as more replays of Schumacher's onboard certainly seem to indicate he was over the white line. Remember, the drivers must have something on that line for the lap to count. All of which means Albon will be taking part in Q2.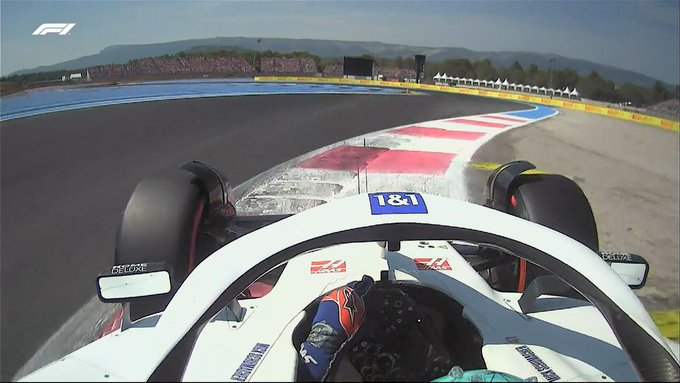 Hamilton is out first, ahead of his teammate in a used set. Perez and Verstappen made the initial impression but when Sainz comes for a lap all went out of the window 0.9 sec faster than Max Verstappen. With 4 mins to go Mercedes needs a good lap to get into Q3. Russel and Lewis in a brand new set of soft tires.
There is plenty of traffic as everyone starts a flying lap 1.32.77 will be the cut-off. Ocon's time which had put him sixth ended up being only 12th fastest. Norris knew he'd done enough so he aborted late on. But Mercedes scrape through with both cars.
Eliminated in Q2: Ricciardo, Ocon, Bottas, Vettel, Albon.
Q3 in French Gp 2022  
Sainz is towing Leclerc, Alonso tried something but Sainz is patient he gives massive tow in the second straight and goes to the top for a provisional pole. Verstappen is 0.008 seconds behind.
Six Minutes to go, Norris was sixth, Alonso seventh, Tsunoda eight, and Sainz didn't set a lap time in ninth while Magnussen is P10 and showing no signs of coming out. Flying laps are on. Leclerc sets a new fastest first sector and Verstappen is a tenth down on that. Hamilton pips his teammate and it's fourth for him and Norris pips Russell for fifth.