The last of the triple header is heading into the same venue. Austrian Gp, the weekend has officially begun with the driver's press briefing. In this section, we look into who said what in the run-up to the race weekend.
There is an Upgrade
Mercedes is bringing in the update. After the Red Bull Engine update in France, Mercedes is planning to bring a reliability update in the coming weeks. Lewis Hamilton confessed it in the Austrian Gp press briefings today 🤝
"I knew that we had that upgrade coming, At the end of the day everyone is working absolutely flat-out. We're learning more and more about this car. We're discovering more things – where we need to push more and extract more and I have all the confidence in the team that we will do over the course of time."

Lewis Hamilton.
Suggested Reading : Engine Upgrade -Mercedes hack to catch Redbull
Can I Owe you Another One – Austrian Gp
Ferrari's Carlos Sainz was grateful for the team and Mercedes to let him un-lap himself. In his briefing, he said that for most of his race he thought he will not get close to Hamilton but a sudden drop in pace in Hamilton made him closer to the Defending champion in Austrian Gp
"There was very good teamwork there between my team, the FIA, and Mercedes to just make the move as simple and as danger-less as possible for both of us because obviously, I didn't want to ruin his race and any kind of bad situation. So it worked perfectly and unfortunately just cost me 10 to 15 laps of race time. But I cannot really complain too much because it's a racing circumstance"

Carlos Sainz Jr.
Gasly not Amused by FIA Decision
Pierre Gasly was strong-worded about FIA's decision not to investigate Charles Leclerc. He said "Bottas was awarded 3 place Grid Penalty for the dangerous driving and but nothing for ruining the race"
"Obviously it wasn't done on purpose, it's not something Charles deliberately did, but for sure it had quite a big consequence on my race. Especially after seeing Valtteri getting three grid [place] penalties for losing control of his car in the pit lane, but not really affecting anyone else's race, which obviously impacted my race, I must say I was a bit surprised"

"At the end of the day I just care about my own race and it would have not changed anything on that side. But just something we're probably going to talk about with Michael. The clear thing is it would not have changed my race, think the damage was already done. In the end, it doesn't really matter to me."

Pierre Gasly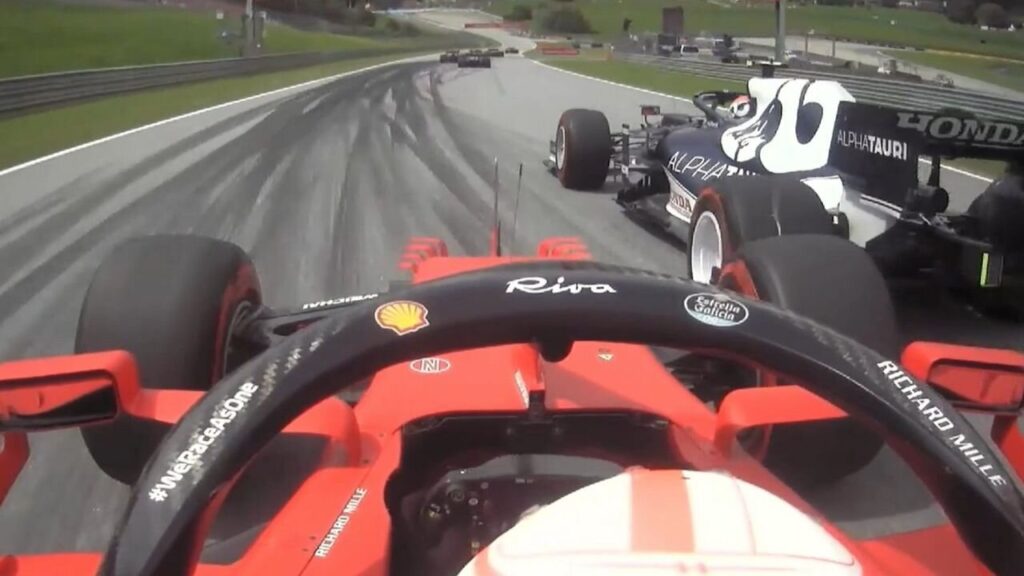 Alonso Joins FIA Thrashings
Two-time world champion Fernando Alonso, was also critical of FIA Track limits in Turn 1 in Lap 1 as he lost 3 positions during the Styrian Gp.
"I like when you can be yourself, and this burnout I think it was nice to watch, Even the donuts sometimes in Abu Dhabi, I think the fans they like that, and you see a lot of videos from those moments, from social media, etc. So the fans, they like that.

"I think the FIA should police more the track limits and Turn 1. I was the only one making a move into Turn 1 at the start, and the two cars that I overtook, missed Turn 1 and they exited in front of me. There is no warning on that, so there are things that for sure we can improve from the fans' point of view."

Fernando Alonso
Perez Pressure
Sergio Perez admitted, that competing with Eight-time world Champion is making him perform at another level, but he is feeling the pressure in the press conference on Austrian Gp weekend.
"You are competing against the very, very best drivers, against a very top team like Mercedes, so the level of delivering, it's to a new level. Every single point and the way the team works, trying to maximize every single performance point, is very important. You are into the next level – for example, the race that I had with Hamilton, literally against him, I was fortunate enough to see how good he is.

"The way he pushes you, and when he saves his tires. Obviously a very, very intelligent guy, the same as Max. Racing these drivers at this level definitely takes you to a new level."

Sergio Perez