Max Verstappen wins the not so thrilling Styrian Gp, With Lewis Hamilton in second. Bottas hangs on for dear life in 3rd. Lewis was consolidating points with the fastest lap. Ferrari had a fantastic race, staying in the 3rd place fight. Their race pace is fantastic. Mclaren with Lando in 5th. Mercedes has no answer for the pace of Redbull yet!!!
Opening Drama
Max Verstappen, made a superb start. Pierre Gasly though hit six cars in one lap and retired after Lap 1. Riccardo picked up 4 places in the start and eventually losing out all four places due to loss of Engine power. Leclerc after Monaco, the Styrian Gp has been added to the unlucky list. He popped into the pits after Lap 1 for a wing change at drops down to 16th. Both Ferrari is out of the points as of now, as the cars settle in for the Styrian Gp.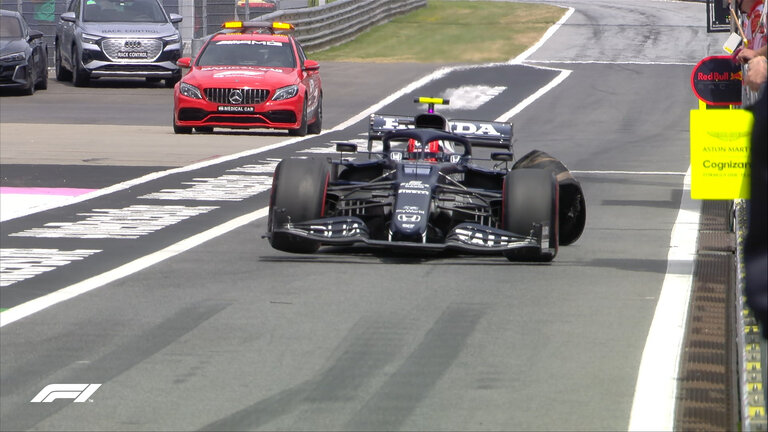 Lando dropped back to 5th to save tires for the longer run as he let Bottas and Sergio through with no real fight. Perez after lap 18 found his rear tire losing grip. As the pit window is open Verstappen is 4.3 sec in front of Hamilton. We now wait for the strategy games to unfold in the Styrian Gp
The Pit Window
Redbull handed Bottas the place with a slow stop for Sergio Perez but it was a quick stop for Max. With both, the protagonist on hard compound tires after the pit stops it game on. Hamilton is catching Perez but will it be enough, let's see. Russel starting from P10 is now in P18 after a pneumatic pressure issue making him stay longer in the pits eventually retiring
Ferrari both of them are in the points but Carlos is yet to stop. 🛑 Perez is catching Bottas. Hamilton is chasing Verstappen and the midfield is confusing as ever.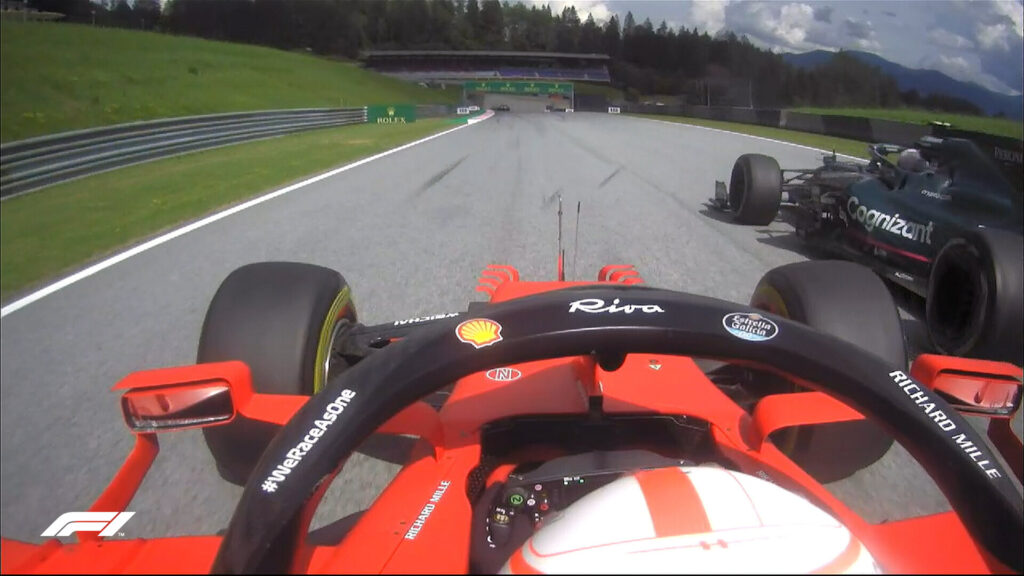 Midfield Battles
After the first round of pitstop, Norris is in P5 scooping up the points from Ferrari's Sainz in 6th and Leclerc charged his way into 7th after some exciting overtaking. Lance Stroll in 7th battling Alonso in 8th. Yuki is in 8th having a clean race. Ricciardo is set to finish 13th. Leclerc is in the points at 10th after overtaking Vettel.
Bottas and Perez
Perez stopped for the second time and is flying now to catch Bottas. Bottas meanwhile is stuck behind Ricciardo may be saving tires when Perez comes knocking. Perez is catching bottas by over a second each lap. It's the only battle we can hope for as Verstappen is 14 sec ahead of Hamilton at the last stages of the Styrian Gp.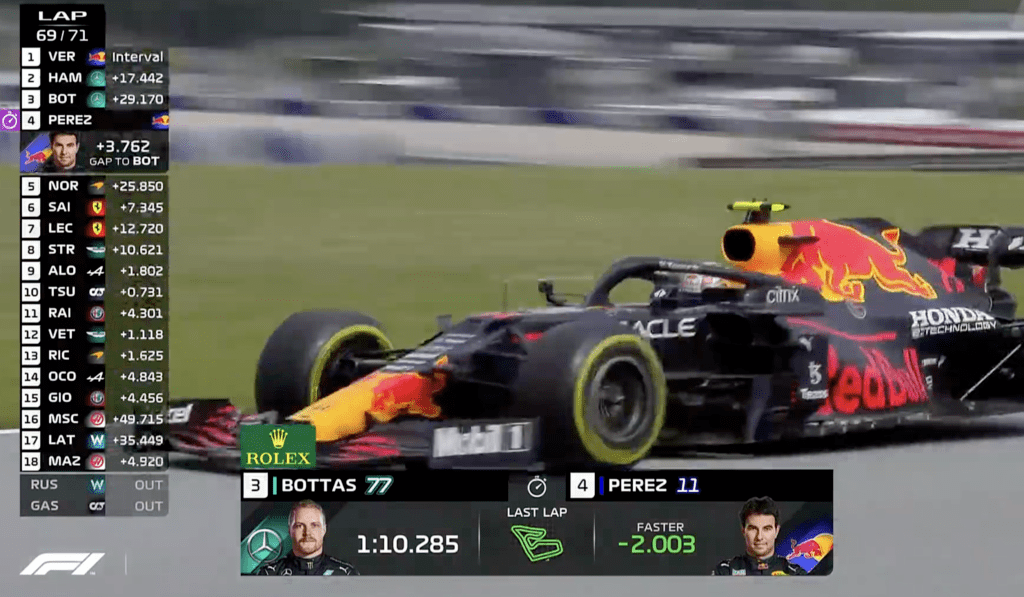 With Lewis finishing 15 sec's( discounting the pitstop) and Bottas some 40 sec's behind Max. Red Bulls pace is increasing race after race. With the same track running Austrian Gp in 7 days time, it look like Max Verstappen will be well ahead of Mercedes in Drivers and constructors championship in the end of the triple header.