Austrian Gp practice is underway. Pirelli has brought out their prototype test tries to test in FP1. Alpine meanwhile brought out Ghanyu Zhau and Alfa Romeo came with Callum Ilott. Roy Nissany took George Russell's place in Williams.
Austrian Gp Practice 1
Red Bull's Max Verstappen, fastest in first practice for the Austrian Grand Prix, as teams tested Pirelli's new rear tire construction for the C4 compound. Honda Powered teams were racy as hell in the First half of the session. but finished strong in P5 and P10.
Most of the cars were found struggling in Turn 1. Leclerc locking up almost 4 times in the session. He waved for the Tv Broadcast so everything should be fine. 😒😒😒. Mazepin's engineer should be dumb or he himself is but if this goes on any longer, FIA is going to have to intervene. He is always, I mean always at the wrong place at the wrong time. Kimi was quick to show his feelings for him.
Yuki having a decent clean session with just one trip around the gravel. He was the top AlphaTauri driver in fifth, a quarter of a second up on teammate Gasly in ninth. Between them were Alfa Romeo's Kimi Raikkonen, Hamilton, and Perez, who focused mostly on performance runs.
The FP1 debutant Zhau, finished just 2 tenths away from the Ocon in 11th. The Ferrari drivers ended up closest to Verstappen on pace once they switched to the soft tyre. Leclerc lapped 0.266 seconds slower than Verstappen and 0.022s faster than teammate Carlos Sainz.
Pirelli testing tyre needs at least 12 timed laps in low fuel runs. Pirelli don't want 2020 Silverstone where almost 4 tries failed. They are trying to introduce a different compound that last year debacle. FP1 and FP2 both session saw the tires in testing. Let's hope it doesn't rain tires in Silverstone.
Austrian Gp Fp2
Austrian Gp, Fp2 saw everyone running longer pace. Alonso very nearly went on to the back of Mick Schumacher, as he was crawling down the pit entry. The Pit entry in the Redbull Ring overlaps the racing line and somehow there is no FIA warning on that.
Cars can't slow down on turn 9 for gaps. so everyone stopped themselves in the exit of Turn 10. Aston Martin of Lance stroll nearly collected them. F1 drivers and their obsession for track position is getting ridiculous day by day.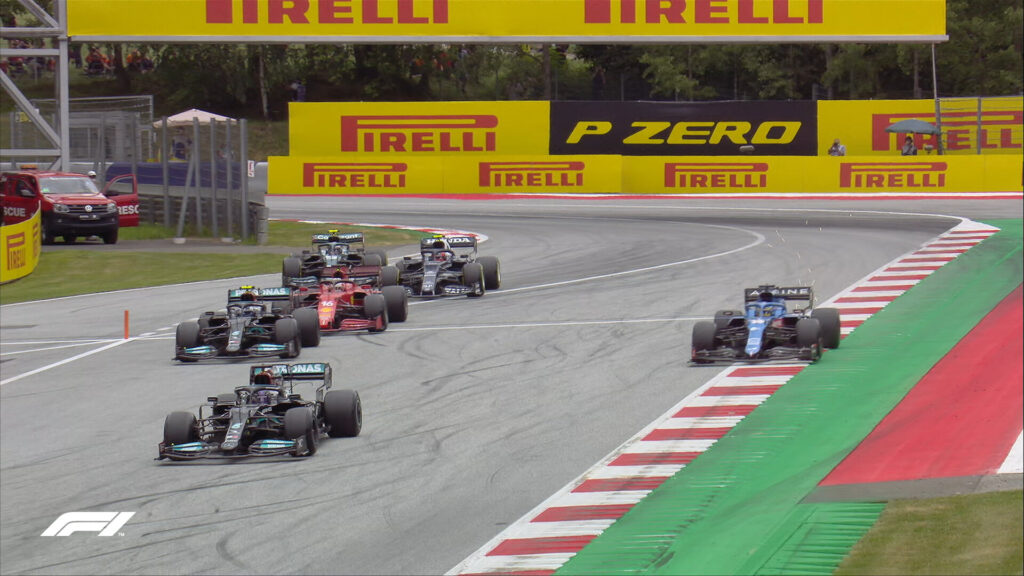 Its starts raining with 20 mins to go. It might rain this Sunday so it was a good data gathering session for all the teams. Just before the rain started the Mercedes Duo of Hamilton and Bottas pipped Max's lap. Max's response was not enough and two-tenths down.
Perez is finding some gear issues in Turn 6 and 7 and is in 11th at the end of the session. Daniel is nowhere near the performance of his teammate. Gasly and Yuki had a good session. Giovanazzi sitting pretty at 10th and he is succeeded by Alonso and Norris who round of the Top 10.
Fp1 was Honda power. Fp2 is Mercedes power. As we go into the Saturday Red Bull is not comfortable on the top and so is Mercedes.
It's the Final Practice in Austrian Gp. With Honda power topping FP1 and Mercedes Power Topping FP2, it's going to be a two horse race to the pole. In this section, we look into what went down in FP3.
Prototype Tire
All the cars in the initial running saw the Prototype Tire. It's a extra set and extra data so everyone is using it. Overnight announcement 📣 📢 includes, that cars are not allowed to go unnecessarily slow in Turns 9 and 10. It's was done after Kimi nearly collected the Haas cars yesterday.
Weather
As of today it is hotter today as the track temperatures hit 47 degrees during FP3 in Austrian Gp but it will be cooler during Sunday as showers are expected during the race has gone and it will be dry.
Upgrades
Aston Martin is bringing new floors, barge boards, and a whole lot of upgrades this weekend. Mercedes has a new setup in the car 🚘 🚙 🚗 . Williams of George will have a new PSU for this weekend. This reliability improvement is what Mercedes is planning to pip Redbull.
Reading Suggestion: Engine Upgrade -Mercedes hack to catch Redbull
Between now and qualifying, Hamilton needs to find 0.4 sec's in Sector 2 and it's a mighty task. Hamilton is the only man on the grid who can try and do it. Stay tuned for an exciting Qualifying session. Come race day it's going to be almost a two-stopper because of the softer compound tire and the unpredictable weather. It is going to be a cracker of a Qualifier