After an evenly matched practice session, Austrian Gp Qualifying saw Max Verstappen on Pole, followed by Lando and Perez in P2 and P3. In this section, we look into how the Qualifying at the Austrian Gp went on.
Austrian Gp Quali 1
We all know like the last Styrian Gp, the track limits in Turn 9 and Turn 10 will play a role. The track is baking at 50 degrees celsius. Softs might be screaming in sector 3. The overnight announcement 📣 📢 includes, that cars are not allowed to go unnecessarily slow in Turns 9 and 10. It's was done after Kimi nearly collected the Haas cars yesterday.
Max came early on among the roaring fans and quickly set a benchmark time to beat. Lando was flying in the Mclaren and so is Alonso. Pierre Gasly is the first to get his lap time deleted, in Medium. Charles Leclerc is the next. with 4 minutes to go. It's Gasly and Ocon out of place.
It's the last run and Mr.Saturday is up into 12th place. Gasly is safe but Ocon is out of Q1 while his teammate Alonso is in 3rd at the end of Q1. Leclerc almost blew it but was ok in 11th.
Its Kimi, Ocon, Latifi and the two Haas who are out of Q1 in Austrian Gp Qualifying
Strategy over Position
Q2 saw Ferrari going out in Medium and quickly shown their place by other mid-field cars in 11th and 12th. Max again faster in the Medium run with Norris behind him. Sergio Perez is finally in the mix as his Medium run saw him in 3rd.
No one is safe and everyone will be going out on the different tires as the gap between the top 10 is 0.4 of a sec. Alonso. Ferrari made a gamble and went out in medium and wants free tire choice since the race pace is good.
Alonso is blocked by Vettel and it's a slam dunk penalty I think. With Vettel in p7 after Q2 and both cars in the top 10 for Aston Martin, it is a bit of a bother. But boy did George Russell put in a lap he is into Q3 in pure merit and the British Twitter F1 fans were elated.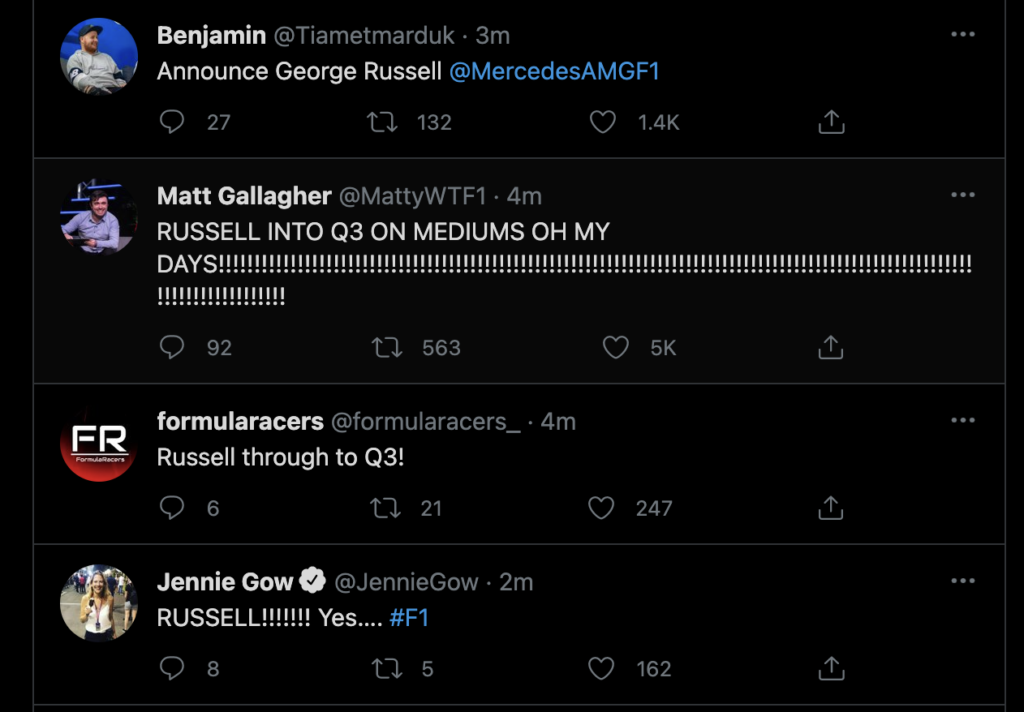 Daniel Ricciardo, Giovanazzi, Leclerc, Sainz and Alonso are out of Q2.
Last Lap Lando
It could not have gone any better for Redbull as Lando Norris slots him Mclaren in P2 between the two Redbull's. Hamilton and Bottas in P4 and P5 will start the race behind Sergio Perez and on the back foot.
They cheer when seeing Hamilton on P4 is what the crowd is here for. Ricciardo has some serious work to do. Lando is killing him and wiping the floor with him. In the same car 🚗 P2 and P13, questions are going to be asked. Gasly in P6 and Tsunoda in P7 is great for Alpha Tauri. With a slam dunk penalty for Vettel, I think Geroge Russel will start in P8 followed by Stroll and Sainz in P9 and P10 respectively.
The Race pace of Mercedes is far higher than Mclaren, so they will easily get past Lando for one Podium spot. But Sergio Perez has to overtake the Mclaren in the opening laps as the Mclaren is only going to get quicker and Quicker during the fuel ⛽️ burns. If that doesn't happen Sergio will become the hunted.