Qatar Gp, a Moto Gp track, good for bike racing, do F1 cars any justice? In this section, we look into the history, geography and track characteristics of the Losail International Circuit just north of Doha, Qatar's capital city.
History of Qatar GP Track
Built in 2004 just in time for the Moto Gp, this track set the ex-chequer 58 million USD and was completed in a record time of 1 year with 1000 workers. In 2007 since the morning heat was unbearable to race, the lighting system was installed in just 157 days. Surrounded by artificial grass to stop sand encroachment this track is 5.380 km long with a straight measuring just over a km long.
The past events were the Motogp series, GP2 Asia, WTCC Race of Qatar and 8 hours of Doha. The seating capacity is just 8000 people. The Gp2 race saw familiar names like Nico Hulkenberg and Sergio Perez on the podium. This makes Sergio Perez the only driver in the current grid to have raced in Qatar.
With a 10 year contract from 2023, the track needs to develop some infrastructure to accommodate the crowd. But if only 8000 people are coming to the track I don't see a point in racing in Qatar Gp, but that is a warrant for time to come.
Named, Ooredoo Qatar Gp 2021 after the events main sponsor, a Qatari telecommunications company in Doha Qatar, partly owned by His Excellency Abdulla bin Mohammed bin Saud Al Thani, a member of Supreme Council for Economic Affairs and Investment Advisory Board of the World Economic Forum's Gender Parity Programme.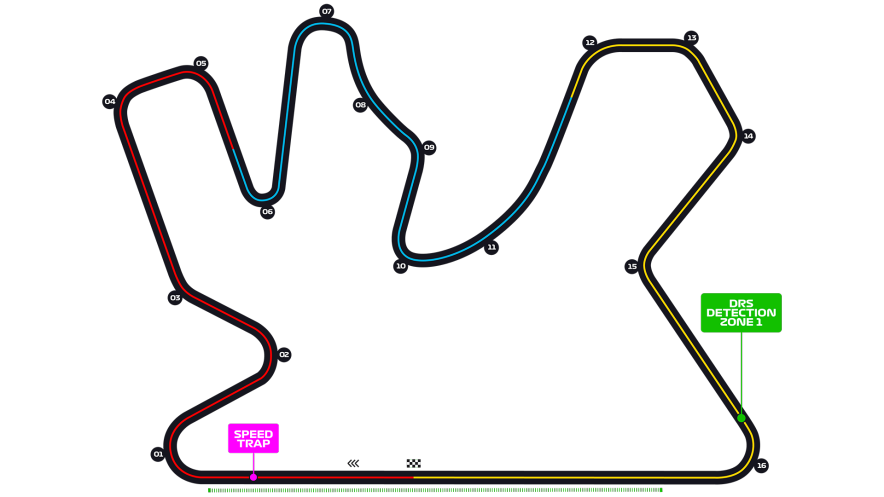 Track Characteristics
The 57 laps of Qatar Gp, is a fast and flowing track, where medium- and high-speed corners predominate. Over one kilometre of the track's total length is made up of the main straight, which provides plenty of overtaking opportunities into Turn 1.
With an average nighttime temperature of around 28 degrees celsius in November, it is going to be hot and humid and dusty. Since the track is open and there is no shade or grandstands all over to cover, the headwind and tailwind are going to be important factors.
Many YouTubers and Sim Gamers suspect that it would be flat out 90% of the time and this will suit the Mercedes more than RedBull. Turns 01, 02 and 03 are just modified Hungary and turns 12, 13 and 14 are just like Turkey 3 apex corners. The DRS detection zone is at the end of Turn 15 and it's the only DRS zone running around a km to Turn 1
It's the only opportunity to pass other than this it's not possible unless there is a tyre or power deficit. It's going to be a DRS train in the midfield.
Weather in Qatar Gp
Losail Circuit Sports Club– Formula One
A relatively zonal pattern is expected to set up over Saudi Arabia, resulting in a quiet weather pattern for this weekends GP
Fri Nov 19 – Sunny, Northerly winds, 14-22 kph (8- 12mph)
Sat Nov 20 – Variably cloudy, Easterly winds, 7-14 kph (4-8 mph)
Sun Nov 21 – Sunny, Southeast  winds, 14-22 kph (8-12 mph)
Updated: 16 Nov 2021, 5:30 PM CST (02:30 AST)
Expectations of Qatar Gp
One thing we are not able to do is to predict this season. Brazil was supposed to be Redbull track but boy did we have a shock. But a wage educated guess based on the apex speed suggests it would be a Mercedes track or a Lewis Hamilton track since the higher top speed makes for a top qualifying spot and therefore track position for an easier clear air in front.
Turns 4 to 10 would be Rebull's favour but the Mercedes straight-line speed is no match to the Redbull. But this is just a popular theory. I can be totally wrong here but time will tell.
Timings in Qatar Gp