Austrian Gp 2022 Qualifying was electric and it was Max Verstappen after deletion and red flags galore. In this section, we look into how it all played out in the final moments of the Austrian Gp. Ferrari in 2nd and 3rd followed by Perez.
Q1 in Austrian Gp
After a busy first practice session early today – where the teams and the drivers tried to collect as much information as possible to get the setup for their cars right for the weekend – we are almost set here for qualifying as the drivers look to lock in their positions for tomorrow's Sprint.
The risk of Rain is 0% but it is predicted to rain on Sunday! This is the shortest lap of the season, so traffic may be an issue here in qualifying as Leclerc begins his flying lap. He goes to the top of the timesheets, but Sainz has set two purple sectors and is about to cross the line and he goes top by nearly four-tenths. But uh-oh – it's just been deleted. Back to square one for the Silverstone pole-sitter.
VER has his lap time deleted. While Hamiton goes to the top of the board. Ferrari puts on new tires and goes 4-tenths faster than Max Verstappen. The drivers are now preparing for their final laps, as Ricciardo is now pushed down to 16th by Stroll who goes up to P15. Zhou has started his final lap, but who can make it into Q2 in Austrian Gp.
ELIMINATED IN Q1: Ricciardo, Stroll, Zhou, Latifi, Vettel
Q2 in Austrian Gp
Ocon is the first driver out on track, followed by both the AlphaTauri pair of Tsunoda and Gasly, and they are followed by Norris. Fifteen minutes to decide who makes it into the top-10 shootout. The drivers are now beginning to set their first push laps of the session, but Norris goes wide at Turn 4. Leclerc goes up to P1, but Verstappen goes ahead of the Ferrari driver. Russell crosses the line and goes into second, but he is quickly pushed down to third as Hamilton goes up to first. Game on. Hass is into Q3 in Austrian Gp.
Eliminated in Q2: Gasly, Tsunoda, Bottas, Tsunoda, Norris
Q3 in Austrian Gp
The top 10 Shoot out then it's going to be a three-way fight between Ferrari, Redbull, and Mercedes. Ocon leads the drivers out, followed by Russell and Hamilton. Replays show Perez going wide at Turn 8 in Q2, which could be penalized by the stewards. But, here come the Mercedes drivers on their first flying laps.
Hamilton is the fastest through the first sector so far, but Leclerc is the fastest through the middle sector. Hamilton has slowed down as Leclerc goes fastest ahead of Russell. Sainz goes into second but here comes Verstappen, who goes fastest, with Perez in fourth. Hamilton has binned in and the red flag is out.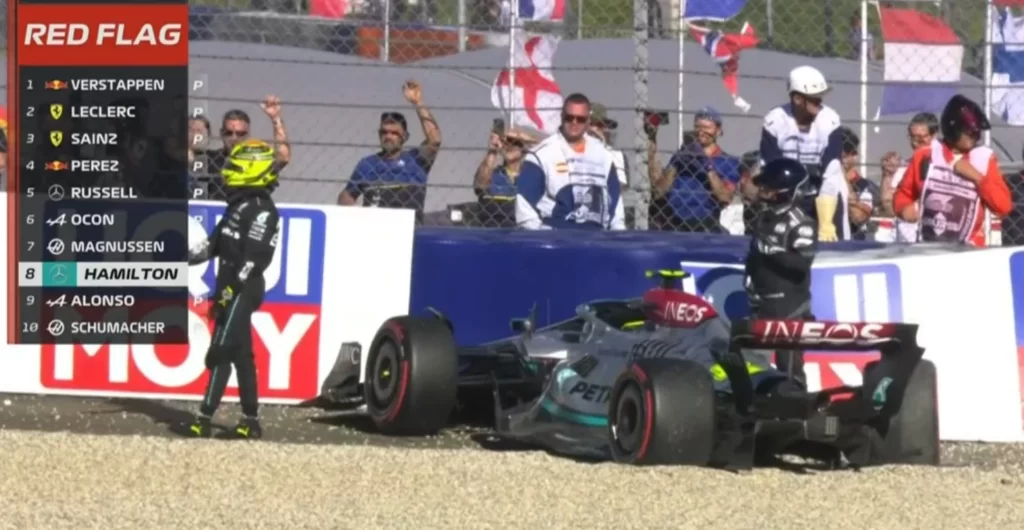 The session is back on Russell was on a flying lap, but as he was coming round the final corner, he spun into the barrier, which brings out the red flag and brings an end to Mercedes' day. A promising start to the weekend has turned to misery in just a few minutes.
The drivers will probably have a chance for one out-lap and one flying lap, so expect a fast and furious last few minutes of qualifying! Leclerc crosses the line and goes to the provisional pole, as Sainz goes to second. But while Verstappen doesn't set the timing screens alight in the first two sectors, he still puts it on the pole. Perez completes the top four, with Ocon slotting in behind Russell in sixth.