Alpine Formula one team has launched its contender for F1 2021. The Launch was planned well with beamed in participants and team members. The music and themes are on point and presented tastefully. The Car in its Alpine Blue livery was fantastic. With a 2nd place finish in the Bahrain GP, the car and the drivers are on a high foot going into the winter.
Watch the presentation here
Alpine Team.
The alpine team formerly Renault has been out of touch with the pace for quite some time now. In 2019 them team principal Cyril brought in Daniel to give a morale boost and had a road map for the championship victory in 5 or so years but Daniel on his 1-year stint jumped ship to McLaren the competitors and moreover the client car with the Renault engine. Now there is a huge overhaul and with Daniel and Cyril out of the, there is a massive management restructuring in the factory and management. Alpine introduced the new trio CEO Laurent Rossi, Executive Director Marcin Budkowski and Racing Director Davide Brivio, all big names in motorsport.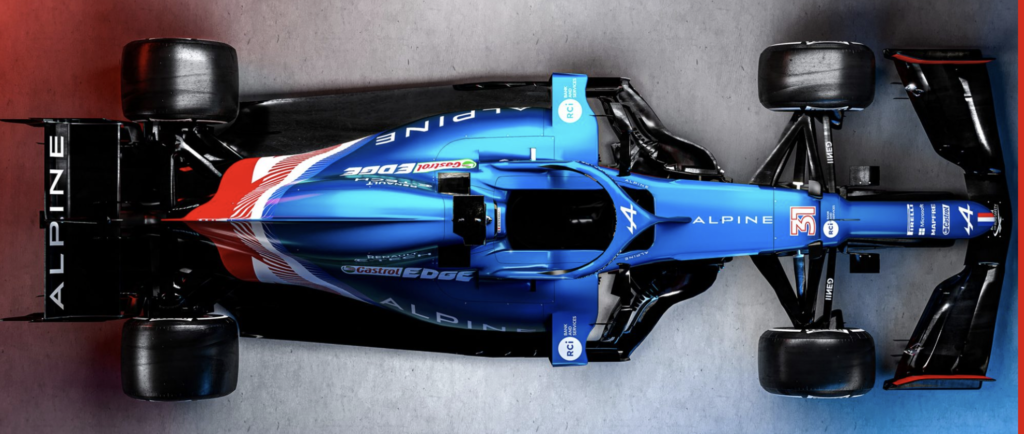 The Drivers.
Fernando Alonso, the last Renault champion over a decade ago is coming back to the team. Its what is called a marriage of convenience. Alonso has nowhere to go, and Renault has no one to sign. Esteban Ocon was a bit consistent but lacked pace and form last season. There were podiums but there were no consistency and the team made a lot of bad decisions. 5th in the constructors was not the place Alpine wants to be in but it's a good place to start.
Alpine Car.
Alpine – A521, is not that radically different from its predecessor Renault RS20. The barge board design is as per the new regulations and as always the aero deficiency was to be managed by the changes to the fins, nose and the new brake ducts. The engine manifold has increased in width suggesting that there are inlet manifold variations to increase the engine performance output. But most of the details of the car remain under-cover so the testing on the next day will on tracks in Silverstone reveal some details but not all.
Alpine Expectations.
The expectations are to be third in the Championship but its a long-shot. The team has been rebuilding for years now and it's already too long. Alonso will guide the team in the right direction but will have the speed he had long back it is tough. Ocon in his current form is not championship material yet. Their realistic target would be 5th and not sliding back from there.