The sun has long since set over Jeddah Corniche Circuit for Saudi Arabian Gp, the nighttime is upon us and the pits are humming with activity. Thirty minutes to go until qualifying begins, and what a session it could be.
Saudi Arabain Gp track itself has been providing plenty of talking points. It is fast here, incredibly so but narrow. As such traffic has been a huge issue in practice and could be a big factor in Q1 as well. Lewis is in the steward's pen for impeding Nikita Mazepin and ignoring a double waved yellow.
Lewis Hamilton is using the same engine in Brazil and he comes out on the top whenever it's his back on the wall. He would be furious when eventually the decision is announced. Some less than ideal news from Mercedes, a fuel leak was detected on Bottas' car, and without enough time to accurately detect the issue and fix it, they have opted for a full PU change. That is going to be quite the effort to get him on track at the start of Q1 in Saudi Arabian Gp.
No further action for Hamilton on the yellow flag infringements, but no news yet about the impeding infringement with Mazepin.
Lewis Hamilton reprimanded (his second of the season) for the FP3 Nikita Mazepin block. Mercedes fined €25,000
Q1 in Saudi Arabian Gp
And there is a huge queue at the end of the pit lane, with everyone wanting to try and get an early banker lap in here, such as the situation with traffic. Mercedes are attempting a full PU change in case you missed the news earlier, and by the looks of things, they haven't quite finished the job on Bottas' car.
Will the top cars feel confident to only use one set of tyres here? That's what they normally try, but the track evolution is swift – although those tyres have been holding on quite well for several laps. Verstappen earlier set his fastest marker when his soft was eight laps old. 
Six minutes to go and the majority are back out there, although the top runners are on the same tyres. Bottas now goes top, by two tenths with the quickest time of the weekend so far a 1m 28.057s. Three minutes to go and the drivers at risk are Latifi, Schumacher, Vettel, Stroll and Mazepin. Russell is on the bubble, and Alonso needs a lap here. 
It looks like the Bulls and Mercedes cars were all fuelled long here, so their lighter loads could negate any tyre drop off as they continue to lap on their original tyres. With one minute to go, the laps are coming in thick and fast. Perez goes top by a whisker. But Bottas has some misfiring! He sits second and comes into the pits which end his session in Saudi Arabian Gp.
Eliminated in Saudi Arabian Gp Q1: Latifi, Vettel, Stroll, Schumacher, Mazepin.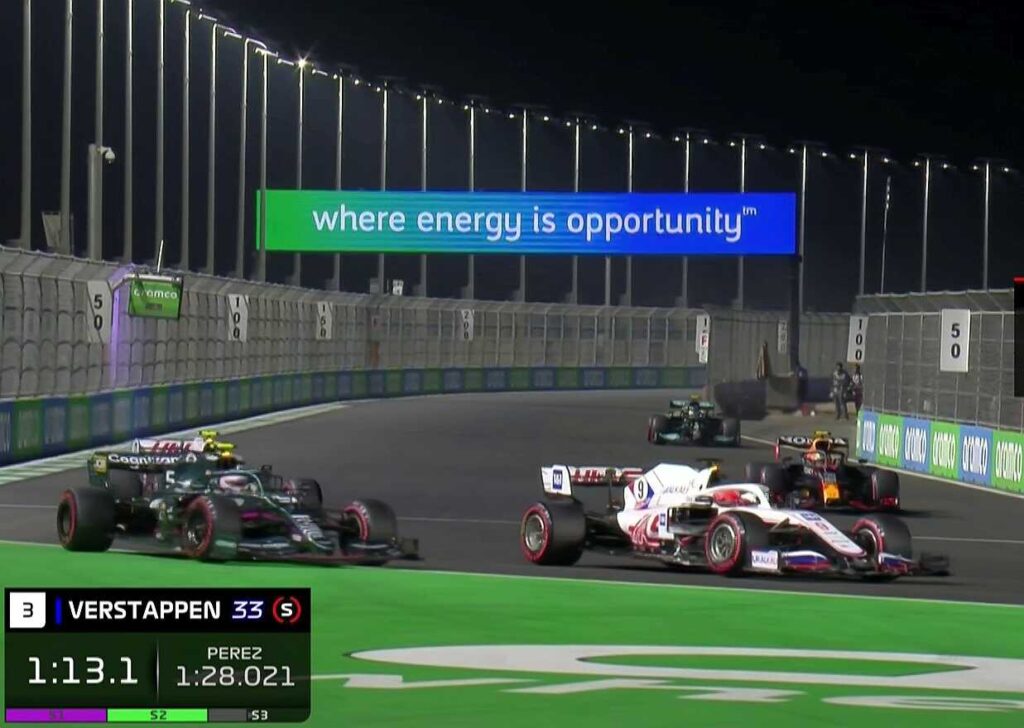 Q2 in Saudi Arabian Gp
Gasly is at the front of the queue for Q2, and the Frenchman heads out as the stewards opt to have a little look at his moment with Sainz. And great news for Mercedes, Bottas is back out on track. 
Russell has headed out on the soft compound everyone else so far is on the mediums. Ocon and Alonso down at Alpine, and Giovinazzi are the three cars yet to head out. Verstappen goes top on his first run, with a 1m 27.953s, which interestingly is bang on what the pre-weekend simulations indicated would be the pole time. Leclerc goes second, seven-tenths slower. 
The double yellows fly Sainz has spun down at Turn 11. And he is a very lucky boy, as he taps his rear wing into the wall. That could have been much, much worse – and he may well be able to get another run in he does come out with 2 mins to spare.
Perez now goes top with a 1m 27.946s, 0.007s quicker than his teammate's earlier marker. The Bulls are on fire here tonight. Norris is complaining that he was impeded by Perez on his last flying lap and speaking of impeding, the stewards are going to investigate the Q1 incident between Gasly and Sainz after the session. 
Hamilton goes top on his eighth lap on his medium tyres. The yellows fly briefly, as Ricciardo pulls into the pits – he is P11 and out. Alonso only improves to P13 and is out, and Raikkonen goes P12.
Eliminated in Saudi Arabian GP Q2: Ricciardo, Raikkonen, Alonso, Russell, Sainz.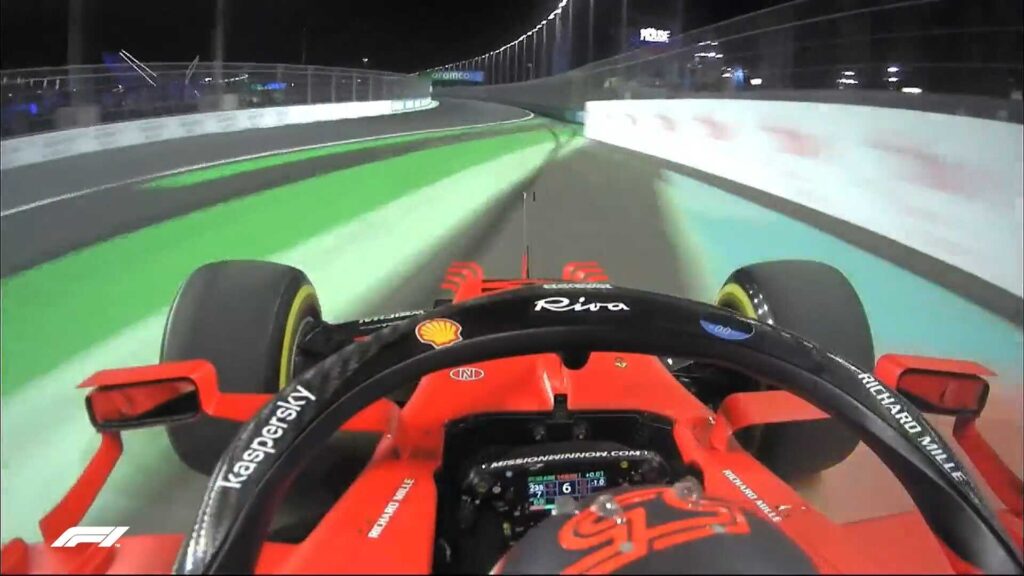 Q3 in Saudi Arabain Gp
TURN 17 INCIDENT INVOLVING CARS 77 (BOT) AND 7 (RAI) NO INVESTIGATION NECESSARY
Now, track evolution was absolutely huge, especially in Q1. As such, timing here is crucial. It's all about the payoff between limiting the chance of a yellow flag ruining your lap, who running when the track is at its absolute fastest.
Hamilton aborts his first flying lap after getting a bit sideways through Turn 11. But Bottas does set a competitive time for the others to chase, a 1m 28.143s. That time from Bottas is slower than his laps from both Q1 and Q2. Here comes Hamilton on his next effort – and it is a much tidier lap. He goes top by one-tenth
Here comes Hamilton on his next effort – and it is a much tidier lap. He goes top by one-tenth.
Verstappen hits the wall!
Agony for the Max, who was about to grab pole by a huge margin but overcooked it coming out of the final corner and caught the wall. Hamilton's earlier effort was enough and he will be on pole tomorrow, with Bottas lining up alongside. But, but. Verstappen was close to three tenths up on Hamilton's pole time as he headed into the final corner. The smallest of lock-ups on corner entry seemed to distract him, and he misjudged his exit, hitting the wall with his rear right.
Perez is fifth, Gasly sixth. Next comes Norris and Tsunoda, with Ocon and Giovinazzi rounding out the top 10 for the Saudi Arabian Gp. The big question now is will Verstappen's gearbox be okay or will the team need to change it and incur a penalty? Time will tell as we end the most thrilling Saudi Arabian Gp Qualifying.