Russian Gp, Round 15 at Sochi was a rather damp place to be yesterday, with heavy rain and thunderstorms derailing FP3 and causing much of qualifying to be run in wet conditions. But so far today the weather gods have been much kinder, with the sun shining and the race set to take place in the dry.
Russian Gp Before the Strart
Forget Red Bull and Mercedes slugging it out at the front, here it is all about the McLaren – Ferrari battle at the front after a sensational pole put Lando Norris in P1 followed by Sainz and George Russell. As for Hamilton, it all went wrong in qualifying when the pressure was on. He slid into the pit lane wall in Q3, damaging his front wing and leading to a lengthy stop just at the moment he needed to be out on track learning the grip levels on the slick tyres.
Joining Verstappen at the rear of the grid are Charles Leclerc and Nicholas Latifi. For the Monegasque driver, Ferrari opted to add a Power Unit. Bottas, Giovanazzi and Latifi all starting from the back due to penalties for components. It sounds like Verstappen is experiencing an issue with recharging his battery which isn't what he needs from P20 on the grid but all is good now Phew !!
Risk of Rain is at 70% in Russian Gp and it is Lights Out !
Norris is first down into Turn 1, but Russell is right in his slipstream. but Sainz manages to slot in ahead of Russell and gets the jump on Norris into Turn 2. Sainz leads from Norris, Russell and Stroll is up to P4 as Hamilton gets squeezed out at turn two, and he is down the order in sixth. 
The fastest lap for Sainz now, who has led this race since Turn 2 on Lap 1. He is two full seconds clear of Norris, who might be playing the long game and starting to think about tyre management now as we settle in for the Russian Gp.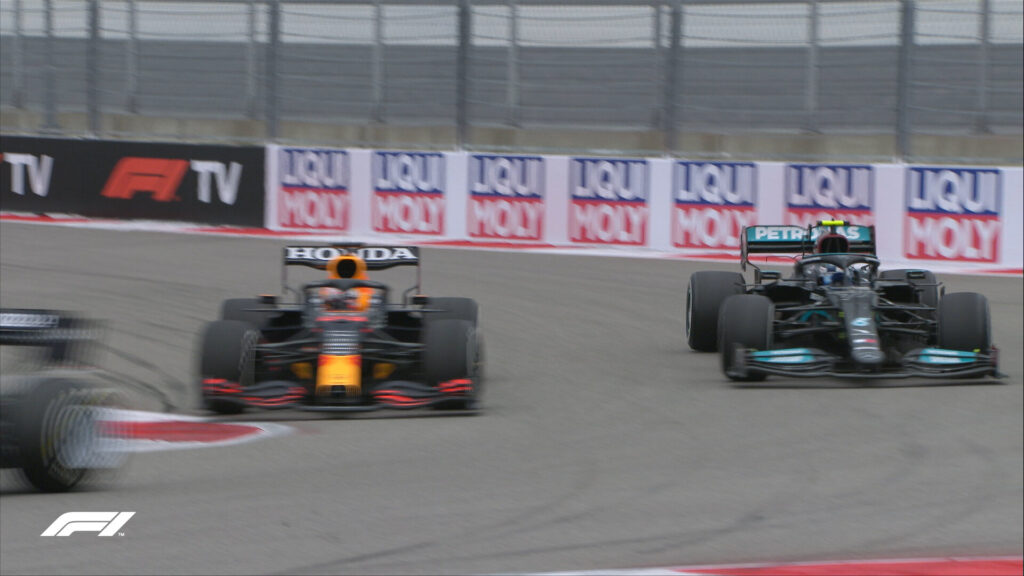 Norris takes the lead in the Russian Gp
Lap 14 and Norris has taken the lead from Sainz down the back straight, with DRS and a slipstream, he gets the move down before the corner. Fair play and Sainz doesn't fight over much there. 
"Everything seems okay," says Norris from the lead of the race. He has a 7.7s buffer to his teammate in second, with Hamilton now third but surely needing to go very long here, as he will have lost places to the undercut if he pits now. 
Ricciardo pits as Mercedes also rush out. But Hamilton goes past the pit lane entry – he has been instructed to do the opposite perhaps. They run back in, all eyes on McLaren. A slow stop for Ricciardo, a disaster for the papaya team! He comes out in p14, behind the likes of Ocon, Russell and Stroll. 
Hamilton and Verstappen both pit at the same time! Verstappen swaps to the mediums, Hamilton the hards. Quick stops for both. Verstappen is stuck between Ricciardo and Perez also having a bad pit stop its no podium for Verstappen might be 5th if he preserves the tires.
Everyone has now pitted, which means it shakes out with Norris in the lead, Hamilton just behind on practically the same age tyres with only two seconds between the two. Sainz is now back up to third, with Ricciardo in fourth. 
Hamilton can win this and take a lead into the Championship ! But Let it be Norris !
It's battle all over. Perez is battling Ricciardio, Hamiton is Battling Norris and Charles battling Stroll This one isn't done with any drama just yet – there apparently is still a threat of rain for the end of the race.
The marbles can be clearly seen on either side of the racing line, which also makes overtaking perilous. Add in a few raindrops, and the track could quickly become treacherous. But with neither Norris nor Hamilton a slouch in those conditions, who is going to come out on top here? the gap is 1.3s.
Umbrellas are OUT in Russian Gp
Stroll is told to box for interest and Norris has run wide again! It's like wacky races out there at the moment. The drivers are starting to come in and this could all come down to why is nearest the pit lane and can gamble the quickest.
Hamilton is told to box but he stays out! He looks much more confident out there than Norris at the moment. Meanwhile, Vettel and Stroll have collided. It looks like they both got away with that one by a hair. It is Lap 49 and Verstappen has pulled in for Intermediate tyres! Ricciardo has also pitted for the green-marked compound.
Norris is off in the Russian Gp
Hamilton has taken the lead now, and Norris has slid into the barriers. He manages to get going again, but his win is long gone. Verstappen has just taken a handful of places to climb up to third. Unbelievable scenes. You cannot help but feel for Norris here. While this happens it's Verstappen in P2 and Lewis wins for the 100th time! Russell is clinging to the final point on offer out there.
Hamilton wins for the 100th time in Formula 1 and Leads by 2 Points in the Championship