Round 4 of the Formula One World Championship is the Imola Gp 2022 at the mind-boggling Imola. Last year was an edge of a seat thriller, and this year it is fast shaping into one. This year too it was a thriller for some, a cropper for some and a wonderful racing weekend nevertheless.
Pre Race – Imola Gp 2022
The track Autodromo Enzo e Dino Ferrari is filled with the Tifosi clan. Imola GP 2022 tickets are all sold and the house is full. But the opening talking point, as it has been raining heavily already in Imola, with the track soaked for the Porsche support race earlier to give you an idea of conditions – and the rain hasn't let up since. Right then, the pit lane is open and cars are starting to make their way out on a mixture of wet and intermediate tyres, very, very gingerly. The track is, to put it mildly, wet.
The Start of the Imola Gp 2022
Verstappen gets a great start from p1, and so has Perez – he has picked off Leclerc! Norris is also through, but behind it is a disaster for his teammate, Ricciardo has had a moment with Sainz and both are in the gravel trap, Riccardo gets going but Sainz is beached. The Tifosi are furious. The safety car is out on the opening lap of the Imola Gp 2022.
The Safety Car peels in and Verstappen becomes the de facto safety car. He backs up the pack superbly, leaping away with Perez sticking to his tail. Those two have a small gap to Norris, who is under pressure from Leclerc behind. Verstappen already has nearly two seconds on his teammate, and it looks like Alonso either has an issue or is struggling with tyre warm up again. He is down to P12 – he's carrying damage, it can be clearly seen now, half his sidepod is missing!
Tyre Strategy for Imola Gp 2022
As we settle in for the long run in the Imola Gp 2022 every one is waiting for the rain as forecasted in 10-20 mins. Who is going to gamble on slicks here now? The drivers are all starting to complain about their tyres – surely someone will gamble soon? Russell is all over the back of Magnussen, and likewise further back Hamilton is within a second of Stroll. No DRS in these conditions though.
The racing line looks pretty dry and everyone is veering around trying to find some wet stuff to cool their tyres off. The track is only 16 Degrees Celsius though, so tyre warm-up on the slicks would be tricky, to put it mildly. Imola GP 2022 schedule always has rain and it makes it more interesting strategy battles.
Daniel Ricciardo is the first to bite the bullet. He is the guinea pig then, gathering data for his teammate most likely. And everyone else will be keeping a close eye on him too. Ricciardo sets a quick sector time, and a fair few opt to join in on the slicks. Vettel, Gasly, Albon and now Perez have all pitted!
Everyone is coming into the pits now, and Bottas has had a slow stop with a sticky front! And it is so busy in the pits, there is nearly contact between Ocon and Hamilton. That's an unsafe release 5 sec has been awarded for Ocon.
The Leaders Pit
The front two are in – Verstappen and Leclerc. One lap late, will that cost them? Mediums all-around, and Verstappen returns in the lead, but Perez has lost out to Leclerc here for a second. But he has warm tyres, and he uses them to squeeze down the inside of Leclerc and retake second.
So, potentially no more pit stops unless the rain returns, no DRS and plenty of work to do out on track. The fastest sectors go in from the top three as the racing line continues to dry and rubber in, but Verstappen still leads comfortably as it stands.
Will the mediums go to the end? Ferrari was harder on their tyres than Red Bull yesterday in the Imola GP 2022 qualifying, and Leclerc has been running in the dirty air behind Perez as well in contrast to Verstappen's mostly free air. Leclerc will be one to watch if he tries to go to the end here.
DRS is Enabled Fastest first and second sectors for Perez – he's trying to keep Leclerc well out of DRS range behind. Further back, Gasly getting DRS has hampered Hamilton, and there is no change in position in that little queue.
Norris has just lapped Ricciardo, not what the Australian would have wanted today. On the subject of lapped cars, Verstappen isn't far off lapping Hamilton. Mercedes at least have Russell in the points, but on conditions he often excels, this has been a chastening day for Hamilton.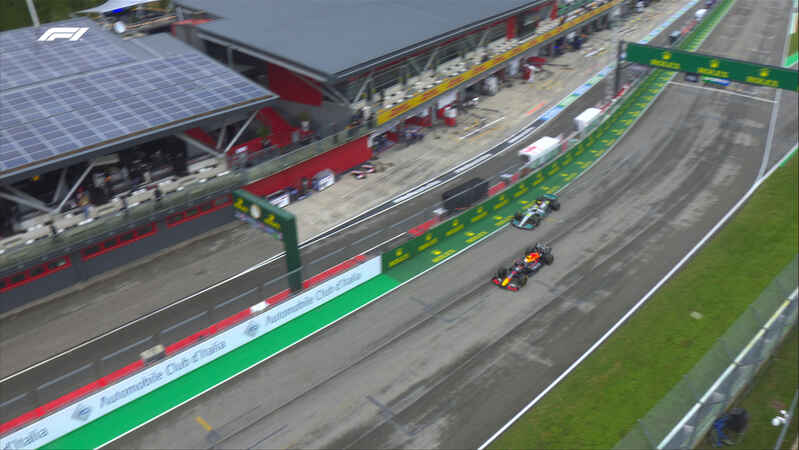 Just when everyone is about to sleep. Leclerc pits for softs. He has a big gap from Norris and does indeed come out ahead of Norris. It was soft tyres for the Ferrari man, who might be happy with third and the bonus point for the fastest lap. Perez pits to cover and so does Max.
Leclerc spins and Max wins!
The crowd groan – their man is in the barriers! Pushing hard to chase Perez down, he took too much kerb at the chicane, lost control and hit the barriers! He has managed to get going again but is limping back to the pits for a new front wing!
9th for Leclerc, Bottas has DRS in his fight with Russell for fifth, and just in case Leclerc can recover, Bottas will want another car between him and the Ferrari."Let's get him," the Finn is told. Nothing personal in this one of course. (Read otherwise)
The Dutchman crosses the line first, Perez is a brilliant second. Norris grabs third, and here comes Russell – he just holds onto fourth from Bottas." That was a very lovely Sunday," beams Verstappen. "An amazing result for the whole team, very well deserved."