Hungarian Gp Qualifying, with three practice sessions, topped by three different drivers – Verstappen, Bottas, and now Hamilton. There was half a tenth in it in FP1, fractions less in FP2 and just 0.088s there as the Mercedes pipped the Max's Red Bull on comparable laps. But in Qualifying it's all out in the 11th round in Hungarian Gp.
Q1 at Hungarian Gp
Tsunoda kicks things off here, heading straight out on some fresh red boots. He is followed out of the pits by Mazepin, who may be flying the flag for Haas here if his teammate's car can't be repaired in time. The temperature out there has ramped up since FP3, with the track up to 58 Degrees – similar to the conditions from FP2 yesterday.
These are banker laps for slower cars may well need three runs here in their bid to make it through to Q2. Expect the top drivers to try and make it through with one run, and thus save tires for later on. Bottas crosses the line first for Mercedes with a 1m 16.610s, but that time doesn't last long at the top. Hamilton manages to go two-tenths quicker.
Yesterday it looked like Bottas had the edge over his teammate, but as he so often does, Hamilton has raised his game when it matters. Verstappen, tidy through the last corner and he now goes top, two tenths quicker than Hamilton. Advantage Red Bull from the first run.
Sainz now slots into fourth, just pipping Gasly and actually, not that much off Bottas' lap. It is just 0.039s between the Finn and the Spaniard, showing just how good Ferrari really is here, but impeding Alpha Tauri might be a slam dunk penalty if the stewards look at it.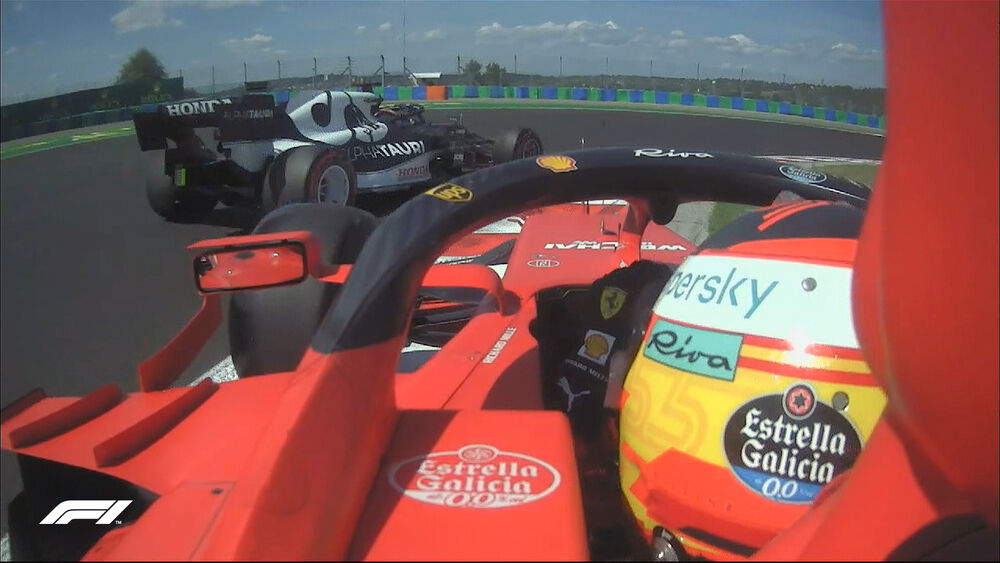 Perez is nowhere near the pace of Max in the Qualifying at the Hungarian Gp, as he is a good one second away from the leader at P9. No sign of Schumacher, so as it stands, the drivers in trouble alongside the German are Tsunoda, Russell, Latifi, and Mazepin.
Tsunoda improves but stays P16. Tsunoda perhaps isn't a huge surprise there, after crashing yesterday it was always going to be a tough ask to bounce back having lost so much lap time. His teammate is safely through though, Gasly winding up fifth.
All eyes are on Russell and he also can't make it out, it is P17 for Mr. Saturday! Latifi doesn't move up from P18 and that means the Australian survives just with Lando in P7.
Rubber in at 63 Degrees
Mercedes and Red Bull have indeed sent their drivers out on the mediums, including Perez often the Mexican is forced to use the soft's in this segment. Bottas is the first to open up a lap, but he does pick traffic up in the final sector. He negotiates Gasly and Stroll who both do their best to jump out of the way, as the Finn sets a 1m 17.083s.
But Hamilton beats that lap time and by quite some margin. It is a 1m 16.553s for the reigning world champion on the mediums, and Verstappen can't match it! He slots into second, two tenths back.
The Spaniard was on a hot lap, with his teammate having just gone second on the timing sheet. On for a potential barnstorming qualifying here, he has hit the barriers hard and the session has been red-flagged. A heavy hit there, and although he gets the car going, his front wing slides under his front wheels.
Just over five minutes to go, and this is a waiting game. Who will go first? The track should be improving still as more rubber gets laid down so going last will be an advantage.
It is a set of softs for Verstappen, Perez, and Hamilton they will be covering themselves here, and pitting if they don't need to complete their laps in order to still start on the mediums. Gasly goes top with a storming lap, but he is replaced by Verstappen who finishes his lap on the softs! That is an interesting call for Redbull in terms of strategy.
Upfront, the interesting thing there was that Red Bull let both drivers complete their final laps on the softs, meaning they start the race on that compound. With Mercedes making it through on mediums, could that mean it is an advantage to the Silver Arrows since both Mercedes made it in Q3 in Medium in Hungarian Gp?
Ricciardo did struggle as it turned out, over half a second back on his teammate and a tenth off Q3. Not ideal for the Aussie, but at least he has free tire choice. Stroll was the other unlucky faller, pipped by his teammate for the third straight race in qualifying. The Alfa Romeo pair were expected to go out there, and they were joined by Sainz who didn't set a time in Q2 in Hungarian Gp.
The Race for Pole
Twelve minutes separate these ten from their starting slots, and at a track where qualifying makes a big difference, this will be crucial. It is used soft tires for Norris, while rivals Ocon and Gasly have fresh rubber. Verstappen sets a 1m 15.984s for the others to chase. But purple sectors are coming in left, right and center here as Bottas goes quicker by two tenths.
But those two cannot live with Hamilton at one of his best tracks. It is a 1m 15.419s for the reigning world champion, three tenths ahead of his teammate and half a second up on his championship rival Max Verstappen in Hungarian Gp. Behind those three, Perez does grab fourth although he is half a second back on his team-mate here.
Meanwhile, Hamilton is out in front of the Red Bull pair and backs them up in the pit lane. He continues to creep out of the pit lane, backing up Verstappen superbly here. Let the tactical games begin.
Verstappen improves but stays third and that means Hamilton's first lap in Q3 was good enough for pole, and pole by quite some margin. He's back in the game! Those shenanigans on the out lap though will be interesting to analyze, and you'd imagine Christian Horner will have something to say about that, especially with Perez failing to make the chequered flag and so unable to go for that second run.