Hungarian Gp, Fp3 is all set to be a head-scratcher out there. Do they alter their setups to take into account today's very different conditions, or remain focussed on race day? With FP3 and Qualifying set to be hot, hot, hot, that data from yesterday is going to be absolutely crucial here. Let's jump into the action in Hungaroring.
Yesterday at Hungarian Gp
Speaking of yesterday, in the Hungarian Gp, the sessions were split with Max Verstappen topping FP1 and Valtteri Bottas returning the favor in FP2. With Lewis Hamilton also in the mix, the fight for pole should be very close later between those three.
Mercedes have a slight advantage in Hungarian Gp, given they have two drivers in the reckoning. Sergio Perez was off the pace of the top three yesterday, but he does often start weekends slowly. Will max be faster we will see in the Qualifying.
Elsewhere, the midfield is looking tight. Ferrari, AlphaTauri, and Alpine all looked strong yesterday, with McLaren the team dropping back slightly. Both drivers admitted to struggling in the hot conditions, so today should suit them slightly more. Yes, it is cooler than yesterday.
F1.com's Senior Writer Lawrence Barretto has been chatting to Honda and has this to say
"Honda and Red Bull had not yet decided whether they would continue to use the engine for the remainder of the weekend, despite the all-clear. But following internal discussions, Honda told me that Verstappen will keep the Silverstone power unit in his RB16 for qualifying and the race."
Ferrari broke the curfew overnight at Hungaraing Gp to change Sainz's power unit as "some parameters did not satisfy us". No penalties first curfew break and third PU for the 2021 season.
Laptimes
Hamilton goes top with a 1m 18.587s. A scruffy lap from the Mercedes man looked very much like an exploration lap in terms of checking the grip levels, rather than an all-out push. Verstappen has finally got underway and he wastes no time in going top on his first flying lap. A 1m 17.510s is comparable to what he managed in Fp1 and is already seven-tenths ahead of the field. he means business today. 
Bottas now takes the top spot back from Max Verstappen, having opted to start his session somewhat later than his teammate. He's looked the more comfortable of the two Mercedes drivers so far this weekend but could he get his first pole since Portugal. It will take something special, such as the level that Verstappen and Hamilton can execute come qualifying.
Halfway through the session, and the top of the leaderboard certainly has a familiar feel to it. Further down, Perez looks to have made up ground in P4, and Gasly is still there or thereabouts for AlphaTauri.
Speaking of Ferrari, Leclerc is fifth despite running the mediums as his first tire out there today. With Sainz on the soft compound in 2nd, that shows both that the Scuderia looks to be a decent package out there, and also that in these conditions, the medium tire might not be as far off the softs as it can be. 
Speaking of Ferrari, the future driver put it on the wall at turn 11 bringing out the red flag. He has slid off the track at Turn 11, with replays showing he lost the rear as he exited the corner, sliding across the runoff area and crunching into the barriers. He confirms he is okay on the radio which is great to hear.
Alfa Romeo could find themselves in hot water here – they released Giovinazzi right into the path of Stroll who was trundling down at the allowed pit lane speed. The Italian stopped at the last minute and there was the briefest of touches between the front wing on the Alfa and Stroll's rear tire. That one is a lot hairier than it sounds.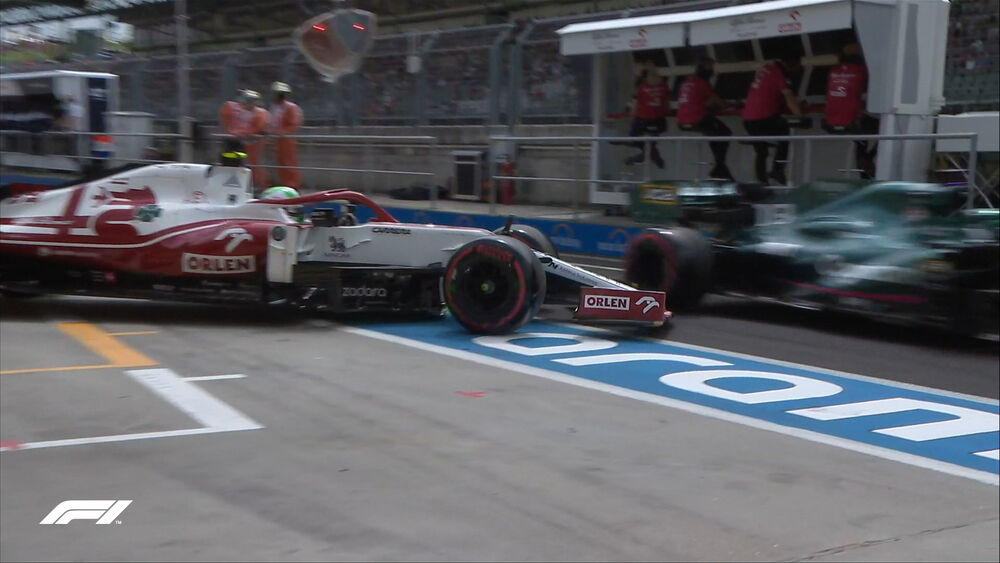 Leclerc has just set his soft lap time – a 1m 17.520s for fifth, 0.023s behind his teammate. The margins are really tight out there on what is a relatively short track. Hamilton goes top with a 1m 16.826s, and Verstappen can't match it! He slots into second, 0.088s back.
Heading into qualifying? Three practice sessions, topped by three different drivers – Verstappen, Bottas, and now Hamilton. There was half a tenth in it in FP1, fractions less in FP2 and just 0.088s there as the Mercedes pipped the Max's Red Bull on comparable laps.