Dutch Gp Qualifying in Zandvoort, a picturesque seaside town has been engulfed by F1 mania this weekend, with the normally quiet streets thronged with orange-clad fans who are all here for one man, Max Verstappen. They asked and they got. Max is on pole with Hamilton on second by 3 hundredths of the second.
How it stands before Dutch Gp Qualifying
And they could be in for a treat today. After a disrupted Friday that saw the pecking order something of an unknown, earlier on the fans saw the might of Red Bull first hand as Max Verstappen put his RB16B top by a huge margin.
It might be tricky to use the tow any earlier than Q3 unless fortuitously, simply because this is both a short track and a narrow one. As such traffic is set to be an issue as twenty cars jostle for position with red flags in all three free practice sessions.
And with qualifying set to be incredibly important, Mercedes could well see their championship leads take a dent here this weekend in Dutch Gp. The track characteristics here are pointing towards overtaking being tricky, which means grid position will be king heading into tomorrow.
Q1 in Dutch Gp Qualifying
Soft tyres all around as you would expect for these initial flying runs. Kubica is another driver to head out early doors, with the possibility of squeezing in three runs in this Q1 segment, thanks to the short track here.
Verstappen is off on his first flying lap, much to the delight of the raucous crowd. It is a 1m 10.036s for the Dutchman, good enough for P1 and seven-tenths quicker than his teammate. It is some way slower than his lap from FP3 though.
The red-marked soft tyres are holding on for a second lap here which is interesting, especially considering the track temperatures have risen since FP3 earlier on. Sainz is on a second flying lap on his original soft tyres. Ferrari has just told Sainz that they are expecting a "big" track evolution here – to the tune of one full second. All of this means this could be a mad dash in the final moments, with five minutes on the clock as it stands.
Into the final minute and Verstappen, Gasly, Russell and Alonso are all in pits as it stands and content to watch and wait. Mercedes have sent their boys out on the softs just to cover all bases. As the chequered flag is waved Vettel and Perez is in trouble.
Eliminated in Q1: Perez, Vettel, Kubica, Schumacher and Mazepin.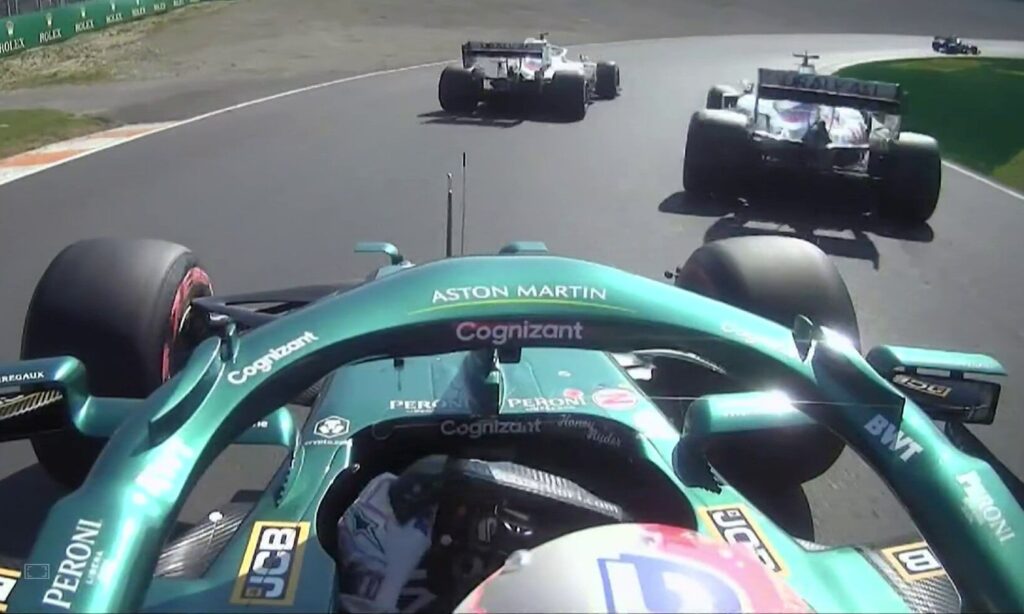 So Perez is the biggest story here. Out in Q1 in arguably the fastest car, and at a track where grid position could be absolutely crucial. That's a disaster for the Mexican, who blotted his copybook last time out too when he crashed on his way to the grid. He'll need a big recovery drive tomorrow.
Q2 in Dutch Gp Qualifying
A quarter of an hour to go in Q2, and a chance to make the top 10 shootouts. Verstappen has headed out early doors here, on the soft compound tyres. He is joined on track by both Williams drivers, who did well to make it out of the melee that was Q1 in Dutch Gp.
Hamilton and Bottas have come back out on the soft tyres that they used at the end of Q1 which are both one lap old. Using older rubber is costly, but do Mercedes have enough pace in hand to negate any losses from running used tyres?
Factor in the track ramping up, and you'd assume their second runs will be more influential anyway assuming red flags don't intervene. Verstappen sets his banker a 1m 09.071s, six tenths quicker than he went in FP3 earlier in the Dutch Gp. Having lost his teammate, the planned tow is out of the question now, unless he can fortuitously steal one from a rival.
Geroge Russell lost the back end going into Turn 13 and skated across the gravel, hitting the barriers with the rear of his FW43B. Interestingly, that doesn't look to have done as much damage as it first appeared there and he is able to crawl back to the pits under his own steam.
The marshals are having a quick brush of the track to get any errant gravel back in place, while some others are checking the barriers before giving the go-ahead that the track is okay for more laps.
Now, because Russell got back to the pits unaided, technically he can continue in this session if the team deem his car okay for another run. There are just under four minutes left in this session. But the car has some damage so he is out of Q2. As the session is resumed, Latifi put in a flyer only to deposit in the barrier. Another Williams in the wall Q2 session is done as it's only 1.34 sec in the clock the session will not be restarted.
Eliminated in Q2: Russell, Stroll, Norris, Latifi, Tsunoda.
Q3 in Dutch Qualifying
Q3 starts with an interesting FIA radio as Red Bull's Jonathan Wheatley points out to Michael Masi that Mercedes was holding tyre blankets on their car for longer than permissible. But it is Ricciardo who leads the way out of the pit lane, with Giovinazzi in his wake, he is on used rubber.
Verstappen has started his flying lap and he is on an absolute scorcher out there, purple in both the first and second sectors. Botta's slots into second, three tenths back while Hamilton can only manage third, a further half a tenth back.
No answer then from Mercedes for the might of Red Bull here. Verstappen is in the form of his life and has nailed his first lap. Chase that if you will but Mercedes has some more power in reserve. Verstappen takes off half a tenth from his previous best. Bottas doesn't improve. All eyes are on Hamilton and he goes second!
The crowd, which can be heard from most of mainland Europe, tell you all you need to know about the timing sheets. Verstappen is on pole for Red Bull but it was tighter than many predicted, with Hamilton laying it all on the line and winding up just 0.038s short in Dutch Gp Qualifying.