Dutch Gp at Zandvoort was meant to make its debut last year, but twelve months on the return of the Dutch Grand Prix has set pulses rising especially as it forms the mid-part of the tasty triple-header of Spa-Zandvoort – Monza. The sun is shining, the banking is looking fierce and all the ingredients are there for a cracking weekend.
The crowds are already out in force and as predicted, are bedecked in orange from head to toe. They are here for one man and one man only Red Bull's Max Verstappen. Max trails rival Lewis Hamilton by just three points after picking up the win last time out in Belgium. With nothing to choose between them, who will be leaving Zandvoort with a spring in their step. Let the Best Man Win.
With a new track to learn, the drivers are keen to get going and the track is already a busy old place, almost as busy as the town itself, which has had to absorb an awful lot of fans over the past few days. On a tight, narrow, twisty circuit that is also quite short, traffic was always going to be an issue.
Another thing to note about this track is its proximity to the seaside. The windy conditions have been blowing sand and dust across the track surface, so grip will be something of an issue in these early stages until the track cleans up and rubbers in. 
Only two teams have split strategies into the early stages alpine, who have Alonso on the medium compound and Ocon on the hards, and AlphaTauri who likewise have Gasly on a set of mediums, while Tsunoda runs the C1 compound. Expect those teams to swap that around this afternoon for FP2. 
Issues for Vettel in Dutch Gp, who reports an "engine failure" as he parks up at the exit of the pit lane oil everywhere- Red Flag.
Some Aston Martin engineers have headed out on track to help supervise the recovery of this car with the fire crews. It looks like extra precautions are being taken, which would indicate that the battery might be a worry here.
Regarding the delay in moving Vettel's car, we've had word from Aston that "the green indicator light is on so we believe that the car is ERS State Alpha". That explains the caution being taken by the officials.
Time lost at new tracks is absolutely crucial, with the teams needing to gather so much extra data and unable to rely on historical findings. Especially a track like this one, that is so unlike any on the calendar, with the banking combining with a dusty and narrow track to create a new set of challenges for the drivers.
Session Resumed in Dutch Gp
It looks like soft tyres are the order of the day for these final few laps in Dutch Gp FP1, with the drivers attempting to create gaps in the pit lane itself to prevent a giant traffic jam out on track. Verstappen comes out late, and as such is already being passed by the first few cars who headed out, who have already completed their out-laps and are now on quick runs.
He has a lot of traffic to pass through. Hamilton beats his teammate with a 1m 11.500, 0.238s quicker than Bottas. Hamilton had a very good record at the 'new' tracks last year, both those that were brand-new to F1 cars and those that weren't originally scheduled last season but were happy to step in.
Verstappen goes second in the Dutch Gp FP1, less than a tenth off the pace of Hamilton ahead. He did have traffic on his lap though, so on paper, it looks like there is nothing between the title protagonists here today. 
As we draw close to FP1 in Dutch Gp, A busy last 7 minutes after a lengthy delay put more mystery into the setup, running and the fact if Redbull or Mercedes is Faster. So all in all, an interesting first session at Zandvoort. Enthusiastic crowds, the sun shining, and plenty of on-track action despite those red flags. All the boxes ticked so far for the Dutch GP except for having their man in P1 of course.
FP2 in Dutch Gp
The lights at the end of the narrow pit lane go green, and one hour of practice is all that is left of the on-track action today. The fans are already in the party mood, with flare smoke drifting up into the sky and they don't have to wait long for some cars out on track.
Sebastian should be out in 10 mins as of now. That might be a piece of good news for Aston Martin but Hamilton stops on the track reporting loss of power. He is told to stop the car by the team and immediately jumps out before parking himself in front of it to stop the W12 from rolling down the hill. 
Bottas improves but not as much as Ocon, who goes top with a 1m 11.074s, nearly three tenths up on Bottas. Not a bad opening effort for the Frenchman. It looks like the Nikita came into Turn 11 a bit hot, lost the rear and went sliding off into the deep gravel trap there, from which he can't escape. That means a second red flag stoppage of the session.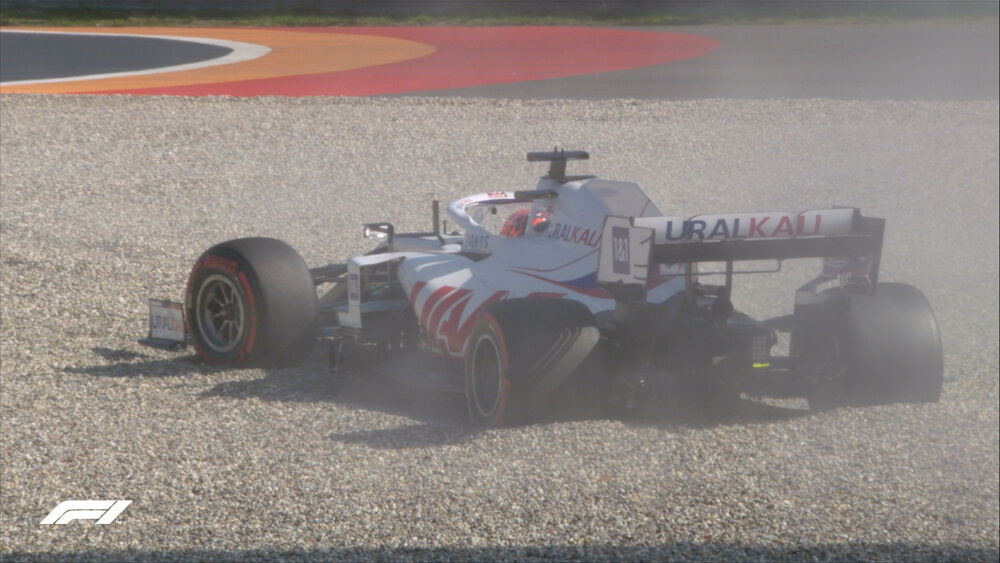 This is the reality of the gravel traps here get it wrong, and your chances of escaping are slim indeed. The good news for the Russian is that the depth of the gravel stopped him in his tracks, so at least his car stopped well short of the barriers. 
Other than Ferrari, Alpine is having a strong day. Ocon remains third despite going for his soft tyre run quite early before the track had fully evolved, while Alonso is sixth as it stands. They looked good on the drying track last weekend, before starting to struggle more in the wet.
So with Verstappen already on older used soft tyres, it doesn't look likely that he'll improve his time here – something which the fans won't like. That being said, having had his flying lap interrupted by the red flags, once again it seems there is more in this for Red Bull than the timing sheets suggest.
So in another disrupted session, it is Leclerc who finishes on top of the pile with a 1m 10.902s, just over a tenth ahead of his teammate with Ocon in third. Verstappen's flying lap was compromised by red flags, Bottas went for him very early before the track was ramped up and
As for Hamilton, he wound up P11 after managing just two laps in the session before having to stop out on track with an engine issue. The latest updates are that Mercedes possibly detected an oil system anomaly in their data – and it remains to be seen what that means heading into tomorrow.