Belgium Gp Qualifying, a wet thriller saw a delayed start due to standing water on the track. Spa Francorchamps is relentless in regards to weather this weekend. Congratulations all around for Russell, who gets plenty of pats on the back as he equals his best qualifying at his 50th Grand Prix this one was arguably even more impressive than Sakhir last year.
Belgium Gp Q1
The Safety Car is out and lapping to check on the conditions with parts of the track looking reasonable, and parts looking decidedly dodgy as it stands. There's the five-minute warning then, with the track now deemed dry enough to get qualifying underway, albeit with the full wet weather tyres likely to be required. How long before a dry racing line appears and someone gambles on inters though? It's going to be a tricky day for strategy calls.
Should it dry up, it's worth noting that the slipstream could come into play later on. It is powerful here, with no driver wanting to be first out to punch a hole in the air for his rivals. Team tactics could also be a factor, with a number two driver 'sacrificed' to give his teammate a tow and the best chance of a good starting grid slot for the race.
Full wet weather tyres for Hamilton and Bottas who are seeking a banker lap, and with no more rain expected in this segment, the track should get quicker and quicker as Belgium Gp Q1 progresses. 
Russell's next effort is a 2m 02.068s, eight seconds quicker. Safe to say, inters are the tyre of choice right now, as Latifi goes second. Into the final three minutes and Norris leads from Verstappen and Russell, while Botta's slots into eighth which doesn't look a sure-fire bet out there for safety. No more rain yet so inters are still the tyre of choice for the moment. 
Meanwhile, Hamilton is on a hot lap but locks up hugely and nearly slides off. Despite that moment, he's been good enough for the rest of the lap to improve to second. Heart in mouth stuff there. Ricciardo is the first to cross the line and he can only improve to p12.
Eliminated Q1: Giovinazzi, Tsunoda, Schumacher, Raikkonen, Mazepin. 
Q2 is Underway
Back to the action then and once again there is a queue at the end of the pit lane with the constant threat of another rain shower. A mixture of used and fresh inters are the order of the day. Sainz is told the next shower is five minutes away – which makes getting a good first lap in here crucial. Everyone is back out, with only Mercedes opting for a used set of rubber. 
Mercedes are already calling their drivers back in for fresh inters. The team as a whole haven't nailed every strategy call this season so far, and this looks on paper like another error out there today. Into the final minute and plenty of cars are on a lap so do not take your eyes off this one. Verstappen has pumped in a quick lap to take the top spot from Norris, but it is all happening further down the order.
A frenetic end there saw the Mercedes make it through, but crucially, they were forced to use another set of intermediate tyres which gives their rivals a clear advantage going into Belgium Gp Race tomorrow.
Eliminated in Q2: Leclerc, Latifi, Sainz, Alonso, Stroll.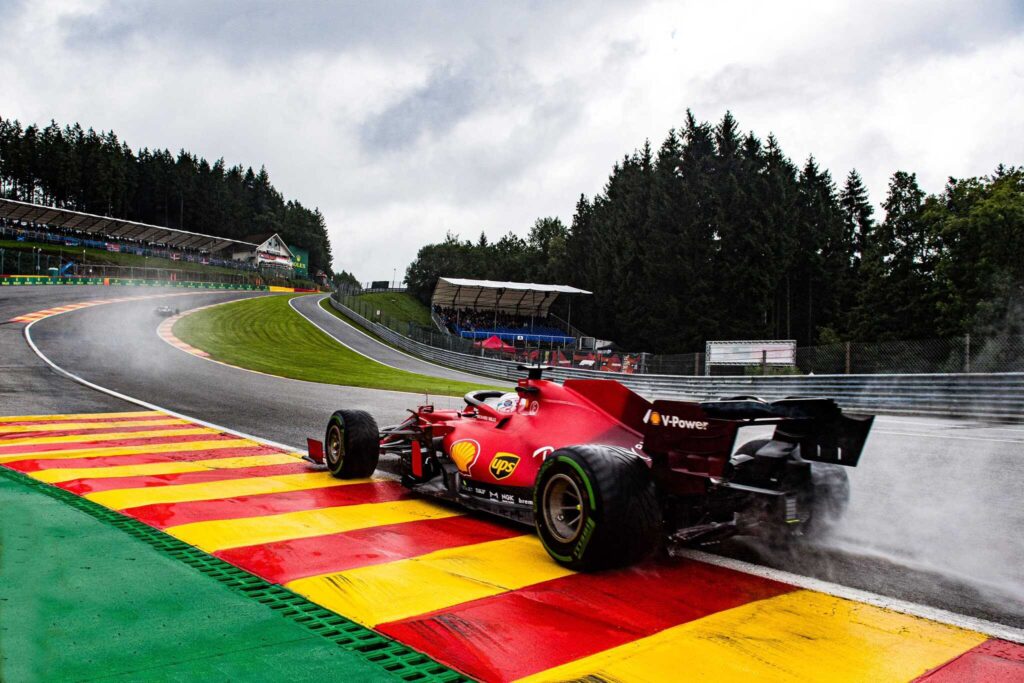 And its Green for Q3
So pole could well be between Verstappen and Norris – unless Mercedes can get their act together. At the other end of the spectrum, Stroll will be disappointed with p15 – which is a net P20 when his penalty is applied. As someone who normally goes well in the wet and with a teammate through to Q3, there was more in that today for the Canadian.
Its Full wets for Belgium Gp Q3. It's a big crash for the youngster as he confirms he is okay on the radio. Vettel pulls up alongside to check on his colleague which is good to see, but that McLaren is not in a good state. Norris is slowly getting out of the car under his own steam and is helped into the Medical Car. Great to see him seemingly okay, although he will be taken for checks just to be sure.
Replays show a lot of standing water out on track as Norris came flying down the start-finish straight. He started to head up the hill into Raidillon, had a small moment and as he corrected, lost control, hitting the barriers at speed. His McLaren then spun several times across the track, shedding debris as it went.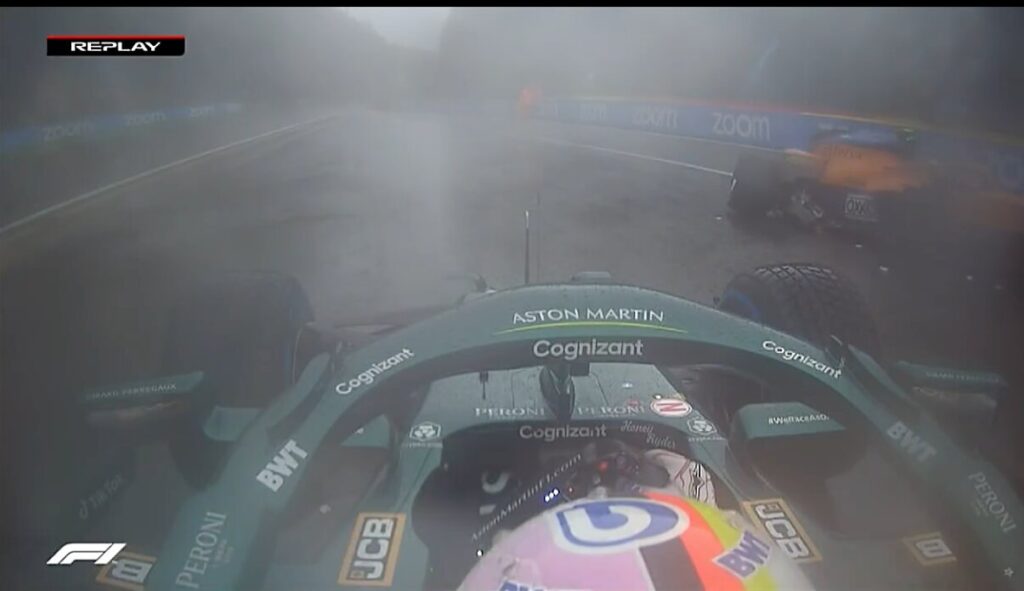 If Norris is passed as fit to race tomorrow, his mechanics will have a late night of it repairing his car – this is what was left of it after that big smash. A pit lane start is a certainty after that one. Vettel had already radioed requesting red flags before Norris' crash and was frustrated, to say the least after he was told of what had happened. Replays show he deliberately picked his way through the debris to pull up as close as he could to the McLaren, giving Norris a thumbs up and only leaving when he got one in return.
Verstappen will be keen for Q3 to restart – Norris has been his closest competitor so far in qualifying, so now he would be the heavy favourite for pole. That being said, Mercedes haven't shown their full hand, making what looked like a poor call on tyre choice at the start of Q2 which had them rushing to play catch up throughout the segment.
It is the intermediate tyres for the Mercedes and the Red Bulls which is interesting. Have they picked up on the strategy from Williams in Q1? Heartbreak for Russell who is pipped in the final moments by the Dutchman, the gap three tenths. But it is a second front row start for Russell, but this time for Williams. An unbelievable qualifying result.