The Late pit stop of Hamiton Ruined his chances of securing the podium. Bottas wins from Verstappen and Sergio Perez does manage to get the podium battling Hamiton. Leclerc too loses out by making a late pit stop!
Max Leads the World Championship by 6 Points!
Welcome back to Turkish Gp, although it is not a sunnier Istanbul that we have found on race day. The heavy clouds from yesterday have returned, with a damp, dank, wet-looking track ahead of the 16th race of the season. Will Hamiton be able to do something here to get on the Podium. Will Verstappen take the lead into turn 1. Lots of things will be answered at the end. But here is a brief of what happened in Turkish Gp 2021.
Lights out at Turkish Gp
It's Light out! Bottas heads down the straight. He makes it to the first corner in the lead, with Verstappen slotting in behind. but Alonso is tagged into a spin. Perez is already up to fourth after a brilliant start, Hamilton only gained one position thanks to Alonso dropping down the order. Gasly was given 5 Sec. Pretty harsh for a racing incident.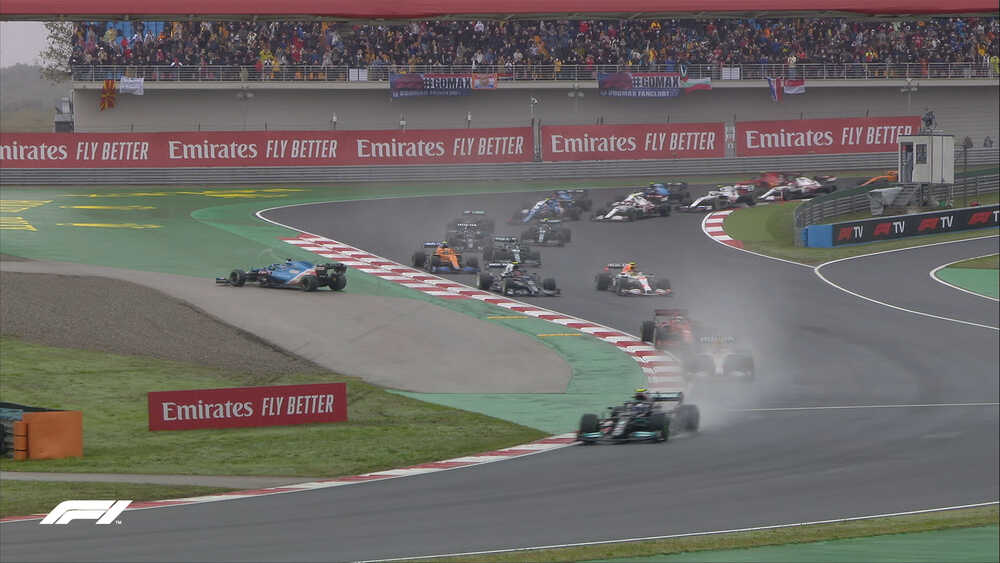 Hamilton has made his way easily past Vettel for ninth, and he needs to get past quickly before the leaders are gone up the road. Tsunoda is next on Hamilton's radar. Schumacher has undone that good work from yesterday already he has spun down at Turn 4 and drops to P19. Alonso tagged him and got 5 sec.
Gear shift issues are being reported by Verstappen, although his engineer doesn't sound too flustered by that message, so it doesn't sound too big a problem at these early stages. He remains within striking distance of Bottas, around 1.5s back as we settle in Turkish Gp.
Strategy calls in Turkish Gp
Another lap, another place. Hamilton doesn't wait for the pit stops to jump Gasly, he picks him off out on track, at Turn 12 again. Up to fifth, and with the much more difficult prospect of Perez and Leclerc the next cars up the road.
Mind games are in. Mclaren pitted Ricciardo for new intermediate tires, but he is not any faster than the cars ahead. So basically all the inters have balded into slick tires now. They are going long. Sainz meanwhile has stopped his charge and in P9 with stroll ahead of him.
Turn 9 has reported rains. Sainz has told Ferrari that he wants a one-stop race here. But is that for a set of intermediate tyres or slicks? The steady drizzle is negating that racing line drying up as quickly as normal, with conditions neither improving nor deteriorating as it stands.
Perez is being hunted by Hamilton, will it be a good battle? or Hamilton will wave through? No, it was great defence by Sergio Perez. Now the pits are happening. Norris pitted last time around and that seems to have opened the window, as Verstappen pulls in from second place. More intermediates for the Max it is a swift stop, and he returns in third. 
Sainz, Tsunoda and Russell also pit with Sainz having been held in the box as Mazepin trundles past for his pit stop, which costs Sainz six seconds plus. Far from ideal there for Ferrari. Vettel has pitted and bolted on the medium compound tyres! He has really rolled the dice but the yellow flags come out in the first sector immediately. it is not working.
Hamilton is now saying that it isn't "far off dries" which could make things even more entertaining. Although you'd imagine the rest would try and make their intermediate last to the end, using the wet off-line areas to keep the tyres from overheating.  
Closing Stages for Turkish Gp
Hamilton pits! He is told this is the last chance to hold the gap to Gasly behind and with a big black cloud on the horizon, they don't want him on effectively slick tyres in what could have been a similar situation to Russia last time out if the rains arrive late. He comes out in 5th.
Hamilton is now going through that tough stage where the rears start to lose grip – and he isn't happy about the strategy call the team have made here. "I told you," he cries as he realises that a one-point deficit in the championship is about to grow into 6 points.
A new fastest lap for Bottas to pick up the virtual bonus point, Hamilton's didn't have that as it stood, so the Finn hasn't taken that point from his teammate. Considering Mercedes' dominance here though, second and third is looking like an incredible result for Red Bull here.  
Bottas wins for the tenth time in Formula 1, as he also picks up the fastest lap bonus point. He beats home Verstappen and Perez, with Leclerc fourth and Hamilton eventually crossing the line in fifth.