In this weeks Tech Tuesday, we look into the two days of Post Season Testing at Yas Marina circuit in Abu Dhabi. Pirelli was optimistic at the end of the testing and said there are only a little fine-tuning and adjustments that need to be done and the five compounds said, Mario Isola.
Post Season Testing -Tech Tuesday
The post-season testing is purely a fact-finding mission in terms of Pirelli and the teams. The tyre programmes are heavily controlled by Pirelli and not the teams. Pirelli tells them what packages to run and what programmes to run.
Each team can run 2 cars one of the current 2021 specification cars that are to be driven by a young driver and the other is a Mule car an older car with new brake and suspension packages driven by the older more experienced driver.
As for Aston Martin, their Mule cars are the Racing Point RP 19 dubbed pink Mercedes. For Alpha Tauri, it's their toro Rosso and for Haas, it is the 2019 car and Williams Racing was missing from the test. For Alpine, a heavily Modified Reanult made an appearance in black really and a front wing straight out of Armageddon.
Young Drivers and New Teams in the Testing – Tech Tuesday
Nick De Vries, Antonio Fuco, Oscar Piastri, Nick Yelloly and Fittapaldi all made their debuts in their future cars if they have money conditions to be applied generously here.
Geroge Russel, Valtteri Bottas and Guanyu Zhou were broken into the new teams as well. McLaren sported a new-look wheel covering with 14 double rows of LEDs, presenting an exciting look into the future of F1 technology.
"When you install that [LED light] device and it's working, it can do whatever it wants," Pirelli F1 chief Mario Isola. "It can show position, it can show logos, it can show lap time in qualifying or something. There are many possibilities. It's technology, so it's easy to program what you want to show.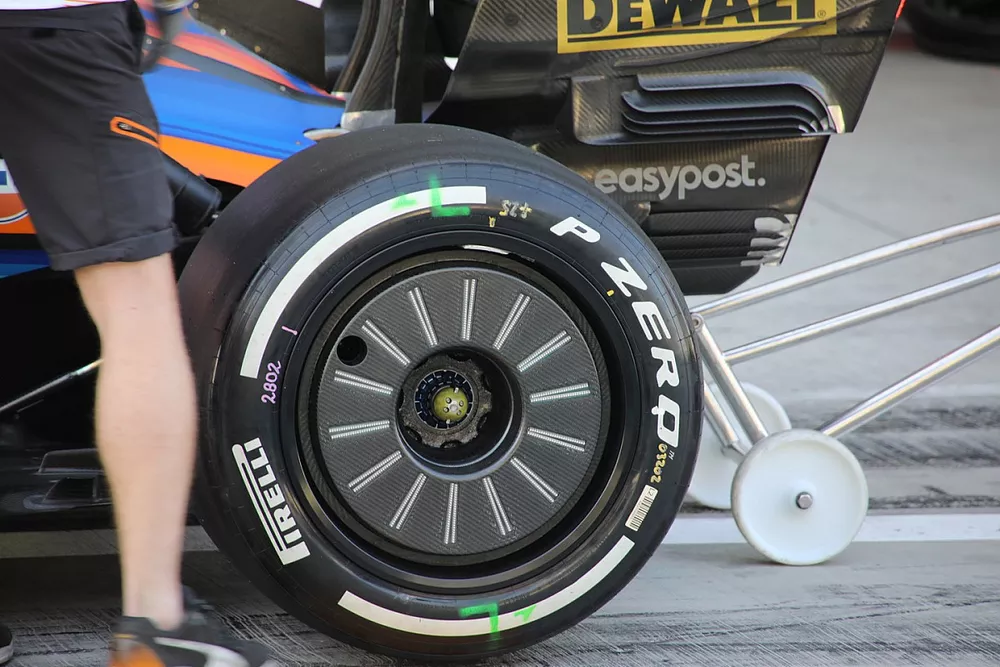 Results of the Testing – Tech Tuesday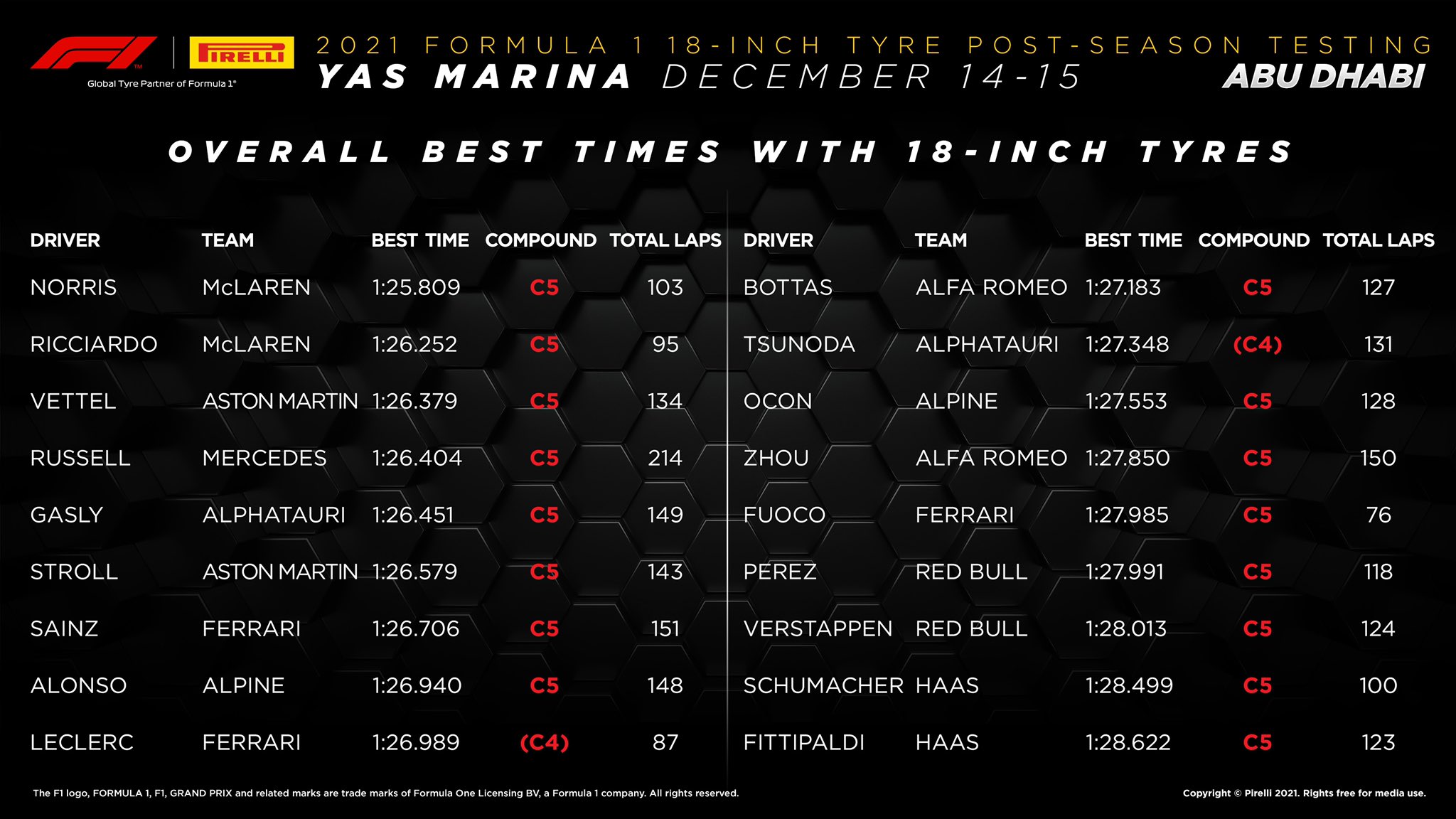 Norris drove 103 laps over on Tuesday and Wednesday, including the best time of 1min 25.809sec, which he set on the softest of the five compounds available. Fellow Briton Russell completed 214 laps at the Yas Marina circuits and was fourth fastest. Daniel Ricciardo was second fastest in the other McLaren with Sebastian Vettel third his Aston Martin.
Pirelli hasn't told us much about the earlier testing or how its new tyres were performing, but after Abu Dhabi, the company's F1 boss gave some interesting insights into what we can expect.
"I have to say that in general, we found first of all the delta lap time between compounds in line with our tyre development tests. So in general, for C1 and C2, the comment was that the grip was low, but they were very, very consistent."I can say that the general comment from all the drivers was about understeer, it seems that our rear tyre is much stronger, it's pushing a lot the front. And the general feedback was on an understeer balance.
We still have some abrasion and graining on the C4 and C5, but they are the softest compounds, so it makes sense. But with this reduction in pressure is C3 was working better."That front pressure drop was from 21.5 to 20.0 psi, while Isola confirmed that the rears stayed at a low 17.5 for the two days. Next year with a new type of drums, a new type of brakes, I believe they are in a much better position to control the heat that is going from the brakes to the tyre and also the blanket temperature that is starting at 70 said Isola to an interview to Motorsport.com
It means that the front tyres are heated at 70 degrees, and not 100, and the rear tyres are at 70 degrees, and not 80. So from next year, the maximum temperature in blankets with be 70 and 70 in front and rear.
It will be very interesting to see the pre-season testing and there will be a large amount of data gathered. Pls share like and Subscribe for interesting Tech Tuesday Articles.