After the immense success of Netflix's Drive to Survive, Netflix has sown its seeds in F1 for a higher Future. Americans and generally the young crowd who loved the drama of it came in 400,000 to USGP in Austin Texas. Meanwhile, Amazon is already a part of the sport in bringing statistics and predictions based on Machine learning and Artificial intelligence.
In this section, we look into the merits, Demerits and other aspects that can govern the streaming rights for F1 in the future.
Netflix Reach
Its main forte into the space is its popularity among the younger generations. The Awards and Recognition that Netflix gets during Oscar's and Golden Globe are immense. With a total of 480 nominations and 204 Wins in different award ceremonies over the world, its might is well established.
The main thing about Netflix is that it can create a trend, Remember Squid Game, it becomes a trend overnight. F1 stars like Daniel Ricciardo has caught on the squid game trend and there were paddock discussions on the same. But the main drawback is that it has zero experience in live broadcast and sports broadcast.
That is not the case in Amazon.
Amazon Might
Many don't know but Netflix runs on Amazon's platform cloud computing service called AWS. Amazon has many channel's linear, News and sports running on the AWS platform since the advancement of cloud computing. Their acquisition of Media Service called Elemental in 2015 was a big step towards Cloud Broadcasting and Tv streaming in general.
It has immense experience in sports broadcasting and it's running high and mighty in Europe and America. Amazon is buying European soccer rights taking advantage of the prevailing pandemic and the weak balance sheet of the broadcasters.
Its 2019 broadcast of league matches in Premier league football coincided with a record number of subscriptions in the U.K. This prompted them to sign three year deals with Ligue 1 and Ligue 2 games for 893 million. As of writing, Amazon has recently secured its exclusive NFL deal.
F1 broadcast Economics.
F1 as a sport has gone through major changes in 2008 and 2018. Broadcast rights made exclusive in 2008 made a lot of money to the sport. There was a decline in viewership from 2008 right until the end of 2017. Then the inclusive digital media age in 2018 brought in a huge viewership inflow after Liberty Media brought the F1 brand. But in 2019 F1 lost 20 million viewers according to this Forbes Report. 
The UK views have always gone up when Nigel Mansel and Hamilton won but worldwide views are lowering at an alarming rate. The F1 Report on 2020 viewership is based on illogical calculations and blamed the number of races for it. But the truth might be different.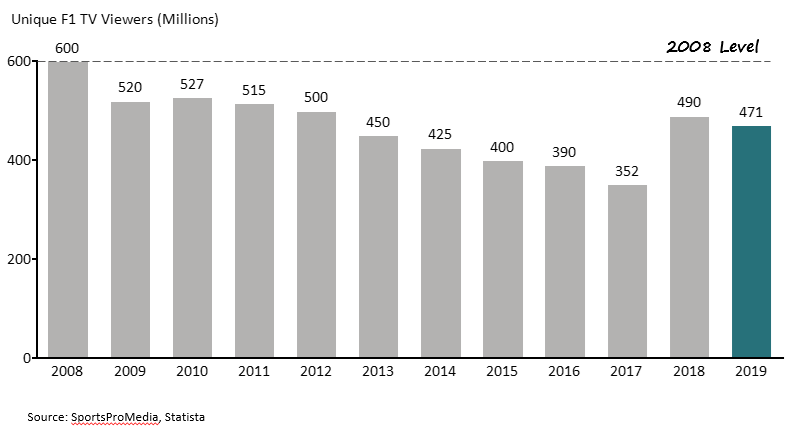 First, the broadcast rights were given back to ESPN from NBC for free. NBC used to pay 4 Million USD/year for the rights every year to F1. When this deal go through in 2018, F1 Tv was also in the game and enjoyed a subscription increase of 10,000 per year.
Then F1 started to increase its digital presence across social media sites and started to explain the sport and showed the inner workings of F1. This became so popular that F1 was the fastest growing social media brand in the whole world.
F1 cash is King
F1 desperate for cash is making deals with governments whose human rights are questionable at best. This proves that cash is king in F1 still. In this position, Amazon is the only company that can throw in the big numbers. Logically it's Amazon who has the upper hand in this forte.