The Last Lap Mess in Abu Dhabi Gp has caught everyone discussing even after 3 days. In this section, we look into everything that's concerned with Articles 48.8 and 48.12 and 15.3 respectively.
Coming into the race, both Hamilton and Verstappen were tied on 369.5 points each. The latter earned pole position in qualifying on Saturday and well after lapped cars were allowed to clear the safety cars, both men had a final-lap race. With the fresher tyres, Red Bull's driver came out on top. With this, the protest followed as expected, two in fact.
The Last Lap Protest
Last Lap Protest 1: An alleged breach of Article 48.8 of the Sporting Regulations that says: "no driver may overtake another car on the track, including the Safety Car, until he passes the Line (see Article 5.3) for the first time after the Safety Car has returned to the pits."
Last Lap Protest 2: Allowing only some of the lapped cars and not all of the lapped cars to overtake.
Article 48.8 of the sporting code part a). The safety car can ask specific drivers to overtake including the lapped cars to pass and well it's pretty much the same as the message board thus in conjunction with 48.12(rule apply in order so 48.8 takes precedent over 48.12). Thus they "technically" should have followed article 48.10, "the safety car shall be used at least until the leader is behind it and all remaining cars are lined up behind him" but Norris finished 59.200 seconds behind the next closest car, Bottas, so not lined up.
But here's the two loopholes Masi used. 48.10 mentions cars need to line up behind the leader but the gaps don't matter. They could be lined up with a "25 seconds" gap within the space and they could have started(in terms of technicality, hard to argue what line up really means(straight line but how big a gap is never mentioned in regs) and considering previous times, FIA will just dismiss the case saying all cars were in order).
And the second loophole is 48.12: "If the clerk of the course considers it safe to do so, and the message "LAPPED CARS MAY NOW OVERTAKE" has been sent to all Competitors via the official messaging system, any cars that have been lapped by the leader will be required to pass the cars on the lead lap and the safety car ". 
The Message was technically sent to all competitors that included the "LAPPED CARS MAY NOW OVERTAKE" but Masi added which cars specifically. Now there aren't rules that say you can or cannot do that but 48.8 allows it to be added.
Thus only these cars had to follow 48.12 thus that meant these cars were okay to break 48.10 and not be counted as part of the lineup required to start the race, so they didn't have to line up. Obviously, the fact that the race director used loopholes in the FIA regs is a bit naughty but it is still fair. Just very unnecessary.
However, the FIA dismissed 48.12 using article 15.3 which is not fair as it doesn't explain what Masi actually did and everyone will just blame Masi for favouring RB which he didn't but guess this explanation is for the court then. (15.3 takes precedent over 48 cause higher number)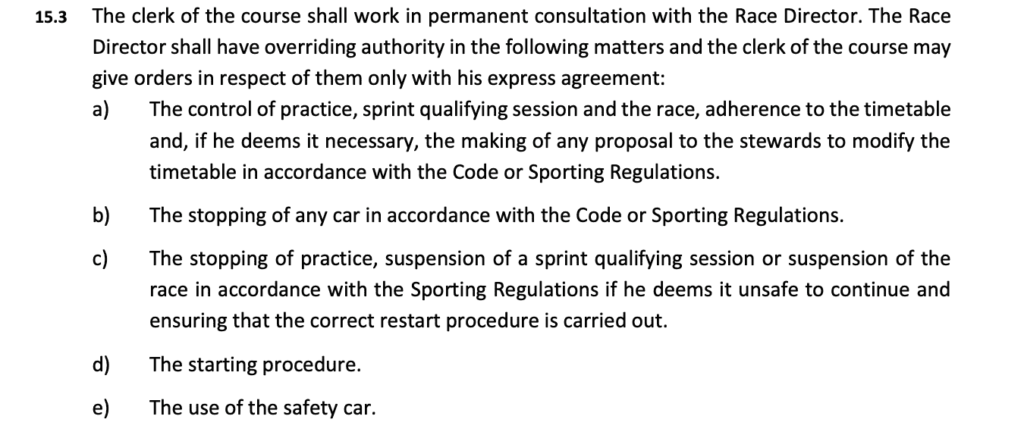 As for overtaking under the safety car, Max maintained pace, Lewis braked, and Max just moved behind him anyways before the safety car line. Hard to Penalize that as Max gave the position back, can't penalize an overtake that did not happen intentionally (2009 Australian GP as example case between Trulli and Hamilton so Red Bull can easily fight if they give Max a penalty as there is evidence of Hamilton slowing down to let Max through and Max slowed down as much as he can to let Hamilton move forward but he doesn't)
With Max Verstappen almost confirming that the protest doesn't go on since Toto Wolff has just sent him an SMS and more than to Hamitlon being a champ in magnanimous at the loss, I personally think that Mercedes lawyer can't find a legal precedent on which a case can be built.