Canadian Gp, at the Magnificent Circuit Gilles Villeneuve, is finally back. The 2020 and 2021 Canadian GP got canceled due to the Covid-19 pandemic. Montreal's circuit was named after Gilles Villeneuve, who was a hometown hero and won six races with Ferrari. The iconic circuit has undergone quite a few layout changes over the years.
The current layout has been constant since 2002 and has avoided changes since then. In 2018, the paddock was torn down, and a new one was built ahead of the 2019 race. This current layout is 2.710 miles (4.361 km) long and features 14 turns.
Canadian Gp Track
The fast, low-downforce circuit is one of the drivers' favorites. The track is quite a stop-start, with lots of heavy-braking chicanes and the famous hairpin to get the anchors working hard. Out of the corners, though, the track is quick and flowing, while the most iconic piece of the circuit comes right at the end of the lap: the Wall of Champions, so-called after excursions into it from Damon Hill, Jacques Villeneuve, and Michael Schumacher during the 1999 Canadian GP weekend followed by Ricardo Zonta, Jenson Button in 2005 and Sebastian Vettel in 2011.
The current record is held by former Mercedes driver Valtteri Bottas. He set up a time of 1:13.078 at the 2019 Canadian GP while driving the Silver Arrows' W10.
Canadian Gp Schedule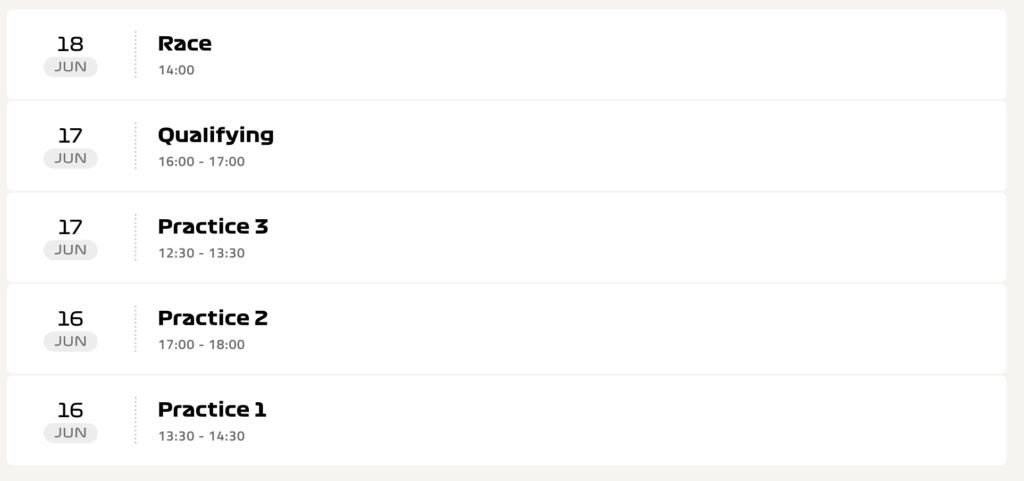 Weather
A low-pressure system over the southern plains will make an approach towards the Midwest on Sunday, shifting winds to the southeast. A local high-pressure system will also develop over the northern Great Lakes, which will intensify surface winds from Saturday; gusts during the day could reach 20 mph. Minor cloud cover may move in for the afternoon in the low and mid-levels as the pressure system moves toward the region. Rainfall is unlikely during Sunday's race, though some isolated showers may be possible during the evening.
Hamilton has won four out of the last five races in Montreal. However, considering the fact that Mercedes is lacking behind the pace of Red Bull and Ferrari, another win seems unlikely for the 37-year-old. Leclerc and Ferrari meanwhile will be looking to bounce back this weekend after the team suffered a massive backfoot at last weekend's Monaco Gp
Will Rain play spoilsport ? or will it make it enjoyable we will have to see. Stay tuned to allf1.in for updates.