Brazil Gp saw Lewis Hamilton race for his life, He started dead last yesterday for the Sprint. he rose to fifth. He was penalised for extra PU  parts and started the race in tenth. And yet, and yet. Hamilton won the Brazil GP, Making a statement of intent in the process. Read the Race report here.
The Strategy in Brazil Gp
There is no brilliant strategy call perse in the Brazil Gp. Hamilton had a car that was might fast so fast indeed Max Verstappen was in a car that is 22 kmph speed deficit without DRS. Adding the DRS might have given another 20 Kmph in Brazil so in theory, Hamilton was in a car that is 40 Kmph faster.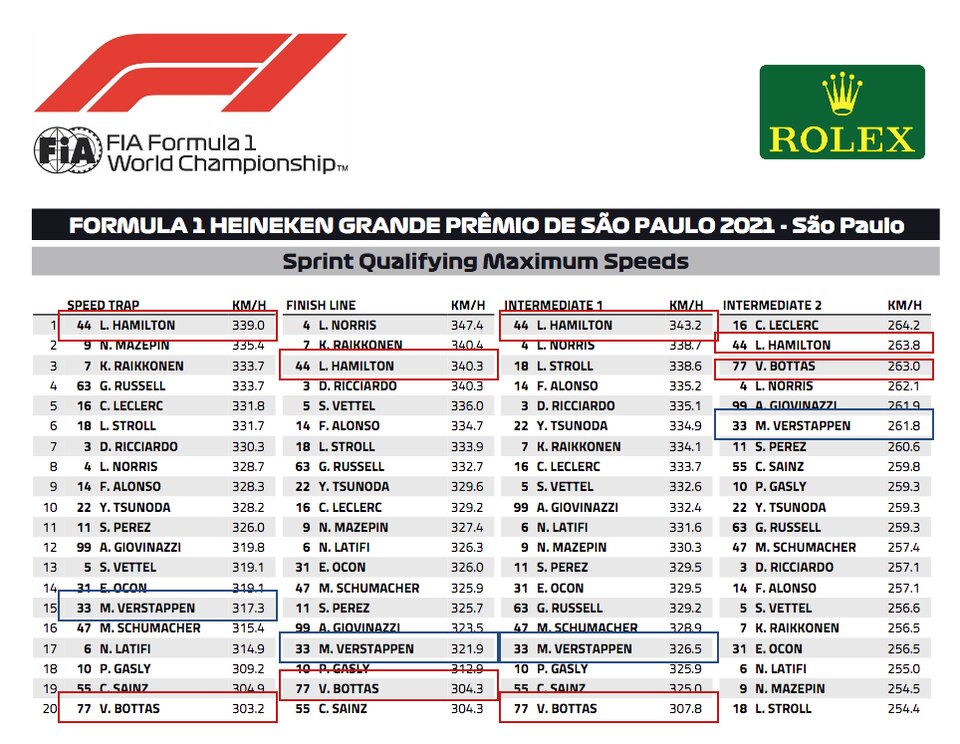 The Pit stop was fairly undramatic, the only thing Redbull did was gain track position on the second pits preventing the undercut from Hamilton, other than that there was no surprise in the pits.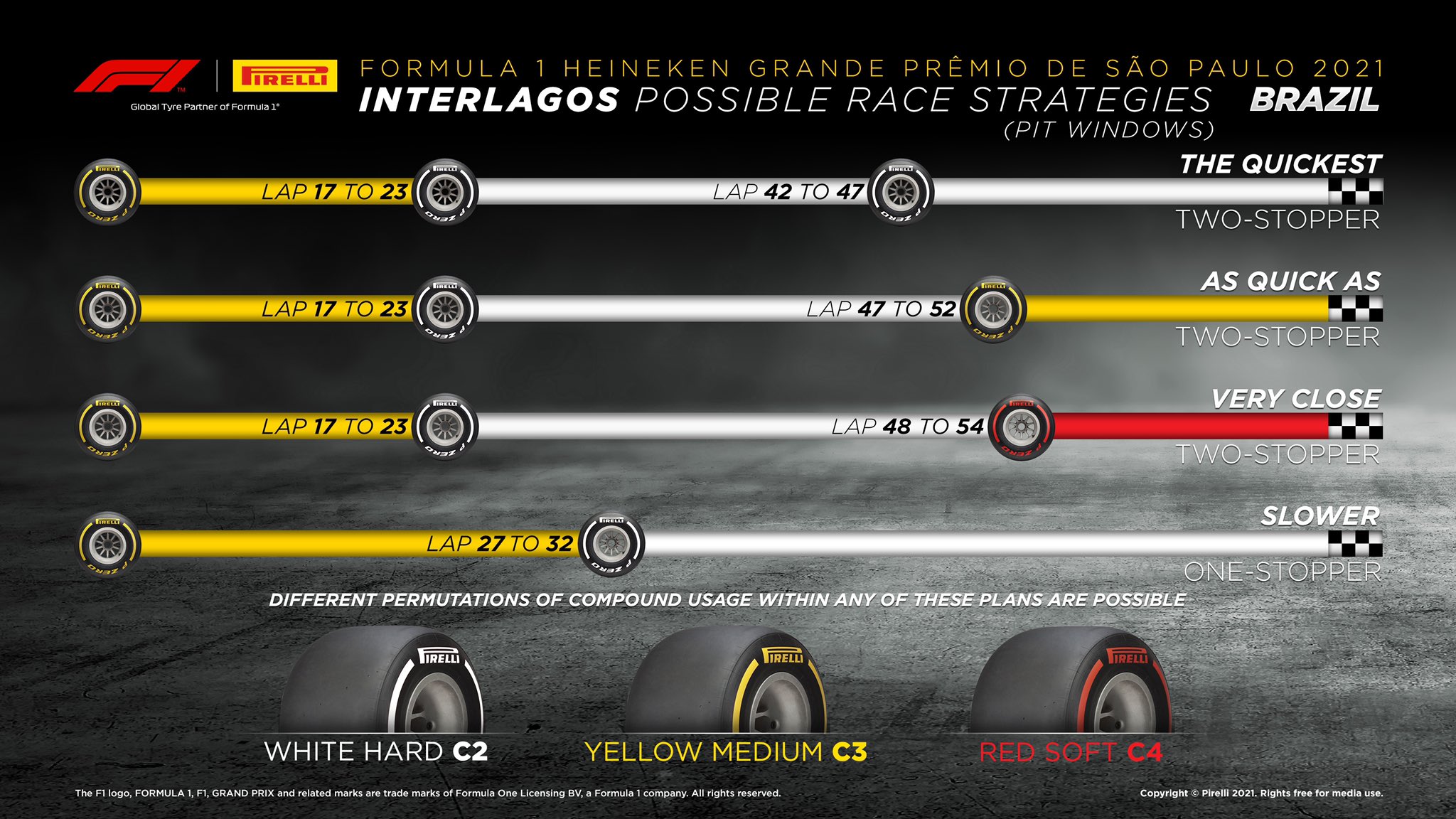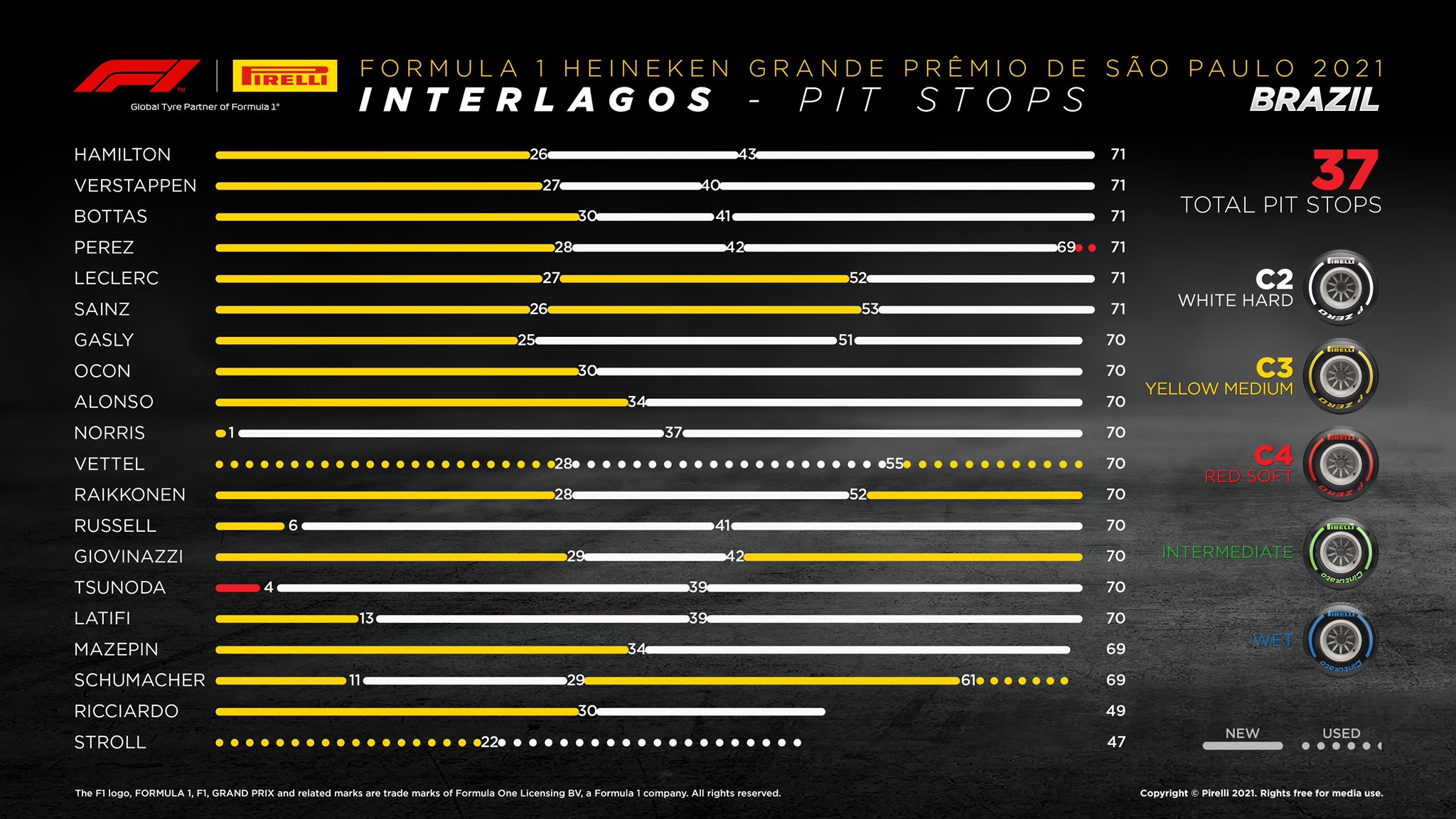 Bottas Pit Doubt's
When Bottas was pitted in lap 41 after Verstappen, he came onto the radio that "Mercedes is throwing away a 1 and 2". Bottas pitted on lap 30 during a VSC and came out in front of Perez. If Bottas was left out he might have gained track position but, Max with speed and tires fresher than bottas would have caught him anyway.
When he finally pits after max has passed him Perez would pass him on the pits and Bottas would have wanted to chase him. So Mercedes call was perfect for a double podium to mitigate the threat of Perez. Hamiton wanted Medium tyres but the team decided otherwise and you could see Hamilton front right in the final laps. It was shredding.
Max's Move on Hamilton
People were agonizing over the fact that they want to see the steering input of Max Verstappen during the incident and there are rumour mongers and trigger happy F1 Twitter fans who blamed the FIA for taking Verstappen side on the incident.
As Martin Brundle suggested in 2016, FIA can access all the telemetry data and can pull up live feeds from 26 onboard cameras. during and after the race. Before 2016 though the argument holds value, because there weren't many cameras onboard due to bandwidth limitations.
In the race today when Lewis started to get close to Max they switched to Max's rear-facing camera which is something that is fairly standard to do in that scenario as that is the camera most relevant if there's nothing ahead but a car close behind.
They do have the ability to record the footage from every camera on a car to internal storage on the car but that can't be downloaded until after the car is back in the garage after post-race scrutineering. Every car was carrying a camera from 2000 & when the system was upgraded to digital at the 2005 Japanese Gp that boosted the available number of onboards up to 9. It's only been since 2016 that they have been able to pull live feeds from every car & F1 is still to my knowledge the only series that is able to do that.
So Michel Massi and team and every who has F1 Tv Pro had data on the same. In the above picture click on 33 Ver will show him his onboard and he had enough steering lock on to make the corner. But could have done better. FIA has decided that this need no further investigation is looked at as a sore spot but understandable.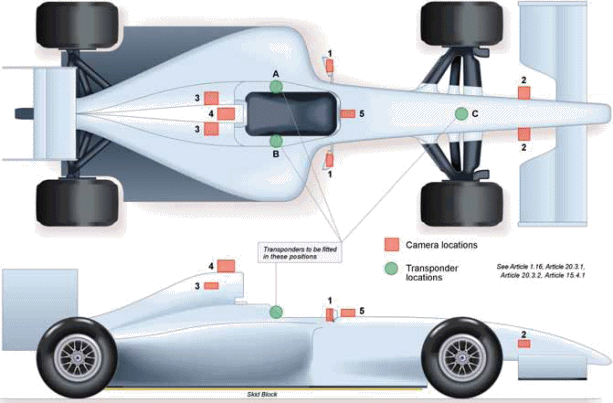 For a sport that has cameras for fun in helmets, suggesting it was missing onboard data is laughable. I'm all for letting them race, but I don't get the consistency between Verstappen/Hamilton incident yesterday and Norris/Perez in Austria which were near identical scenarios of attacking cars on the outside. Either both were good, or both deserved a penalty. It can't be one or the other. So no kerbs put a gravel trap.