Tech Tuesday
Tech Tuesday this week covers the future of Fuels in F1 and recent investment from Damon Hill, the 1996 World Champion has invested into the technology. We look into what is synthetic fuels and their application in competitive motor racing. Lets jump into Tech Tuesday.
Synthetic Fuels
Synthetic fuels are not a new discovery. It has been developed and researched by the Germans in World War II when the oil refineries of Romania and others were cut off. But it came to light recently as Porsche Head of Research and Development, Dr Michael Steiner revealed that it is implementing e-fuels.
Synthetic fuels are basically produced artificial fuels. Right now fuels are refined and chemically separated from Crude oil that is being dug up from the earth. But Synthetic Fuel of the most common at the moment is to take carbon dioxide or monoxide from the atmosphere and synthesize it with hydrogen taken from Water.
So basically it removes carbon dioxide from the air. Awesome right? Not so much wait !!. To remove Carbon and Hydrogen from their natural form needs electrolysis which needs electricity. So in short a lot of electricity is needed to produce synthetic fuels. Carbon neutral i.e, CO2 used to produce synthetic fuels would equal the amount pumped into the air by cars burning it comes into play.
So if synthetic fuels need to be carbon neutral, the electricity used is to be renewable too. Basically from wind and Hydroelectricity. So the geography of the production facility is important too. Chile is the best place according to Porsche and Siemens.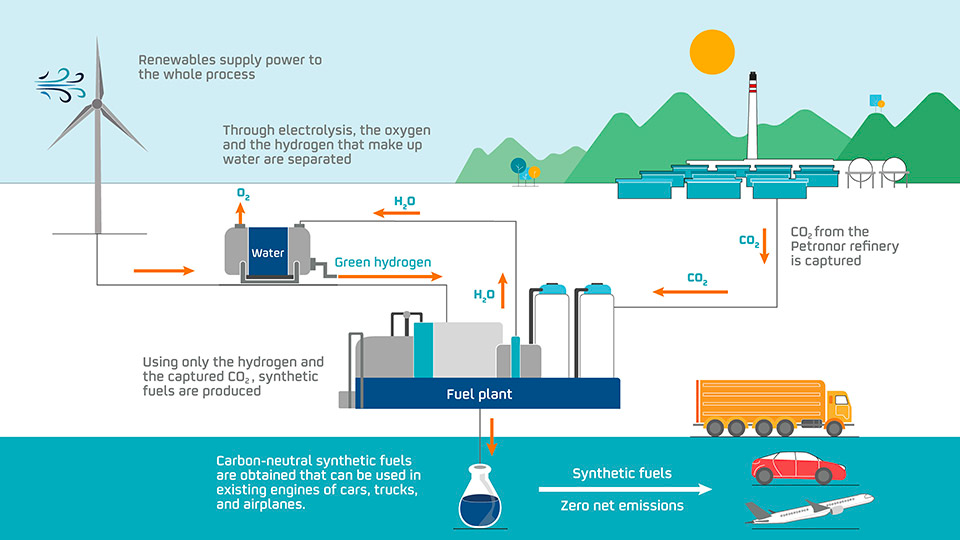 F1 and Carbon Neutral
F1 has said that it will be carbon neutral in 2030 and it's not electrifying the cars. This means the race to produce synthetic fuels will be in full force. All the racing series across the world are potential customers. It is the main reason Porsche jumped on this so it could continue selling the specialist vehicles like 911 GT3's. Audi did tiny research in 2015 but stopped in 2018.
Though F1 cars racing in a venue for one weekend emits less carbon than a trans-atlantic flight, but logistics of moving the equipment, pit stands and whole load of machinery from one place to another is a mammoth task indeed.
An audit conducted by the FIA in 2019 found that F1's logistic activities produce approximately 256,000 tonnes of carbon dioxide per year, which is the equivalent to powering roughly 30,000 houses in the UK over the same time period.
F1 cars already use biofuels but current regulations only mandate that the fuel include 5.75% of bio-components. In 2022 that number will increase to 10% and by 2025, when new power units are proposed to enter the competition, the FIA hopes to transition completely to 100% advanced sustainable fuels.
Zero Petroleum
Paddy Lowe, former Mercedes and Williams Technical Chief, has started am establishment called 'Zero Pertroleum using the Synthetic fuel technology. This establishment has received financial support from Damon Hill as a participating investor.
During a Webinar to GasWorld he also said that the company has received a grant from Innovate UK and Raising Partners Angels a investment firm in which Damon Hill is a Memeber.
"We must look towards sustainable alternatives. This financing from Raising Partners Angels will enable us to prove not only how viable synthetic fuels are, but how critical they are too."

Paddy Lowe, Zero Petroleum.
How F1 Decides to cut down on logistics is another issue altogether but there is progress and concern to stay relevant in this fast changing times.